7 Bar Air Compressor Oil Free Screw 1.72M3/Min
Product Description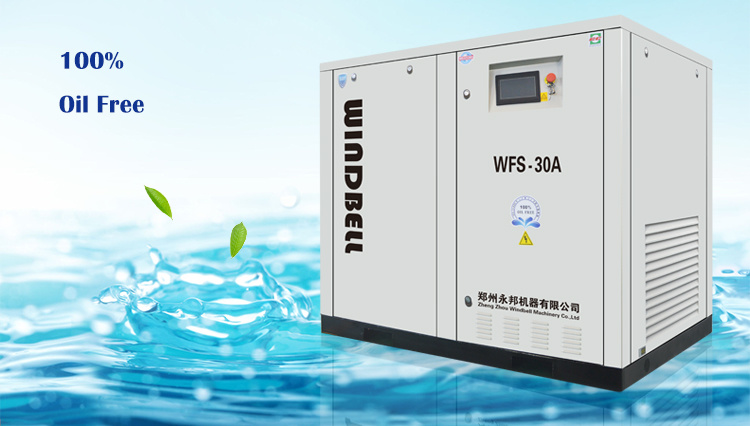 Oil free screw air compressors are widely used in industries that require high quality air sources such as: pharmaceutical, food, electronics, chemical, packaging, etc. 100% pure compressed air is a necessary procedure to guarantee satisfactory crafts and product quality, which ensures the production of high-end products safely and risk-free.The lubrication system of an oil free screw air compressor is an individual fuel recycling unit. The compression chamber and the bearings were separated by a set of sealed high-performance mechanical assembly. The lubricating oil can only flow in the enclosed area and is prevented to enter the compression chamber, which only contains 100% pure compressed oil-free air. The users could obtain 100% pure compressed air with some slight post-treatment of water and dust removal
Model No.
Capacity FAD(m3/min)
Motor Power
(Kw)
Noisel Level
(dB)
Outlet Diameter
Dimension(mm)
Weight
(kg)
0.7MPa
0.8MPa
1.0MPa
L
W
H
WFS-7.5A
1.3
1.2
/
7.5
60
G3/4
1100
845
1260
520
WFS-11A
1.6
1.5
1.4
11
60
G3/4
1100
845
1260
580
WFS-15A
2.5
2.3
2
15
65
G3/4
1520
1100
1400
620
WFS-18.5A
3.3
3.1
2.5
18.5
65
G1
1520
1100
1400
720
WFS-22A
3.7
3.5
3
22
68
G1
1520
1100
1400
830
WFS-30A
5.3
5
4.3
30
71
G1-1/2
1760
1250
1600
980
WFS-37A
6.2
5.9
5
37
71
G1-1/2
1760
1250
1600
1100
WFS-45A
7.5
7
6
45
74
G1-1/2
1900
1250
1360
1250
WFS-55A
10
9.5
7.9
55
74
G2
1900
1250
1360
1450
WFS-75A
13
12.5
10
75
75
G2
1900
1250
1360
1600
WFS-90A
15
13.5
12.8
90
75
G2
2000
1250
1360
2000
WFS-110A
20
18.5
16.5
110
78
DN65
2100
1850
1700
2500
WFS-132A
23.5
23
20
132
78
DN65
2100
1850
1700
2650
WFS-160A
26
24
23
160
80
DN80
2300
1900
1900
2800
WFS-180A
32.5
31
28
180
82
DN80
2300
1900
1900
3000
WFS-250A
42
40
38
250
85
DN100
3200
2100
2000
4800
Product Details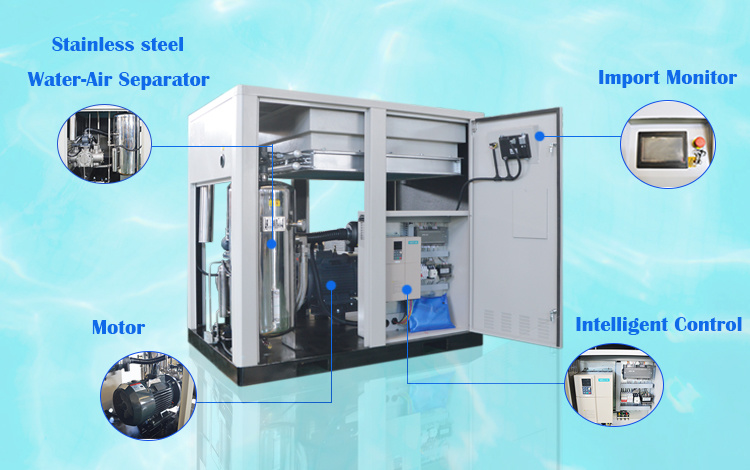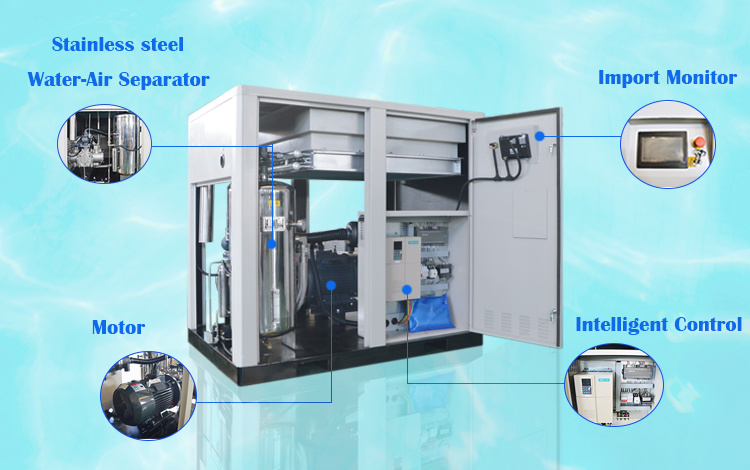 Advantage:
Oil Free ----Totally Oil Free:

Oil free water lubrication screw air compressor is a kind of compressor that provides clean, pollution-free, 100% oil free screw air compressor, its zero emission can protect the environment efficiently.

Water ---- Lubrication, Sealing and Cooling:

Ideal isothermal compression High efficiency (large air delivery)

Low temperature compression No need the intercooler and after cooler

Low rotation speed Low noise, low vibration and no need the overdrive gear

Low viscosity of lubrication water Easy to be separated with the air
All stainless steel pipe : Simple ,non-corrosive,non-polluting,high reliablity
Ceritifications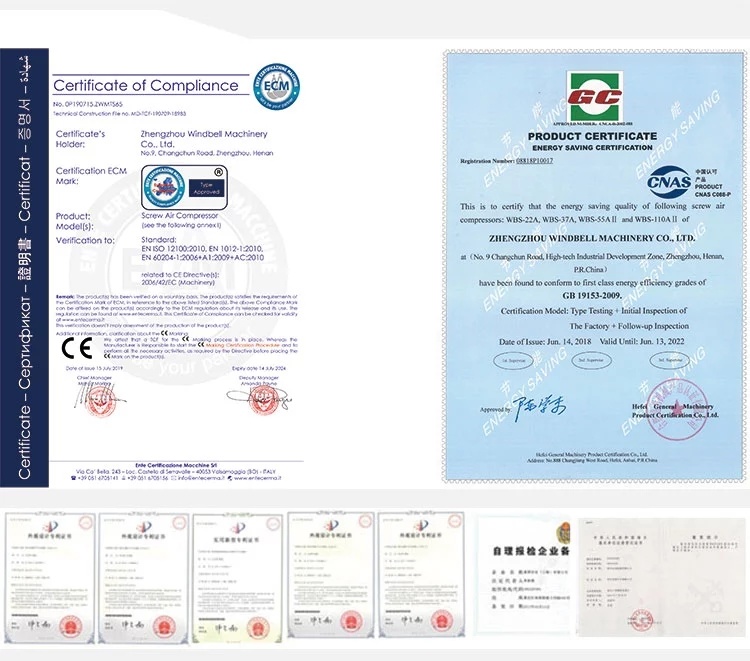 Company Information

Windbell Co. Ltd. was established in 2006. It is a high-tech company mainly producing Screw Air Compressor.Located in Zhengzhou National High and New Technology Industries Development Zone, the company has more than 100 employees equipped with 50 advanced testing machines working in the plant area of 20000 square meter. A high profile R&D team with experience in developing products with GHH and Rotor, has more than 20 patents granted. The company can produce more than 4000 Air Compressor every year.We believe that without an advanced quality management system you cannot make high quality products. With ISO9001 and ISO14001 certifications, the company aims to be a pioneer in offering consumers efficient, energy-saving, and environment-friendly solutions in the application of air compressor. Based on its R&D output, the company has successfully applied its solutions to the field of mining, tunneling, outdoor construction and its technology also facilitates the production of medical oxygen generators and textile equipment. The Screw Air Compressor are widely sold to Southeast Asia, Central Asia, Middle East, Africa, and South America...
FAQ
Q1: Why customer choose us?
A: WINDBELL MACHINERY CO., LTD., with 13 years old history, we are specialized in Screw Air Compressor. We warmly welcome your small trial order for quality or market test.
Q2: Are you a manufacturer or trading company?
A: We are professional manufacturer with big modern factory in Zhengzhou,China. Both OEM & ODM service can be accepted.Pls check Our Company Profile.
Q3: What's your delivery time?
A: Generally 15 to 20 days, if urgently order, pls contact our sales in advance.
Q4: How long is your air compressor warranty?
A: One year for the whole machine and two years for screw air end, except consumble spare parts.
Q5: How long could your air compressor be used?
A: Generally, more than 10 years.
Q6: What's payment term?
A: T/T, L/C, Western Union, Credit Card, and etc. Also we could accept USD, RMB, Euro and other currency.
Q7: How about your customer service?
A: 24 hours on-line service available. 48hours problem sovled promise.
Q8: How about your after-sales service?
A: 1. Provide customers with intallation and commissioning online instructions.
2. Well-trained engineers available to overseas service.