Description of goods:
High pressure belt compressor used in bottle blowing machine , industrial and so on .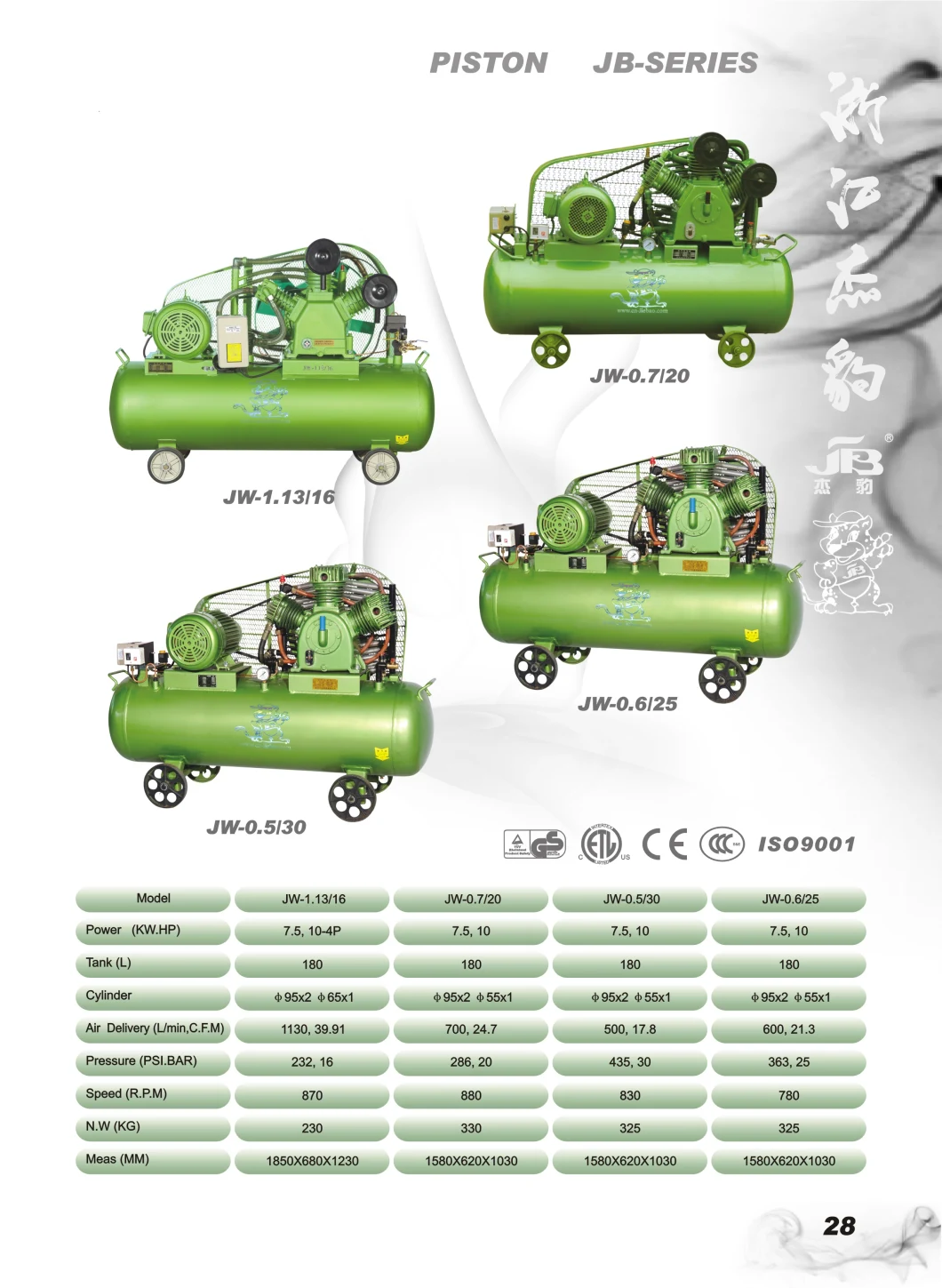 Main Features
1.Heavy cast iron body: heavy load, long stroke, low fuel consumption, low noise

2.Cylinder: made of high-grade cast iron, strength, good lubricity, wall by the fine honing, wear-resistant, durable

3.Piston ring: good elasticity, excellent wear resistance, low oil consumption, not easy to make the valve group carbon deposition and loss of oil to burn the crankshaft and connecting rod.

4.The crankshaft, connecting rod, piston: well balanced, wear resistance, high strength, smooth running balance.

5.High reliable and durable valve; strong aluminum alloy body, light and heat.

6.The motor provides reliable power, low voltage startup and running performance strong fan cooled motor and body; special shock proof design.

7.Double nozzles, were used to direct the exhaust and pressure exhaust; pressure switch with push button, safe and convenient

8. Pressure cast iron pump, can be adapted to use large horsepower;

9. The best choice for a foundry, steel factory, wood factory, cement plant, hospital.

10. Customers could choose different type of compressor pump with different size of air tank or different motor power.

11.1 year warranty.
About us:
Zhejiang Jiebao Machinery Co., Ltd. is a professional manufacturer of direct-coupling, piston-reciprocating, fixed, mobile, screwing, non-oil, medium-pressure, high-pressure and natural gas compressors.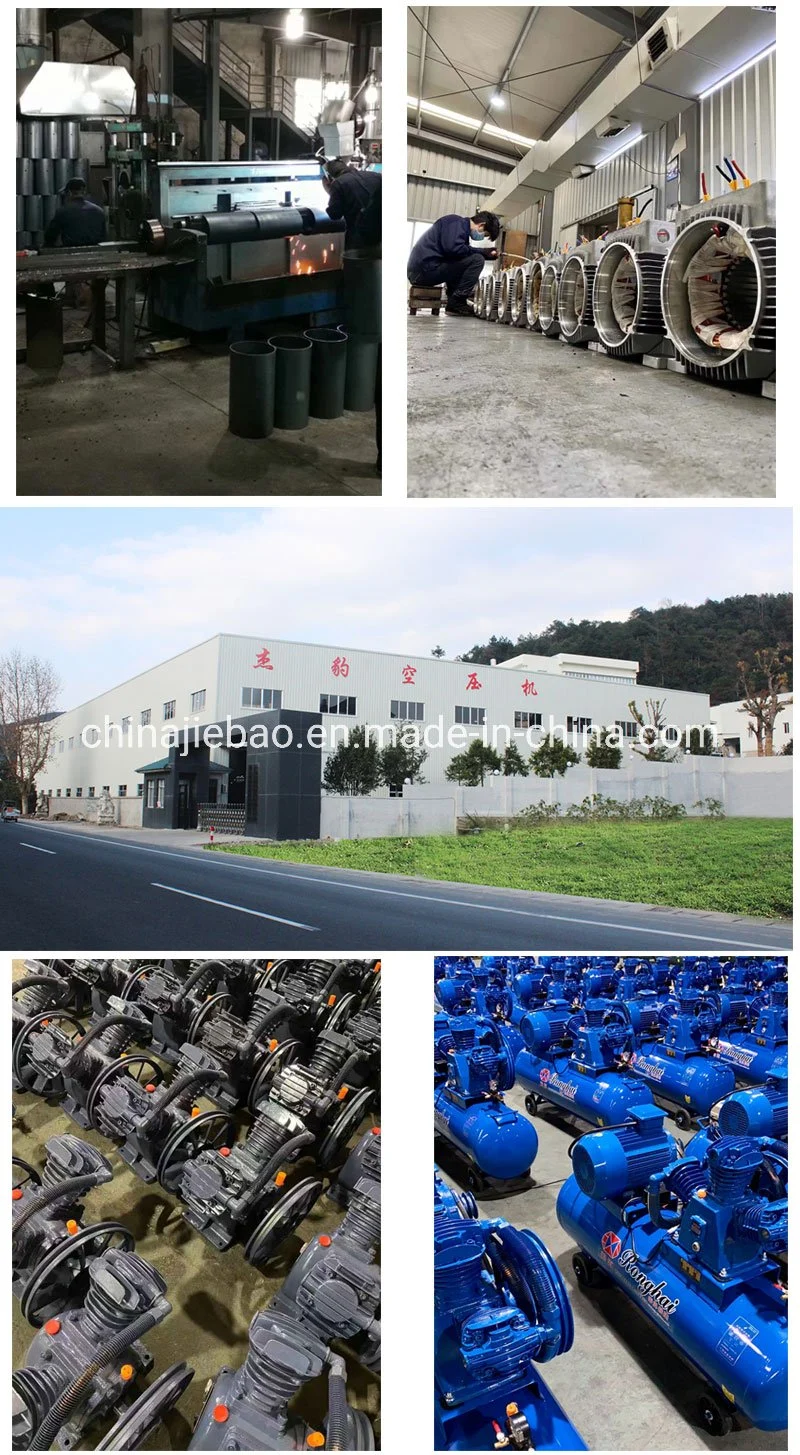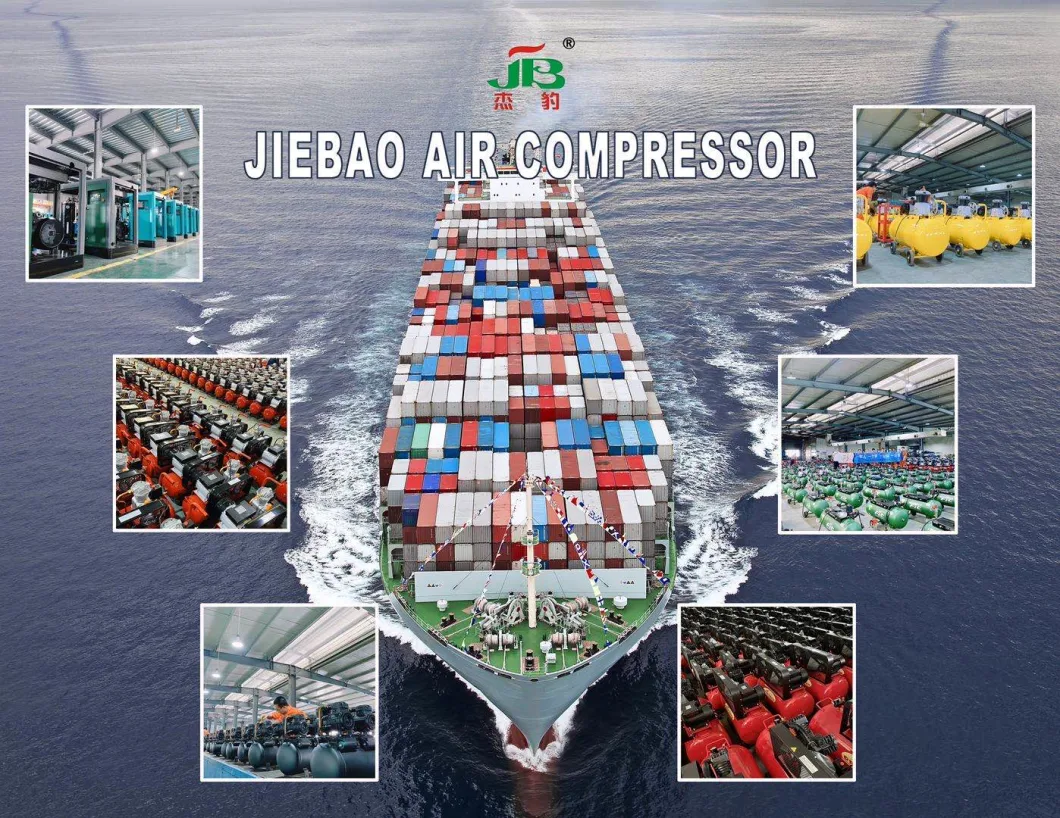 FAQ
1 What trade terms do we provide? What kind of settlement currency do we offer?
Trade term :CIF ,CFR ,FOB,EXW As far Our business traded in Dollar and RMB .
2 How long is our delivery?
Our standard delivery time is 30-40 days after confirmation order & receiving recipets for standard compressors, for the other non standard requirement will be discussed case by case.
3 What is the voltage of the compressor?
The available voltage include 380V/50HZ/3Phase, 400V/50HZ/3P, 415V/50HZ/3P, 220V/60HZ/3P, 380V/60HZ/3P, 440V/60HZ/3P. At the same time we provide other voltage according to customer requirement.
4 Can our compressor run in high temperature environment? What is the working temperature range for our machine?
Yes ,our machine would run in high temperature environment ,until now our products have been sold to many countries which wouldmeet high temperature in summer ,such like Iraq, Saudi Arabia, Egypt, Algeria, etc. Work temperature range :1-45 ºC(33.8ºF-113ºF)