AirHorse Promises Every Machine Will Run Well More Than 15 Years




Guangzhou AirHorse Compressor co., ltd is the professional manufacturing and exporter. We are specialized in air compressor research, development and production. The main products including screw air compressor, piston air compressor and air dryer etc. With the advanced design, high reliability, low noise, long running life time, our products are widely used in power generation, semi conductor, shipping, ship building, oil field, rubber, food, pharmacy, package, electronic, communication, cement, glasses, chemical, textile, papermaking, gas, oil refining etc.

With 30 years's profound researches and experience in this line, and the join of high-technical from Germany and Italy, We produce the very good quality screw air compressor and our goods were selling more than 100 countries and area. We are famous with " Superior quality, competitive price and high-grade service".

We have obtained the approval of ISO9001-2000 international quality management system, ISO14001 Enviroment management system authentication, CE quality system, UL quality system ASME quality system etc.
Features Of Belt Driven Screw Air Compressor
1 . Air end with high-efficiency
2. Double Screw with low noise, Super Silenced Enclosure
3. Elegant compact design. Fully open access door to inner parts for easy service.
4. 100% Continuous duty operation. Load/No Load operation
5. High quality CE Certificate industrial electric motors. ISO,CE,UL Certificate
6. Easy to use and read LCD control panel
7. High temperature, high pressure and anti-rotation shutdown
8. Energy efficient operation
9. 5 micron, water-resistant air filtration material
10. 1year full machine warranty,3years air end warranty.
11. Supply the machine with different working voltage according to customer's request,
such as: 380Volt,3phase,50hz
420Volt,3phase,50hz
380Volt,3phase,60hz
220Volt,3phase and 60hz, etc.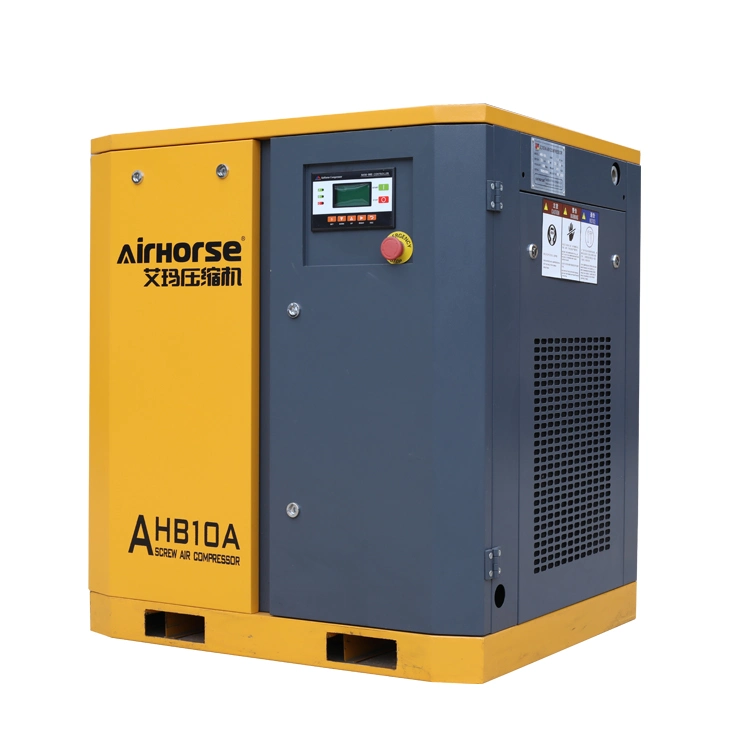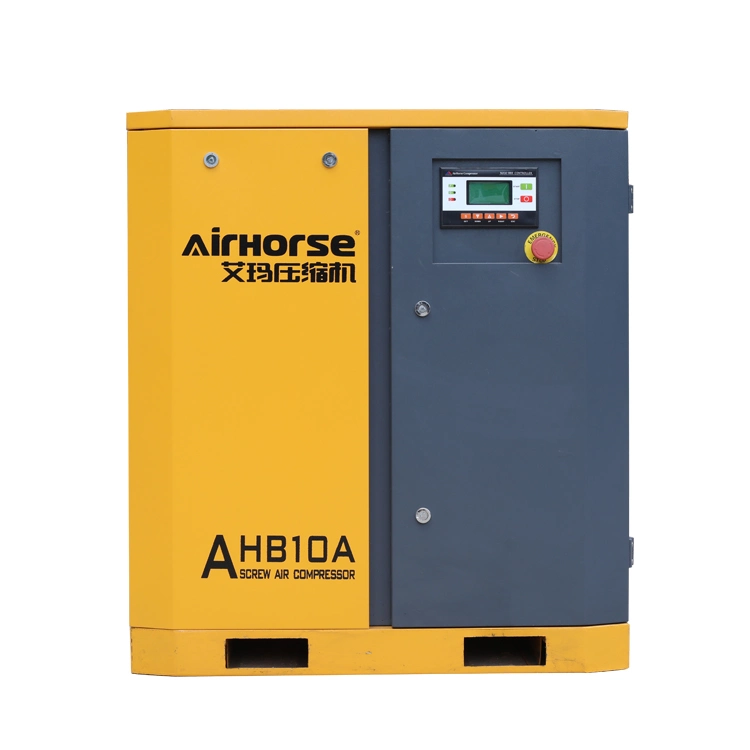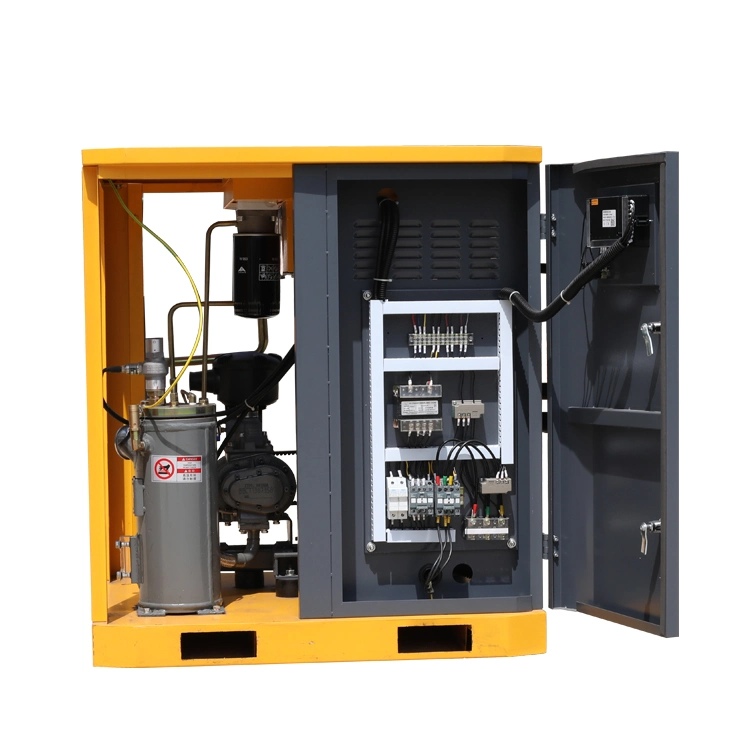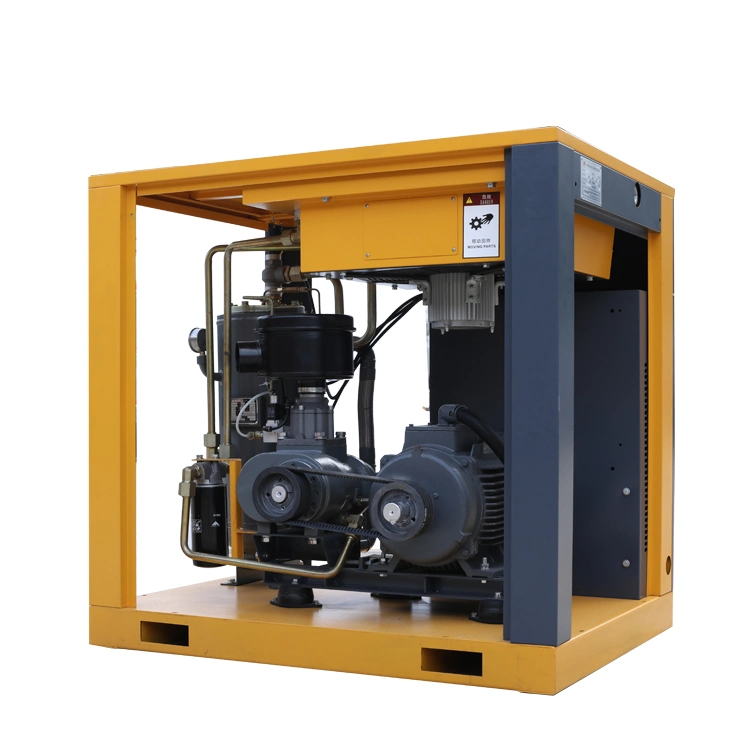 AIRHORSE SCREW AIR COMPRESSOR (BELT DRIVEN)

Model
AHB-7A
AHB-10A
AHB-15A
AHB-20A
AHB-25A
AHB-30A
AHB-40A
AHB-50A
AHB-60A
AHB-75A
AHB-100A
Free air deliver/
Discharge pressure
(m3/min/Mpa)
0.85/0.7
0.75/0.8
1.2/0.7
1.1/0.8
0.9/1.0
0.7/1.2
1.6/0.7
1.5/0.8
1.3/1.0
1.1/1.2
2.5/0.7
2.3/0.8
2.1/1.0
1.9/1.2
3.2/0.7
2.9/0.8
2.6/1.0
2.2/1.2
3.8/0.7
3.6/0.8
3.2/1.0
2.8/1.2
5.2/0.7
5.0/0.8
4.5/1.0
3.8/1.2
6.8/0.7
6.2/0.8
5.6/1.0
4.9/1.2
7.3/0.7
7.0/0.8
6.0/1.0
5.6/1.2
10.0/0.7
9.1/0.8
8.5/1.0
7.6/1.2
13.5/0.7
12.6/0.8
11.2/1.0
10.0/1.2
Free air deliver/
Discharge pressure
(CFM/PSI)
30/102
27/116
42/102
39116
32/145
25/174
57/102
53/116
46/145
39/174
88/102
81/116
74/145
67/174
113/102
102/116
92/145
78/174
134/102
127/116
113/145
99/174
184/102
177/116
159/145
134/174
240/102
219/116
198/145
173/174
258/102
247/116
212/145
198/174
353/102
322/116
300/145
269/174
477/102
445/116
396/145
353/174
No.of
compression
stage
single stage
Ambient temperature
-5--+45°c
Cooling model
Air --Cooling
Discharge temperature
(°c)
Ambient temperature+15°c
Lubricant(L)
16
18
30
65
Noise level(Db)
62±2
64±2
62±2
68±2
72±2
Drive method
Multivee belt
Electricity
(V/ph/Hz)
380/3/50
Power
(KW/HP)
5.5/7
7.5/10
11/15
15/20
18.5/25
22/30
30/40
37/50
45/60
55/75
75/100
Starting method
Y-ΔStarter
Dimension:
length/
width/
height(mm)
800*
720*
950
860*
740*
960
1100*
850*
1160
1400*
950*
1300
1500*
1000*
1420
1730*
1170*
1700
1820*
1250*
1760
Weight(kg)
128
240
400
420
600
620
680
980
1050
1600
1800
Air outlet pipe
diameter
(inch/mm)
3/4"
1"
1 1/2"
2"

Guangzhou AirHorse Compressor Co., Ltd.
• Professional manufacturer of air compressor system equipment
• Main products include Screw Air Compressor• Cutting-edge technology & leading techniques: original German air end with SKF bearing, Siemens/ABB electricity system and spare parts of other world-famous brands. To ensure reliability, high performance, low noise and long life span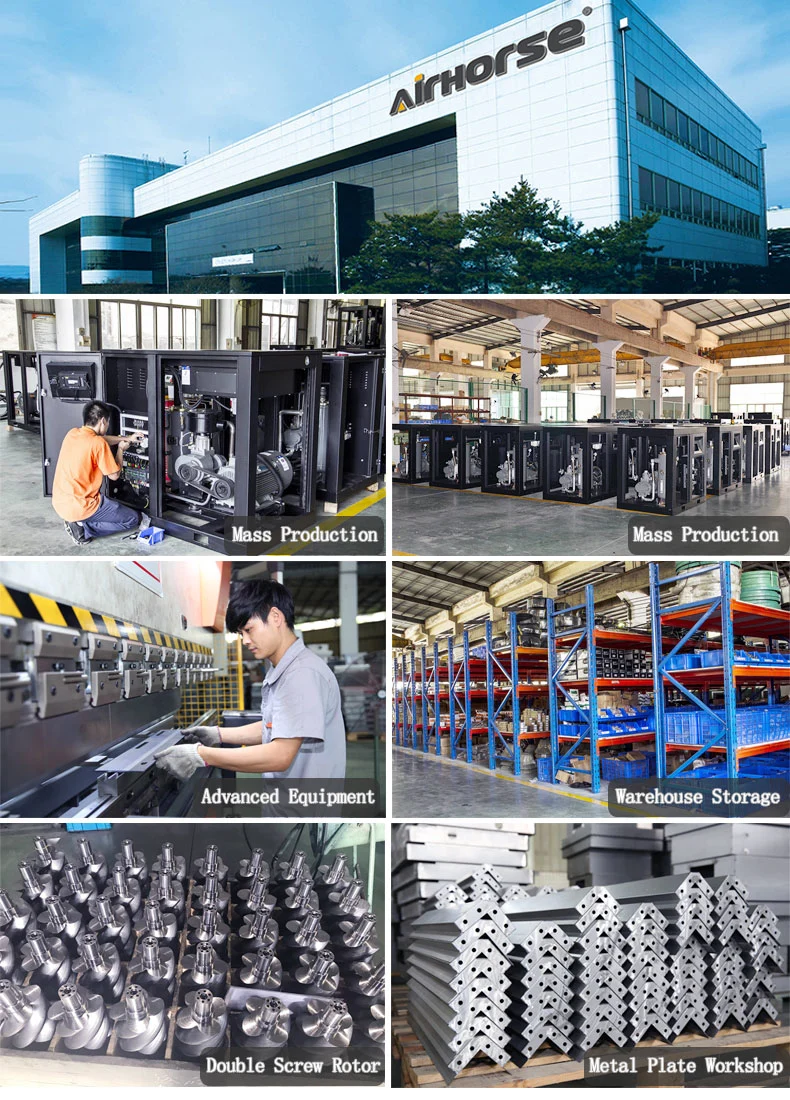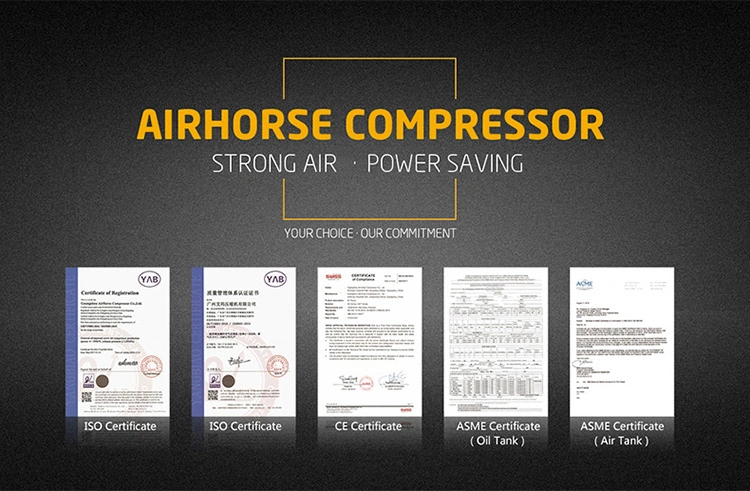 Packaging and Shipping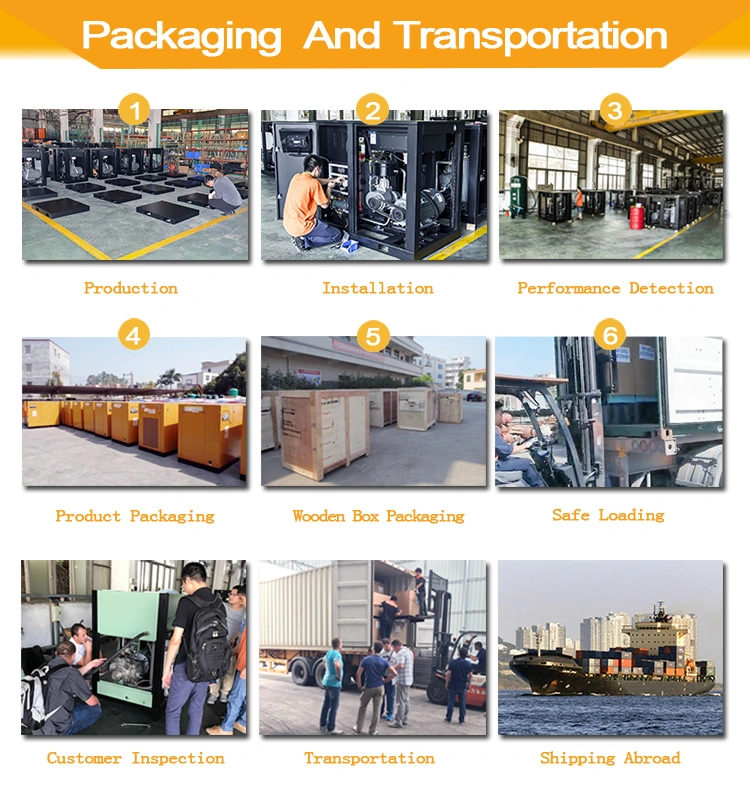 Our Service

After-sale Service
• Any questions or requests before, during or after sales, we would like to help you any time and will find you the best solution in 24 hours.
• Warranty: One year for the whole machine Genuine spare parts will be provided with best price.
• Over board engineer service is available.
Special Customized Service
1) Full OEM
• Quantity: at least 5 pcs
• In this plan, we will do all the changes (Color, name plate and logo) as your need, and will not charge extra fee.
2) Half OEM
• Quantity: no limit
• Under this program, we can make the necessary alteration (name plate and logo) but we will charge some extra fee for the name plate, as the name plate factory has the MOQ.
3) Logo OEM
• Quantity: no limit
• Only the logo will be changed to yours, and no extra fee will be charged.
Overseas Engineer Service
• We are available to send our engineer for aboard service. Only need you to arrange the accommodation, transportation and translator. Extra cost for each will be discussed based on local price level.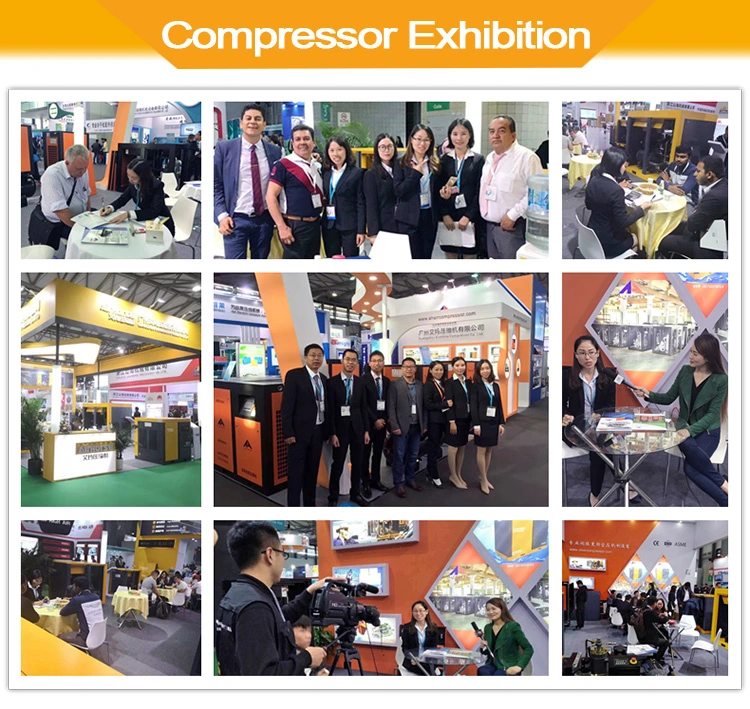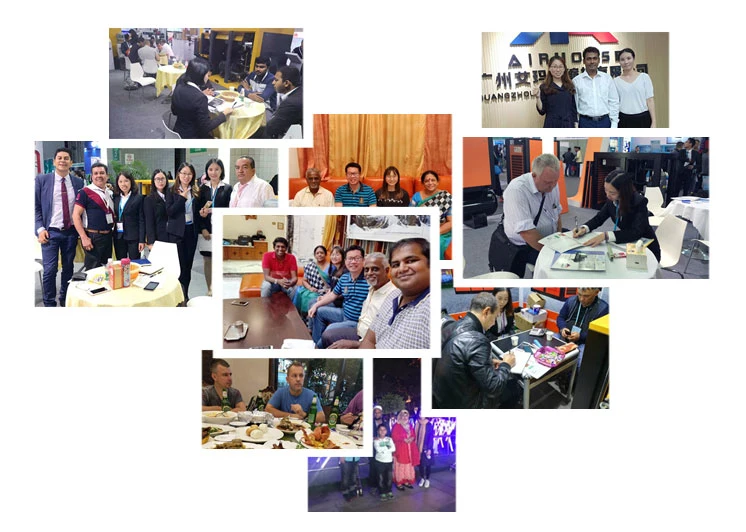 FAQ
Q1: Are you factory or trade company?
A1: We are factory.

Q2: What the exactly address of your factory?
A2: Our company is located in AirHorse Industrial Park, Zengcheng District, Guangzhou, Guangdong, China
Q3: Warranty terms of your machine?
A3: One year warranty for the machine and technical support according to your needs.
Q4: Will you provide some spare parts of the machines?
A4: Yes, of course.
Q5: What about product package?
A5: We pack our products strictly with standard seaworthy case.
Q6: What about the voltage of products?
Can they be customized? A6: Yes, of course. The voltage can be customized according to your equirement.
Q7: Which payment term can you accept?
A7: 40% T/T in advanced, 60% T/T against the B/L copy.
Q8: How long will you take to arrange production?
A8: 380V 50HZ we can delivery the goods within 7-15 days. Other electricity or other color we will delivery within 25-30 days.
Q9: Can you accept OEM orders?
A9: Yes, with professional design team, OEM orders are highly welcome.
Q10: Which trade term can you accept?
A10: Available trade terms: FOB, CIF, CFR, EXW, CPT, etc.


If you are interested in the product, please send your message to us, we will provide you with the best price of quote.