-----------SPECIFICATIONS-------------
Model

AT-7.5A

AT-11A

AT-15A

AT-18.5A

AT-22A

AT-30A

AT-37A

AT-45A

AT-55A

AT-75A

AT-90A

AT-110A

AT-132A

AT160A

AT185A

AT250A

Motor

Power(kw)

7.5

11

15

18.5

22

30

37

45

55

75

90

110

132

160

185

250

Horsepower(ps)

10

15

20

25

30

40

50

60

75

100

125

150

175

200

250

350

Air displacement/Working pressure (M³/Min./MPa)

1.2/0.7

1.6/0.7

2.5/0.7

3.2/0.7

3.8/0.7

5.3/0.7

6.8/0.7

7.4/0.7

10.0/0.7

13.4/0.7

16.2/0.7

21.0/0.7

24.5/0.7

31.0/7

32/0.7

42/0.7

1.1/0.8

1.5/0.8

2.3/0.8

3.0/0.8

3.6/0.8

5.0/0.8

6.2/0.8

7.0/0.8

9.2/0.8

12.6/0.8

15.0/0.8

19.8/0.8

23.2/0.8

30.0/8

30.8/0.8

40.5/0.8

0.9/1.0

1.3/1.0

2.1/1.0

2.7/1.0

3.2/1.0

4.5/1.0

5.6/1.0

6.2/1.0

8.5/1.0

11.2/1.0

13.8/1.0

17.4/1.0

20.5/1.0

26.0/1.0

30.0/1.0

38.2/1.0

0.8/1.2

1.1/1.2

1.9/1.2

2.4/1.2

2.7/1.2

4.0/1.2

5.0/1.2

5.6/1.2

7.6/1.2

10.0/1.2

12.3/1.2

14.8/1.2

17.4/1.2

22.0/1.2

28.8/1.2

37.3/1.2

Air outlet diameter

DN20

DN25

DN25

DN25

DN25

DN40

DN40

DN40

DN50

DN50

DN50

DN65

DN65

DN65

DN100

DN100

Lubricating oil volume (L)

10

16

16

18

18

30

30

30

65

65

72

90

90

125

150

150

Noise level dB(A)

60±2

62±2

62±2

64±2

64±2

66±2

66±2

66±2

68±2

68±2

70±2

70±2

70±2

70±2

72±2

74±2

Driven method

Direct driven

Start method

PM VSD

Extenal dimensions

Length (mm)

950

1150

1150

1350

1350

1500

1500

1500

1900

1900

2450

2450

2450

2360

2860

2860

Width (mm)

670

820

820

920

920

1020

1020

1020

1260

1260

1660

1660

1660

1610

1890

1890

Height (mm)

1030

1130

1130

1230

1230

1310

1310

1310

1600

1600

1700

1700

1700

1860

2200

2200

Weight (kg)

250

400

400

550

550

700

750

800

1750

1850

1950

2200

2500

2700

3550

3880
-----------MAIN
FEATURES
-------------
1
.
Advanced High Efficiency Air End
Adopts industry-leading screw air end, high efficiency and low rotating speed.With the third generation tooth type of rotor, cutting-edge geometric design-stable, reliable, energy saving and long service life.
2. Flexible Coupling Direct Driven
Adopts direct connection structure without any loss, transmission efficiency is 100%, maintenance cost is low, disassemble
is convenient, greatly saves the downtime.Easy maintenance--air end maintenance only needs to disassemble the air end, motor maintenance only needs to disassemble motor, do not affect each other.
3. Intelligent Microcomputer Control System
Adopts intelligent control system to ensure fully automated intelligent operation, detect exhaust pressure, temperature and other field data, and control the exhaust pressure within the preset pressure range through the intake valve, so as to output stable pressure.
4. Safe,
Reliable and Efficient Motor
Adopts unique low-speed motor, protection grade IP55, insulation grade F, suitable for bad working conditions.High balance precision, high
speed running smoothly.
5. Unique Heat Removal &Cooling System
Adopts advanced design, harmonica radiator, effectively increase the heat dissipation area, run faster and smoother, and take away the heat of the machine in time. The heat exchange effect of the same area is 30% higher than that of the traditional cooler. Even in the Asia-Pacific region with high temperature and high humidity, the normal operation of the unit can be guaranteed.
-----------MAIN PICTURES-------------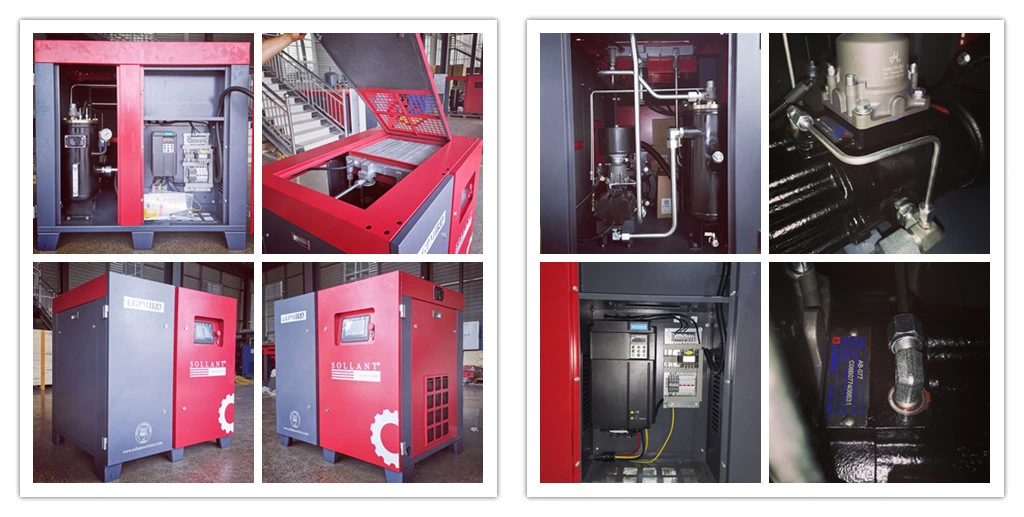 -------------COMPANY PROFILE----------------
Shandong Sollant Machinery Manufacturing Co., Ltd. is located in Linyi City Shandong Province which is China's logistics capital with great transportation convenience. Sollant is a comprehensive screw air compressor manufacturer that engaged in R & D, design, production and sales.
It has a plant of 10,000 square meters, including a large production workshop, a comprehensive first-class exhibition hall and a testing laboratory.
Sollant has excellent mechanical engineering designers, an experienced staff team and a professional management team. The production concept focuses on energy-saving and is committed to perfecting and improving the technological process in order to get the core technology
of super frequency energy-saving, achieving the characteristics of mute, durability, power saving and safety.
The company has 9 series of products with multiple models. Including Fixed speed air compressor, PM VSD air compressor, PM VSD two-stage air compressor, 4-in-1 air compressor, Diesel portable screw air compressor, Electric portable screw air compressor, Air dryer,
Adsorption machine and the matching spare parts. Sollant adheres to the business philosophy of cooperation and mutual benefit to provide a
one-stop service for every customer!
Sollant air compressors not only cover the domestic market but also are exported to more than 20 countries and regions such as South Africa, Australia, Thailand, Russia, Argentina, Canada and so on. Sollant products have won a good reputation from users for their excellent
quality and style. The company has always adhered to the concept of quality first, service first and dedication to providing every customer with excellent products and meticulous after-sales service!
Sollant warmly welcome customers at home and abroad to visit our factory and establish a wide range of cooperation!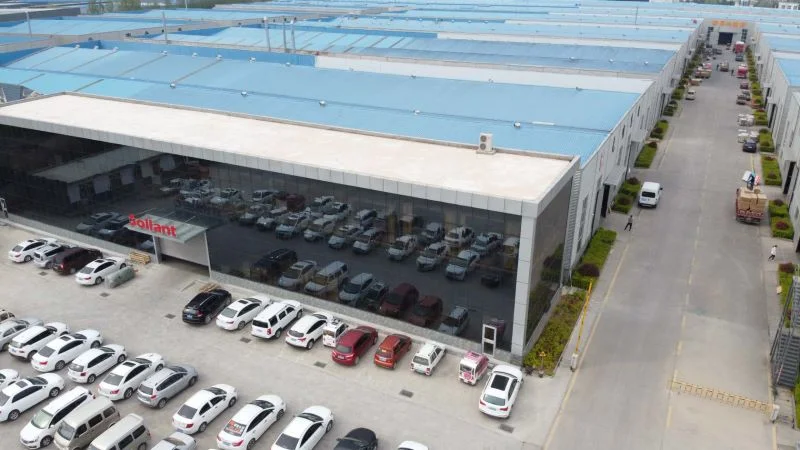 ---------------------
OUR
PRODUCTS
-----------
--------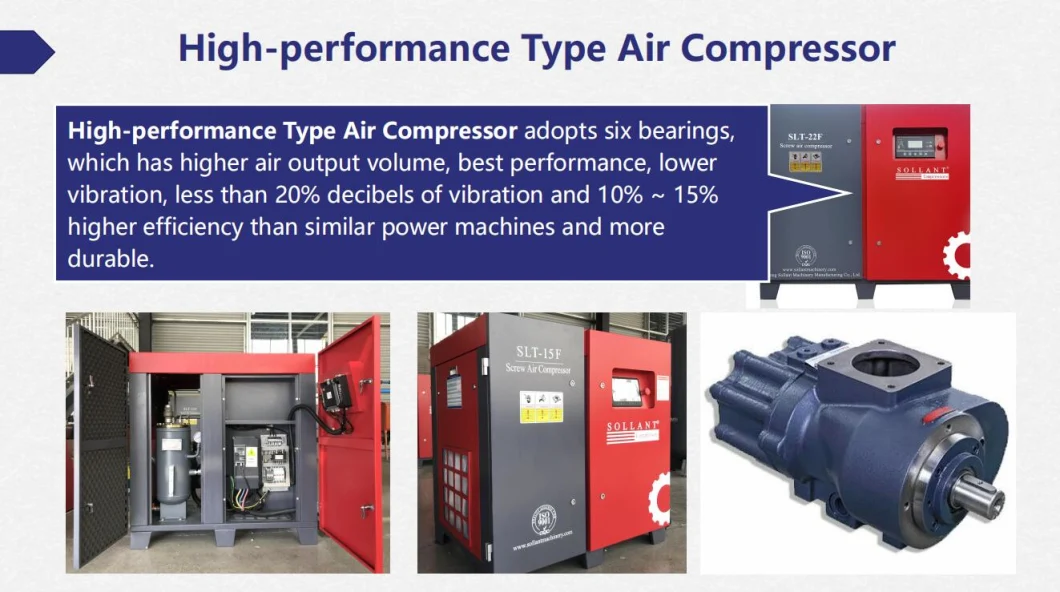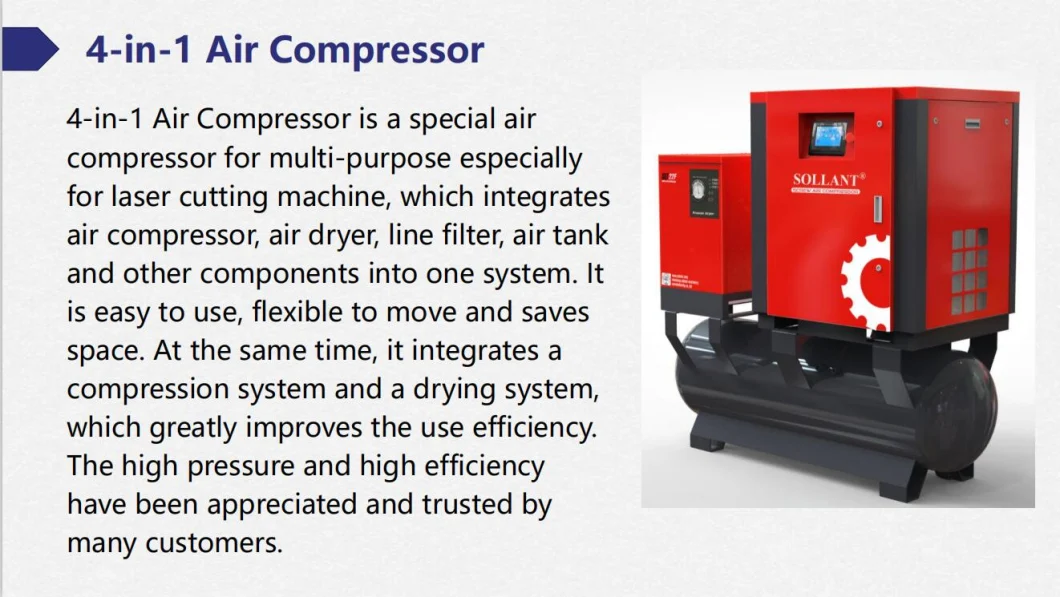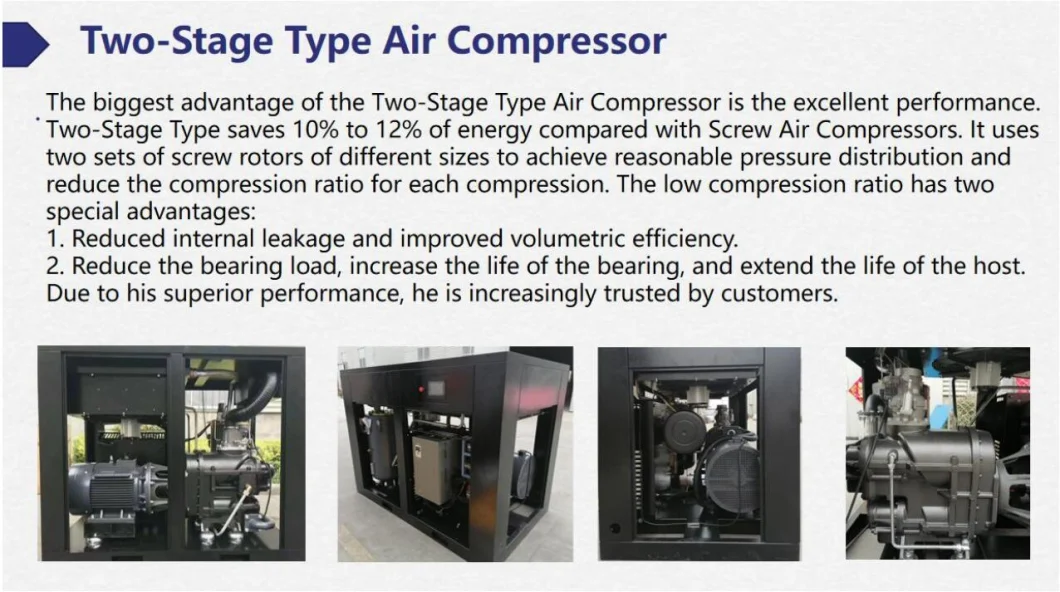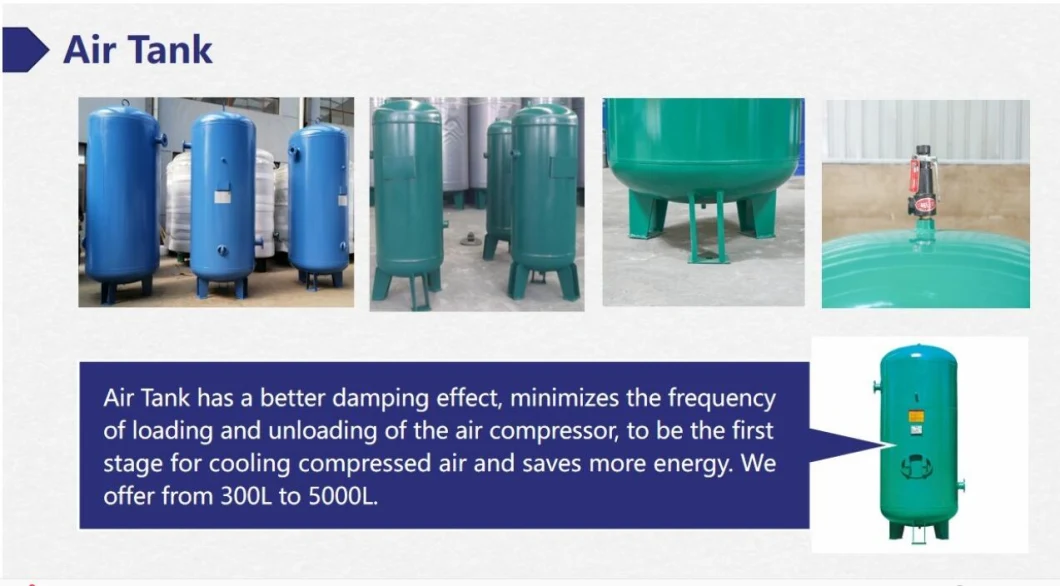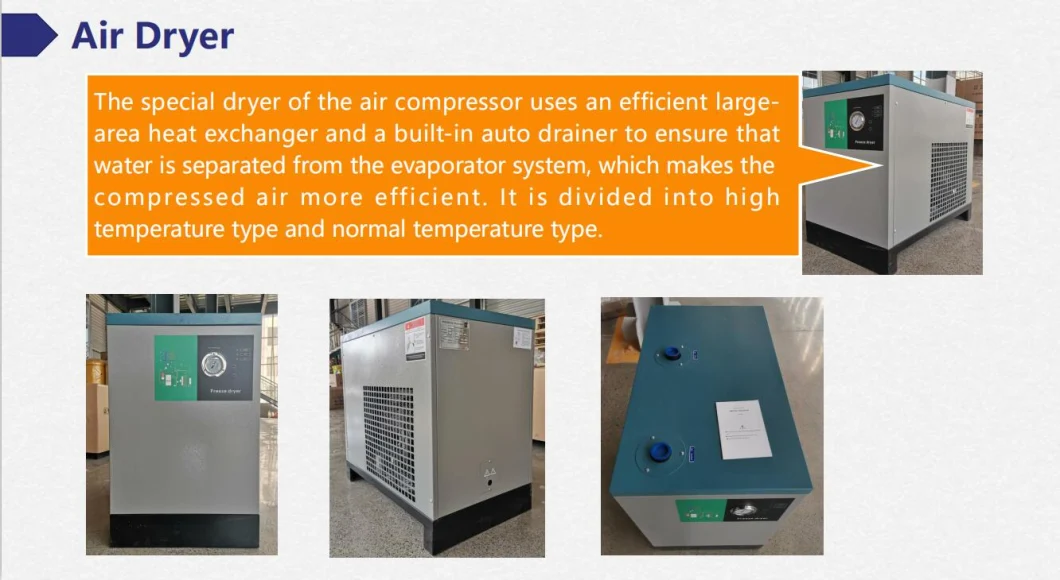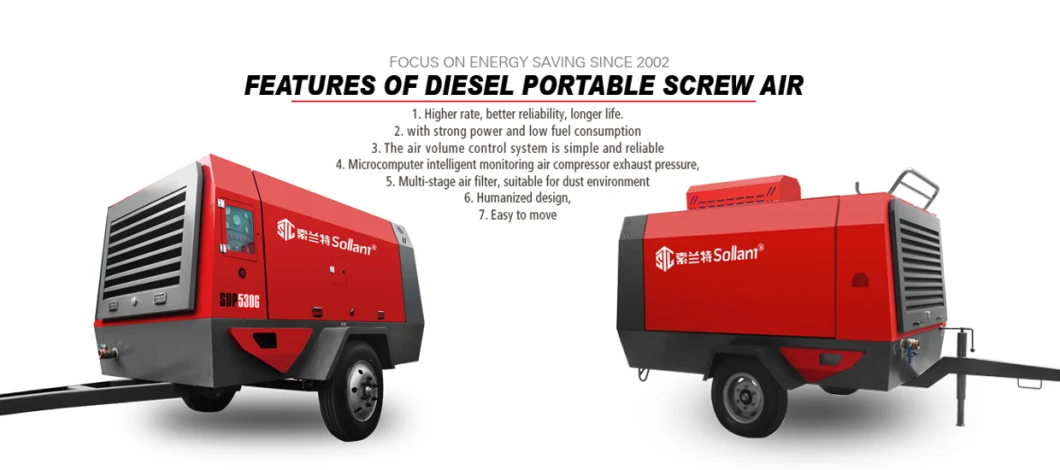 -----------
------------
FAQ-----------
----------
Q1: Are you a factory or trade company?
A1: We are an integration of industry and trade. The factory and international trade department are in the same place.
Q2: What the exact address of your factory?
A2: Mengshan Industrial Park, Linyi City, Shandong Province, China.
Q3: Warranty terms of your machine?
A3: 18 months for the whole machine, two years for air end, technical support for life.
Q4: How long is your delivery?
A4: 25-30 days after receiving your 30% down payment.
Q5: Terms of payment?
A5: T/T and L/C at sight.
Q6: What is the MOQ?
A6: 1 PC.
Q7: Can you accept OEM orders?
A7:
Yes, with a professional design team, OEM orders are highly welcome.
Q8: Can you accept color customize?
A8: Yes we can.
Q9: Will you provide some spare parts of the air compressor?
A9: Yes, of course.
Q10: What's your factory's production capacity?
A10: About 1000 units per month.Thank you.
---------
AFTER SERVICE-----------------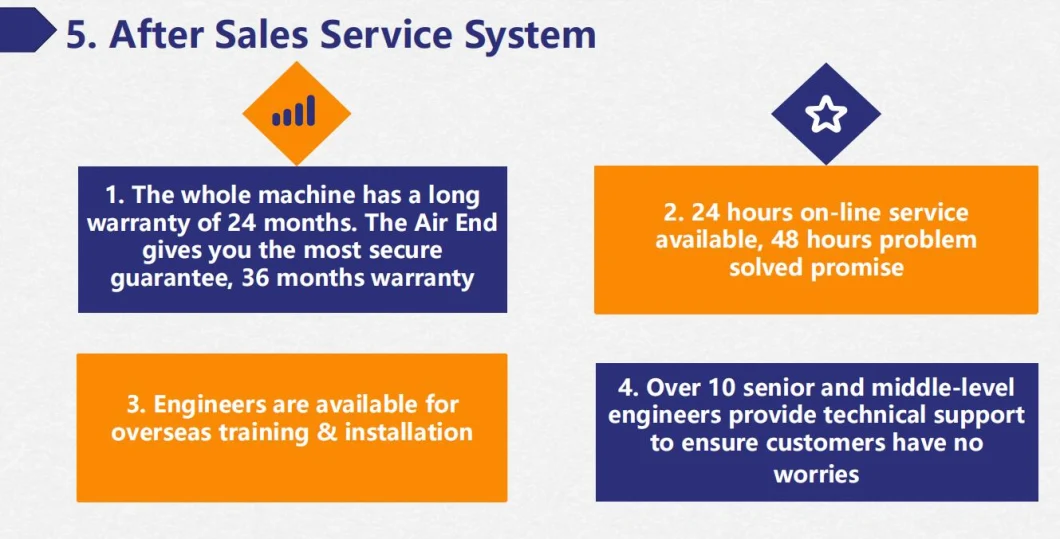 ---------
OUR DELIVERY
-----------
--------
We provide a high quality wooden or cardboard boxes to ensure the absolute safety of the product during transportation.
The packing method depends on the shipping method, and our professional sales staff will make the most professional recommendation based on your shipping method.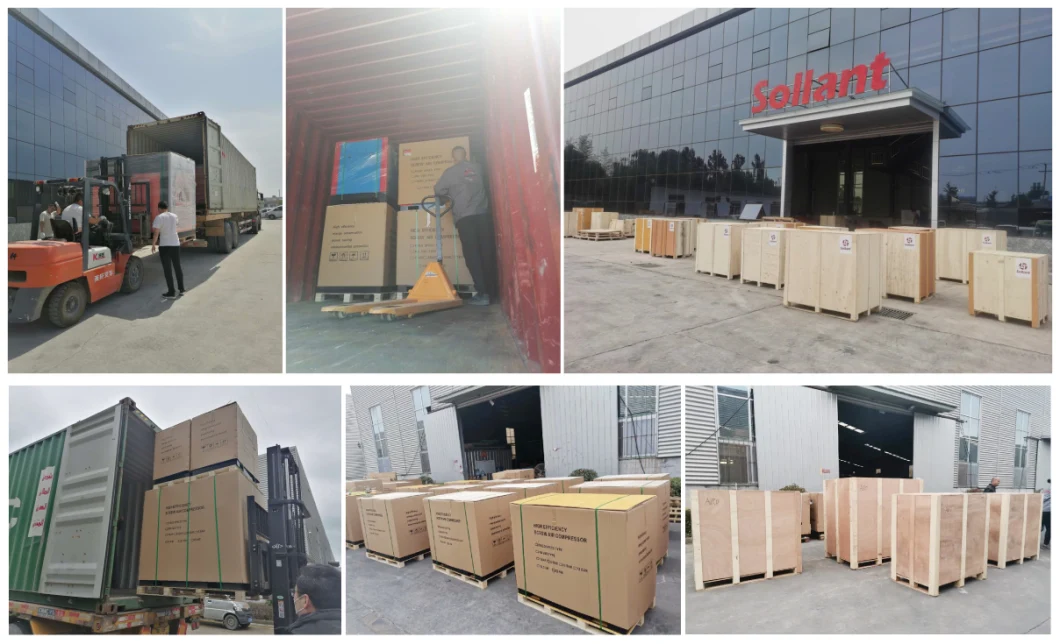 For more detailed information, you are welcome to contact us by email or Wechat & WhatsApp.