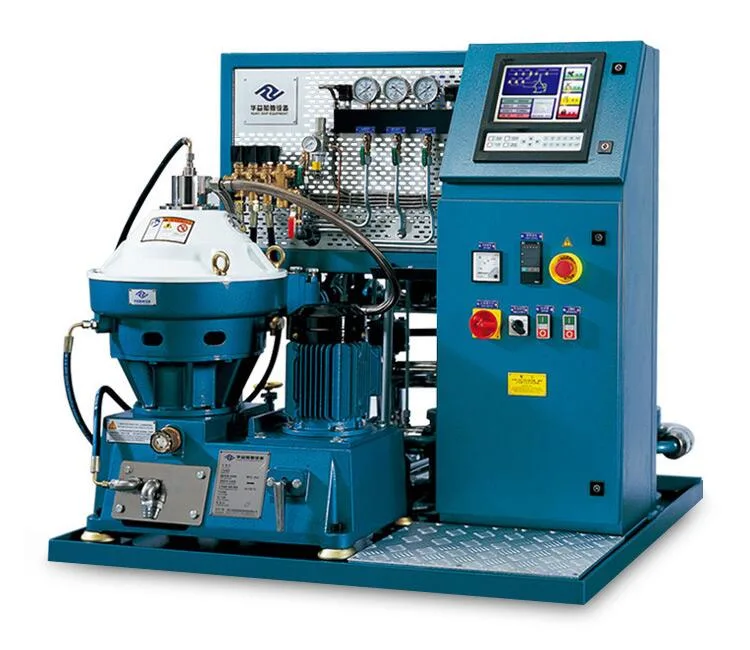 System Principle Diagram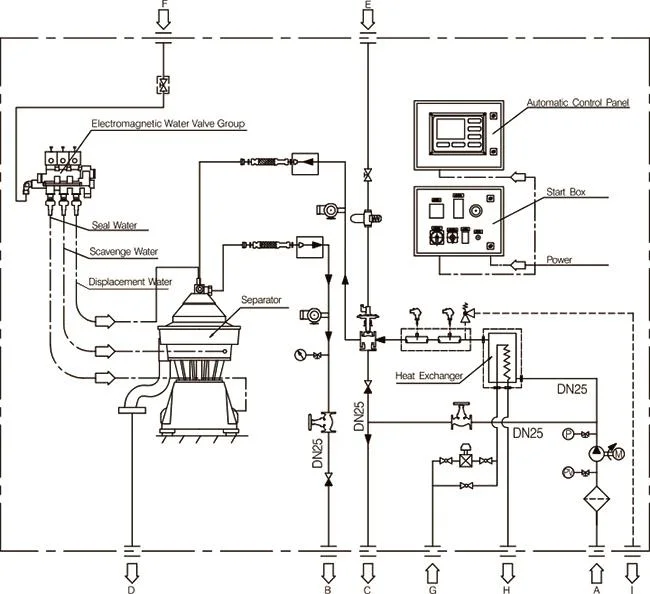 Structure Function
The separator module can realize operations of sealing, displacing and deslagging through electromagnetic valve, while its air pressure three-way valve and flow regulating valve are used for media separating. The temperature can be automatically adjusted, and the automatic alarm can be carried out through the temperature sensing signal and the pressure sensing signal. The unit module that has a high degree of intelligence and humanization design is operated by touch screen, showing the dynamic operations with the function of fault analysis and fault memory. It could be extended to central control room to realize remote monitoring.
Separator Interface Table
| | | |
| --- | --- | --- |
| CODE | NAME | DIAMETER |
| A | Dirty Oil Inlet | DN25 |
| B | Purified Oil Outlet | DN25 |
| C | Circulating Oil Outlet | DN25 |
| D | Drain Contamination Outlet | DN50 |
| E | Compressed Air Inlet | DN8 |
| F | Operating Water Inlet | DN15 |
| G | Heat Source Inlet | DN25 |
| H | Heat Source Outlet | DN25 |
| I | Drain Outlet Oil Collection Pan | G3/4″ |
Separator Parameters Table
Separator Model
HPA605
HPA615
Separator Unit Model
HM605-A1
HM615-A1
Separator Speed(r/min)
9512
9512
Rated Separation(L/h)
2000
3000
Effective Separation(L/h)
2000(0#diesel oil)
1300(180cst/50ºC)
950(380cst/50ºC)
860(SAE40)
3000(0#diesel oil)
2000(180cst/50ºC)
1600(380cst/50ºC)
1450(SAE40)
Net Oil Output Pressur
0.15-0.2MPa
Emissions Way
Automatic
Separator Motor
ABB
Separator Motor Power
2.2KW
3KW
Separator Motor Speed
50Hz 2850r/min or 60Hz 3450r/min
Motor Protection Grade
IP55
A1/A2
F
Power Supply
AC380V/50HZ or 440V/60HZ
Fresh Water Pressure
0.2-0.5MPa
Module Weight(kg)
600
650
Module Size (L ×W ×H)
1360×1100×1250
As an integrated marine supplier, we can offer authentic products with competitive price and one-stop hassle free services.

Our supply includes complete engine and spare parts of brand: GUANGCHAI,NINGDONG,WUXI,NANTONG, SHANGCHAI DONGFENG,MAN B&W, DAIHATSU,SDEC,CHIDONG,ZIBO,WEICHAI, etc.
We also supply other marine equipment, such as GEARBOX,TURBO CHARGER,AIR CIMPRESSOR, BOILER, OIL SUPPLY UNIT, ANCHOR, ANCHOR CHAIN, LIFEBOAT,AIRBAG etc.

Welcome to contact us for anything we can support!