oil-free water-injected screw compressors for pharmaceutical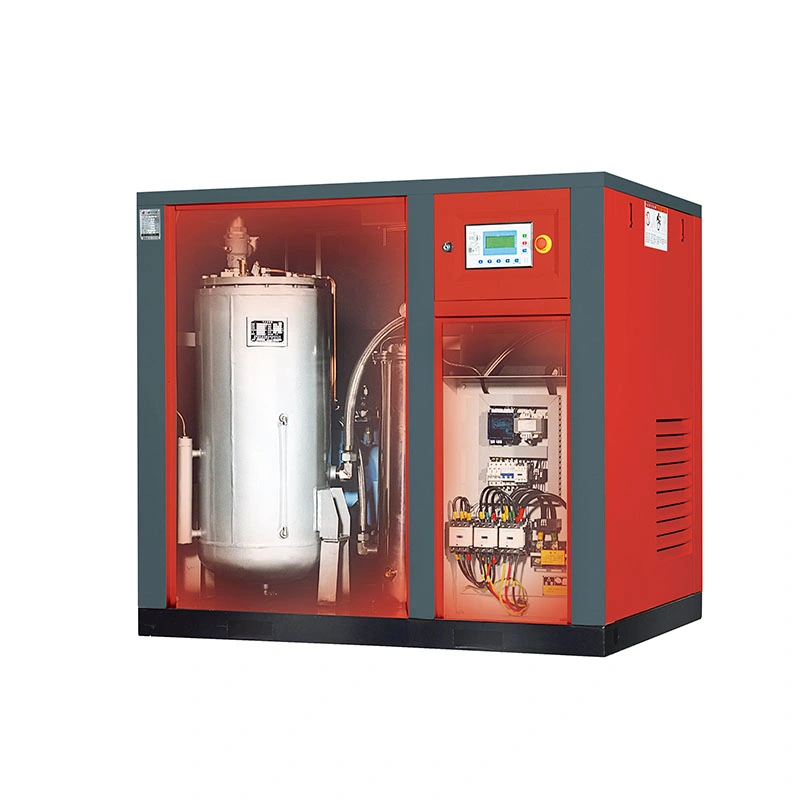 I. Introduction:

The oil-free screw compressor adopts European water- lubricating air end. Being resistant to corrosion, it's free of deformation in high and low temperature environments. A separate lubricating watercourse is adopted inside to minimize abrasion of the air end, to reduce air pollution and to increase the air flowing speed. It adopts original water separation and softening systems imported from Germany to increase the water separation effect and make sure the water content in the exhaust air less than 2mg/m3.

It adopts the copper screw and imported DOS. DS sealing materials so that the sealing and engagement of the screw are tighter and the sealing materials are more wear-resisting.

It adopts imported SKF bearing , the separate internal hermetic seal technology to guarantee absolutely zero contact between lubricating water and bearings, reduce rustiness of bearings caused by lubricating water and make sure of the service life of bearings exceeding 50000 hours.

Its water system adopts the unique water filtration and lubrication system of German DOS. DS to make the best use of lubrication, sealing noise reduction and cooling functions. The full automatic water control system ensures reasonable water flow and reduces the compressor's power loss.

It adopts a design of double systems: air and water cooling to ensure the easy use and installation for customers.

All adopt the direct connection transmission with the lowest power consumption.

It adopts water as the medium of cooling, compression and sealing to make the cost lowest.


II. Technical specification
Model
Pressure
Capacity
Motor power
Lubrication water capacity

Joint pipe diameter
Noise level
Dimension

L*W*H
Weight
Mpa
M3/min
Kw/hp
L
Inch

dB(A)
mm
Kg
EOW08A
0.7
1.3
7.5/10
20
3/4''
57
1200*700*1350
430
0.9
1.1
1.0
0.9
EOW11A
0.7
1.7
11/15
20
3/4''
57
1200*700*1350
450
0.9
1.5
1.0
1.3
EOW15A
0.7
2.5
15/20
25
1''
57
1300*780*1450
570
0.9
2.2
1.0
2.0
EOW18A
0.7
3.2
18.5/25
30
1''
58
1300*780*1450
620
0.9
2.8
1.0
2.5
EOW22A
0.7
3.7
22/30
30
1''
60
1300*780*1450
640
0.9
3.4
1.0
3.0
EOW30A
0.7
5.7
30/40
40
1 1/2''
61
1590*950*1500
980
0.9
4.7
1.0
4.3
EOW37A
0.7
6.2
37/50
60
1 1/2''
61
1590*950*1500
1010
0.9
5.6
1.0
5.0
EOW45A
0.7
7.6
45/60
60
1 1/2''
65
1680*1100*1520
1110
0.9
6.8
1.0
6.0
EOW55A
0.7
10.0
55/75
80
2''
67
1800*1100*1520
1200
0.9
9.0
1.0
7.8
EOW75A
0.7
13.0
75/90
100
2''
71
2000*1250*1600
1550
0.9
12.0
1.0
10.0
EOW90A
0.7
16.8
90/120
100
2 1/2''
72
2100*1500*1800
2250
0.9
15.0
1.0
14.0
EOW110A
0.7
20.0
110/150
120
3''
74
2300*1600*2000
2450
0.9
18.5
1.0
16.0
EOW132A
0.7
25.0
132/180
120
3''
77
2300*1600*2000
2450
0.9
23.0
1.0
20.0
EOW160A
0.7
27.0
160/215
150
3''
78
2300*1600*2000
2600
0.9
25.5
1.0
24.0
EOW185A
0.7
33.8
185/250
150
3''
78
2300*1600*2000
3000
0.9
31.0
1.0
28.8
EOW250A
0.7
43.0
250/355
200
4''
79
3100*2250*2200
4500
0.9
41.0
1.0
38.8
III. CE & ISO Certificates: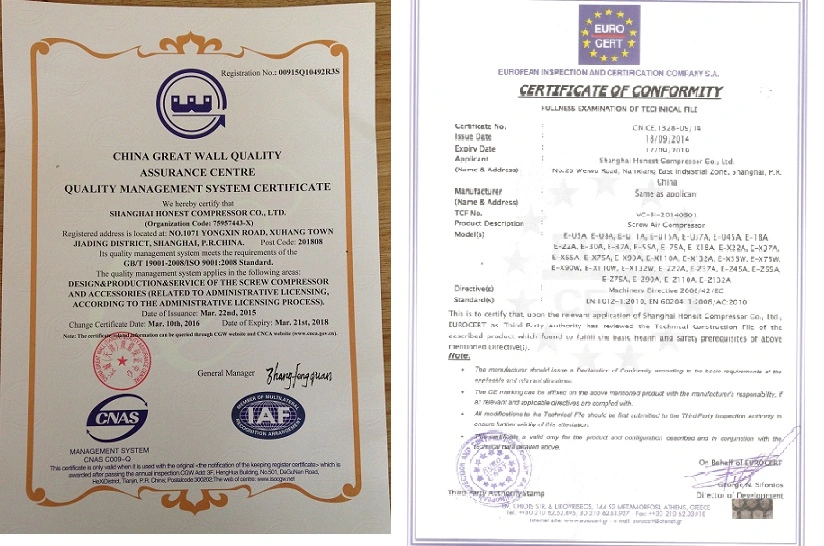 1. Air-end
Single screw air-end made by Japanese technology, The interior consists of 1 horizontal screw plus up & down 2 vertically placed star wheels, it's more like "3 screws". As this symmetrical structure design makes the axial force and radial force cancel each other, improve the stability of the operation and compression efficiency, but lesser noise.

No like the copper screw, our air-end is made buy stainless steel without any coating. Because copper screw has the possibility to generate verdigris which can spoiled your water and air, vanish all of your effort.



2. Motor


Custom made professional motor for oil-free series, motor as the driving component, it's transmission ratio, service factor and rpm, almost everything affect directly to the driven component. We use permanent magnet motor which has no coil and many unnecessary parts, reduce the failure chance, decrease motor size and weight, but gives higher transmission ration.



3. Automatic Water level Switch


According to the internal circulating water, the switch will automatically turn-on and start replenish if needed, to ensure the lubrication and cooling effect, avoid overheating all the time without any supervision needed.



4. Air Filters


using the latest alternating closed filter chamber, combined with tandem filter alignment which increases 50% filtration area by small footprint, purify the air from the very beginning.

The entire element does not contain any metal parts, you can use simply do incineration or other easy treatment. The filter housing is reusable, just clean or replace the element, it saves resources and cost.



5. Valves


Original Japanese imported valves, the best option to prevent downtime caused by leakage, plugging etc,. Ensure quality not only by experiences, but also endorsement from well-know brands, as we know detail leads to success.



6. Cooling system


Reasonable cooling method, cooling method (by air/water) is optional due to customer, accurately calculate the needed cooling air/water to avoid additional energy consumption. Use copper heat ex-changer for better heat dissipation effect, help compressor performs always the best!



7. Intake valve


Custom made for every oil-free, like opening way, angle, diameter and other many aspects, to realize 0~100% adjustment air suction range automatically. In the meantime, the the seal ring can reduce pressure loss. It's active and long life ensure stable loading and unloading for compressor.



8. Invetor


With the strategic cooperation agreement between Dehaha & Delta, every each invertor we use is special made from Delta, tolerate higher temperature, take care complex inlet power and maximize the performance of the permanent magnet motor. Relying on Delta's worldwide service, a better experiment is prepared for you.



9. Water/air separator


Self-develope and designed water/air separator, adopts vortex water-air separation technology, effectively separates the moisture from the compressed air, reduces the burden for after air treatment . It's totally made by stainless steel, avoid rust, keep system clean.



10. Water softener


Softened water is the only water can be used in water lube compressor, but many impurities and micro elements are exist in our water sources, if use directly the local water, then impurities can damage air-end, tanks from inside.
Package photos: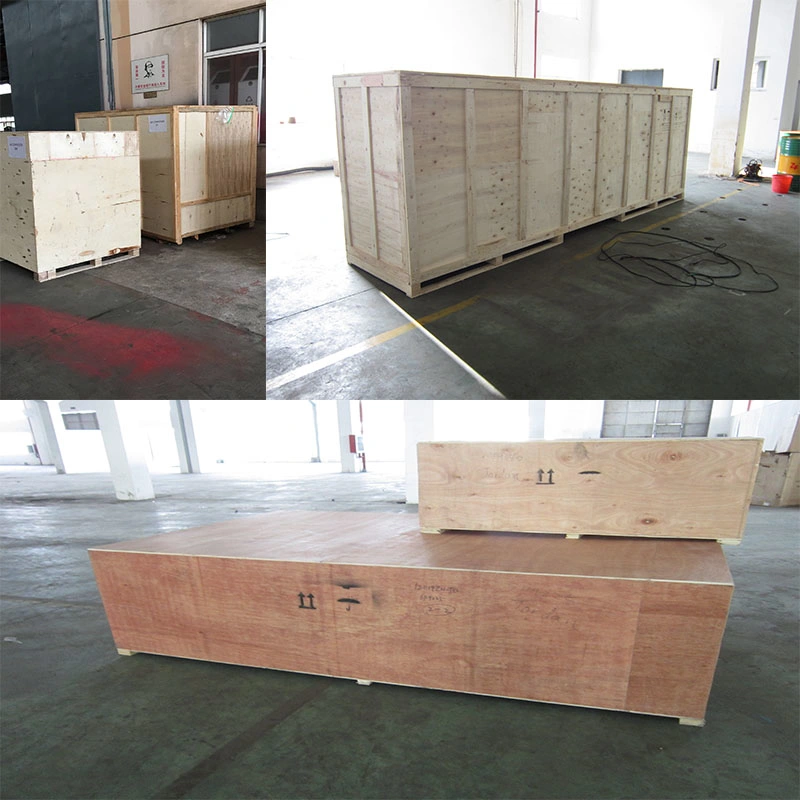 On-site photos: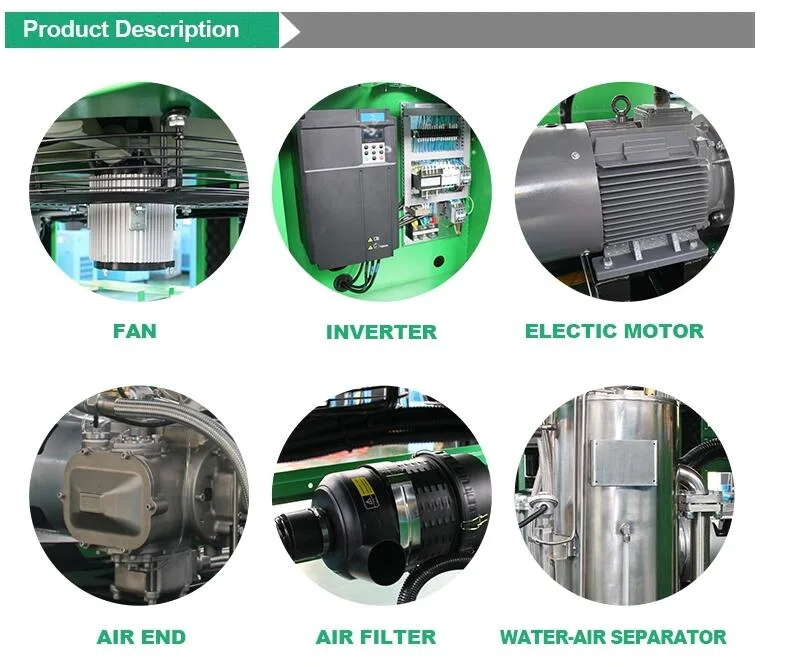 V. Company Advantages
1.Enormous potentiality, long history
Shanghai Honest Compressor Co., Ltd. is one British wholly-owned enterprise. Currently in China, OSG has set up three major manufacturing bases (Shanghai Honest Compressor Co., Ltd, Zhejiang Ulite Tools Co.,Ltd., Guangdong OSG welding), five Manufacturers. Meanwhile we cooperate with the European world-advance air end manufacturer. OSG shanghai possesses a complete production, sales and after-sales service system. OSG has 40 offices and more than 80 after-sales service centers, and products are sold to more than 20 countries.

2. Advanced configuration, world-renowned components, abundant production experience.
The control system is the most advanced. The controller is designed and manufactured by Schneider, France. It is equipped with the large Chinese-English liquid crystal display screen. It can monitor more than 20 main operating parameters, and has the functions of fault recording, maintenance and alarm shutdown. It can achieve efficient intelligent control, unattended.
Remote control: the computer processor can directly check the user's real-time operating system. Combine the reliability, energy saving, practicality in one. remote control can start, stop, load, unload the compressor and also other local control can be carried out. The operation, alarm and fault and relative local information can be monitored. (detailed description followed)
Remote control function:
Multiple compressors remote centralized control: reduce system pressure, reduce energy consumption, real-time monitoring.
Dual pressure setting: Two system pressure bands can be set manually or automatically to optimize energy use and reduce operating costs.
Delayed secondary shutdown: This function controls the motor to run only when needed, allowing the motor to run less and minimize the energy consumption.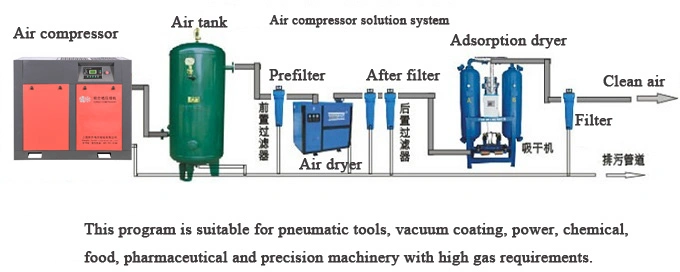 FAQ
Q1: Are you factory or trade company?
A1: We are factory.

Q2: What the exactly address of your factory?
A2: NO.1071, Yongxin Road,Jiading District ,Shanghai City, China.

Q3: Warranty terms of your air compressor machine?
A3: Two years warranty for the machine and technical support according to your needs.

Q4: Will you provide some spare parts of the air compressor?
A4: Yes, of course.

Q5: How long will you take to arrange production?
A5: 380V 50HZ we can delivery the goods within 10 days. Other electricity or other color we will delivery within 35 days

Q6: Can you accept OEM orders?
A6: Yes, with professional design team, OEM orders are highly welcome.


Contact ways

Company Name: Shanghai Honest Compressor Co., Ltd

Telephone: +86-021-69177205

Mobile: +86-18916970085

Website: osgcompressor.en.made-in-china.com