Product Description



Two stage air end
Feature:Two-stage compressor air-end
Advantage:Low compression ratio, Low temperature rising, Low air leakage
Benefit:15% energy-saving
High-efficiency Motor
Feature:IE4 permanent magnet motor/IE4 High-efficiency motor
Advantage:Motor efficiency 97%
Benefit:5% energy-saving
Intelligent control
Feature:VFD system
Advantage:Constant pressure output to remove pressure fluctuation and off-load, Constant temperature output at 9-~85°C, Low starting current to protect components
Benefit:15% energy-saving
Smart display screen
Feature:Intelligent control system
Advantage:10 inch monitor to show all the date
Benefit:Simple operation and touble free
Cooling fan
Feature:Large cooler system
Advantage:Axial flow Fan used for good cooling effect
Benefit:Allow ambient temperature at 52°C
Systematic Design of Oil separator
Feature:Large oil system
Advantage:Reduce internal pressure loss avoid oil, Leakage for safety
Benefit:3% energy-saving
Filter
Feature:Double filtering system
Advantage:Remove impurity from air and cleanness
Benefit:Longer life air -end and lubrication oil
Air inlet valve
Feature:High vacuum degree:700mmHg
Advantage:Large suction area, Low load energy consumption in unloaded operation,
Fast check: prevent unloading and shutdown oil injection
Benefit:Cast aluminum to avoid rust and temperature change
Technical Parameter
1.Power frequency
ODEL
Air flow Capacity (m³/min)

Power

(kW)

Noise

(DB)

Outlet

Diameter

Dimension ( mm)

Weight

(Kg)

0.6Mpa
0.7Mpa
0.8Mpa
1.0Mpa
1.3Mpa
DD-75
15.80
14.70
13.00
9.50
8.60
55
70
DN50
2300x1300x1830
1534
DD-100
18.80
17.40
15.50
12.80
10.00
75
72
DN50
2300x1300x1830
1700
DD-125
21.30
20.70
19.50
16.50
13.00
90
72
DN65
2550x1630x1850
2080
DD-150
26.50
26.30
25.00
20.00
18.80
110
72
DN65
2550x1630x1850
2120
DD-175
34.00
32.60
30.00
24.00
20.00
132
78
DN80
3000x1828x2310
4850
DD-220
41.00
38.00
37.00
29.60
24.50
160
78
DN80
3000x1828x2310
5000
DD-250
44.00
41.00
40.00
34.00
31.00
185
78
DN100
3460x1940x2230
5900
DD-275
48.00
44.00
45.00
40.00
33.00
200
78
DN100
3460x1940x2230
6200
DD-275
55.00
51.00
50.00
43.00
38.00
220
80
DN125
3860x2130x2380
8500
DD-350
60.00
57.00
56.00
47.00
43.00
250
80
DN125
3860x2130x2380
8650
2.Permanent magnet
MODEL
Air flow Capacity (m³/min)
Power
(kW)

Noise

(DB)

Outlet

Diameter

Dimension
(mm)
Weight
(Kg)
0.7Mpa
0.8Mpa
1.0Mpa
1.3Mpa
DDM-30
4.6
4.5
3.8
2.8
22
68
G1 1/4
1484*1126*1578
840
DDM-40
6.6
6.5
4.5
4.0
30
68
G1 1/4
1630*1214*1660
1050
DDM-50
7.7
7.5
6.0
/
37
68
G1 1/4
1630*1214*1660
1050
DDM-60
10.5
10.3
7.3
6.1
45
70
G2
1834*1290*1810
1353
DDM-75
13.6
12.3
10.2
7.0
55
70
DN50
2300*1300*1830
1534
DDM-100
16.0
15.5
12.8
10.2
75
72
DN50
2300*1300*1830
1700
DDM-125
20.7
19.5
16.2
13.2
90
72
DN65
2550*1630*1850
2080
DDM-150
24.8
24.0
20.2
15.2
110
72
DN65
2550*1630*1850
2120
DDM-175
29.0
28.0
23.2
18.7
132
78
DN80
2800*1828*2150
4850
DDM-220
34.0
33.5
28.0
23.3
160
78
DN80
2800*1828*2150
5000
DDM-250
39.0
38.0
33.5
27.7
185
78
DN100
4100*1960*2000
5900
DDM-275
43.0
42.5
38.3
33.3
200
78
DN100
4100*1960*2000
6200
DDM-300
51.5
47.0
42.4
38.3
220
80
DN125
4260*2155*2170
8500
DDM-350
54.0
51.0
45.8
41.4
250
80
DN125
4260*2155*2170
8650
Certificate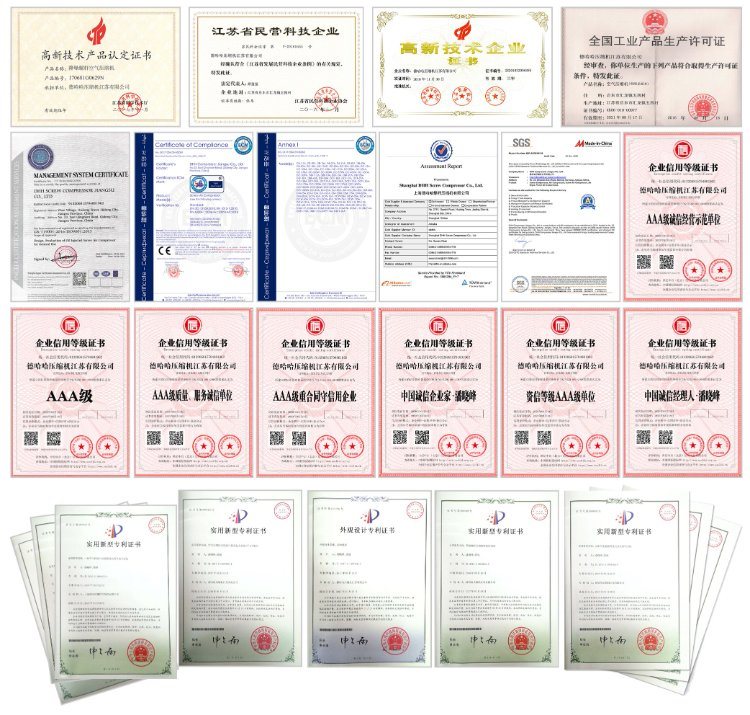 Project case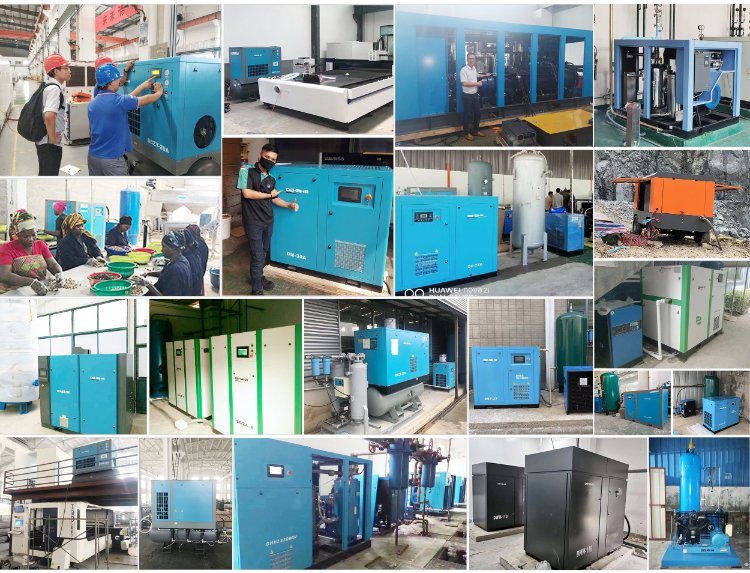 Customer feedback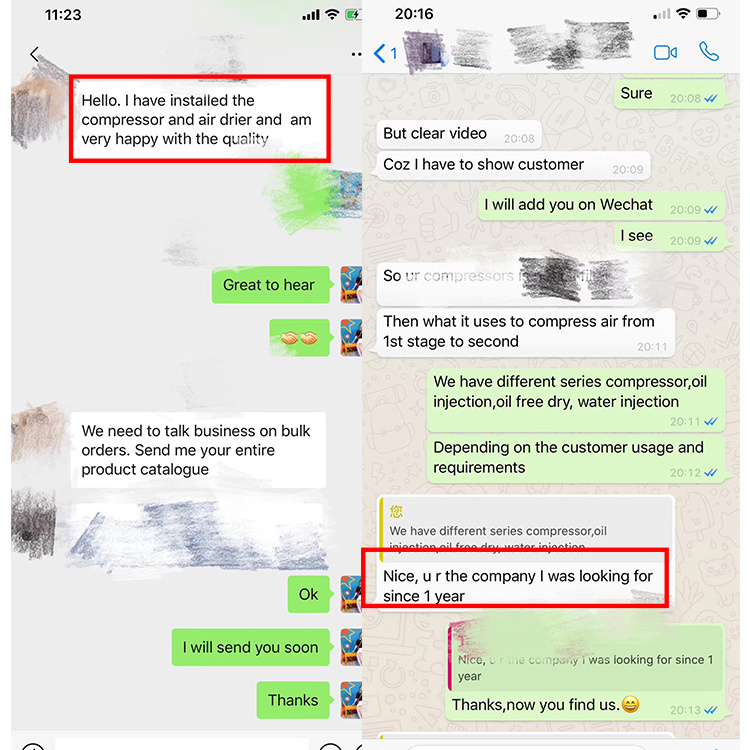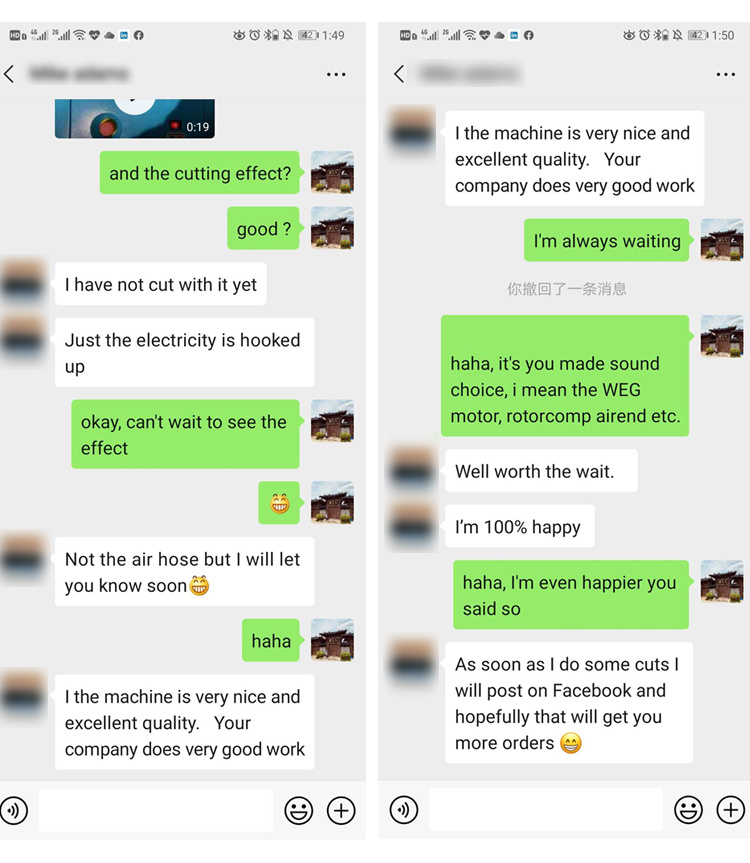 About us
Dehaha Compressor was founded in 1996 with over 150 skilled employees and more than 25 R&D engineers' teams.We focus on the research & develop, manufacture and energy-saving solutions of screw air compressor to create value for customers and society.
Dehaha opened to the world since 2015, and now we have a foreign trade department with more than dozens people, serving customers around the world 24 hours. We have sales representatives who can speak English, Spanish, Portuguese, French,and Russian which makes it easier for our clients from all over the world to interact and negotiate with us.now our valued customers are over 130 countries. Germany Standard and 13 years exporting experience help us won more than 50 loyal overseas agents.
Dehaha continuously innovates product development and management to meet customers' demand. The powerful enterprise culture and continuous innovation make Dehaha improved rapidly to reach the business principle "Energy Saving First, Mutual Value Shared". The production line of DEHAHA is consist of screw air compressor from 5.5KW to 550KW, oil free air compressor, portable air compressor, permanent magnet variable frequency air compressor, high pressure air compressor and compressed air purification equipment, etc.
Dehaha mission is to be a world-renowned high-end brand, with sustainable development, constantly improving its own value and sharing it with our customers and staff. Committed to offer our customers a silent and energy-saving manufactured products.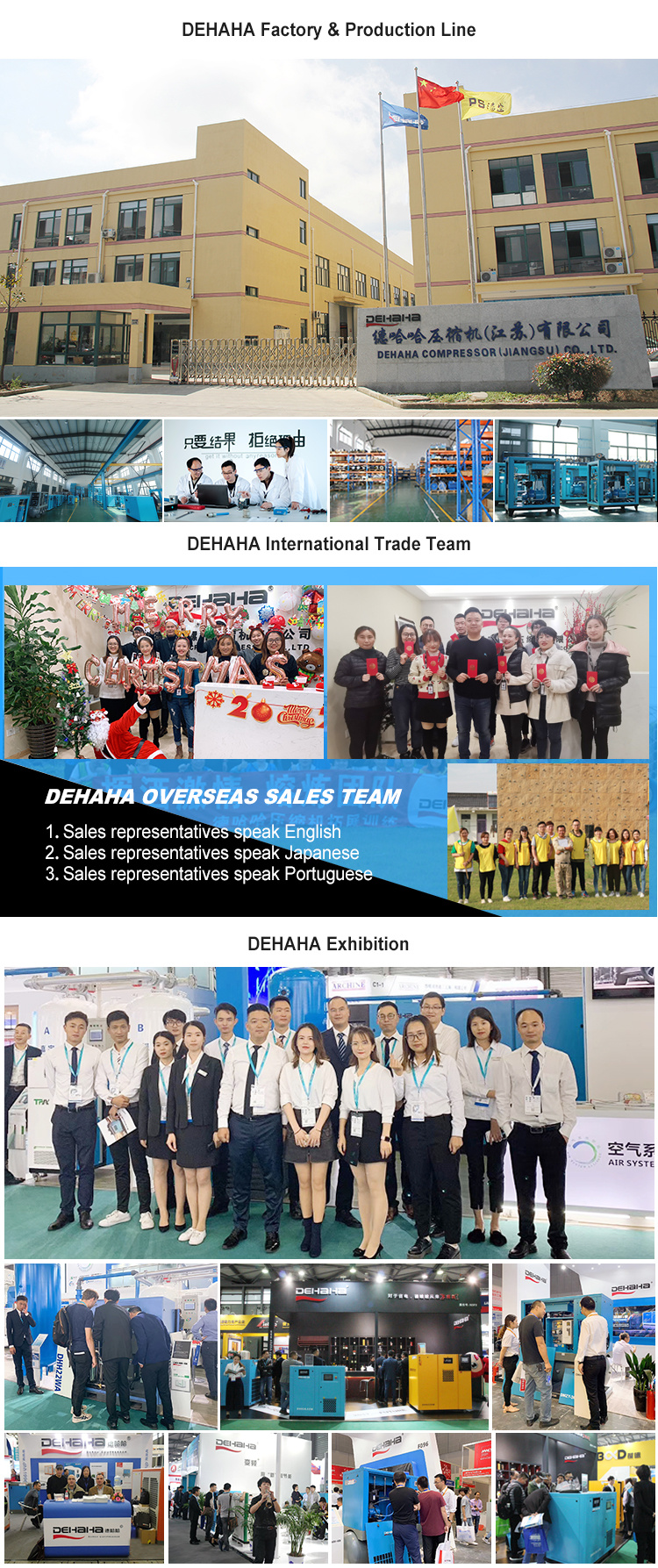 Our service
1.24/7 after sales service support in different languages.
2.Follow up the feedback of products in 2 months interval by email or call.
3.Guidance of installation and commissioning on site can be provided by factory-trained technicians or local Authorized Service Center.
4.Technical training for customers in DEHAHA air compressor factory or working site.
5.Plenty of original spare parts with proven quality are all available from our central stocks in Jiangsu and all distributors'depots.
6.All kinds of technical documents in different languages.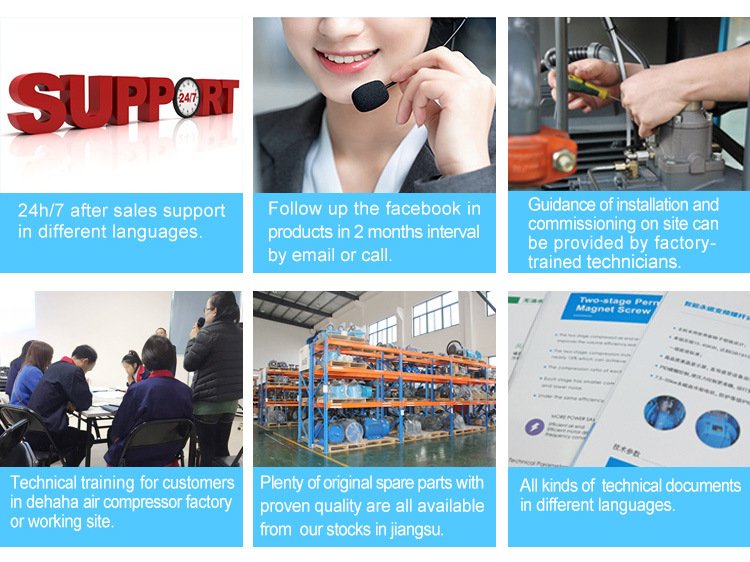 FAQ1.Why customer choose us?
DHH SCREW COMPRESSOR JIANGSU CO.,LTD.with 23 years old history,we are specialized in Rotary Screw Air Compressor.Germany Standard and 13 years exporting experience help us won more than 30 loyal foreign agents.We warmly welcome your small trial order for quality or market test.
2.Are you a manufacturer or trading company?
We are professional manufacturer with big modern factory in Qidong,China,with professional design team.Both OEM & ODM service can be accepted.
3.Where is your factory located? How can I visit there?
Our factory is located in Qidong City, Jiangsu Province, China. We can pick up you from Shanghai, it's about 1 hour from Shanghai Pudong Airport to our factory. Warmly welcome to visit us!
4.What's your delivery time?
380V 50HZ we can delivery the goods within 14 days. Other electricity or other color we will delivery within 22 days,if urgently order,pls contact our sales in advance.
5.How long is your air compressor warranty?
One year for the whole machine and two years for screw air end, except consumable spare parts and we can provide some spare parts of the machines
6.How does your factory do regarding quality control?
Quality is everything. we always attach great importance to quality controlling from the very beginning to the very end. Our factory has gained ISO9001:2015 authentication and CE certificate.
7.How long could your air compressor be used?
Generally, more than 10 years.
8. What's payment term?
T/T,L/C,D/P,Western Union,Paypal,Credit Card,and etc.Also we could accept USD, RMB, Euro and other currency.
9.How about your customer service?
24 hours on-line service available.48 hours problem solved promise.
10.How about your after-sales service?
(1) Provide customers with installation and commissioning online instructions.
(2) Well-trained engineers available to overseas service.
(3) Worldwide agents and after service available.