Model: DC-30A
Free air delivery: 3.6m3/min
Working pressure: 8bar
Screw air end rotor lobe: 5:6
Brand of screw air end: Hanbell Taiwan AB+ series with 6 pcs SKF bearings
Control: Mircro PLC controller
Driven: direct coupling
Cooling: by air
Electric motor: 30hp 22kW 380V/3PH/50HZ,IP54 protection level
Discharge temperature: less than ambient +8 ºC
Noise: less than 68 dB(A)
Air outlet size: G1"
Dimension: 1330*830*1265mm
Weight: 400kg
Warranty: 24 months for the screw air end,12 months for the whole set compressor except air filter,oil filter and oil/air separator.
Delivery time: 25 days after receiving deposit.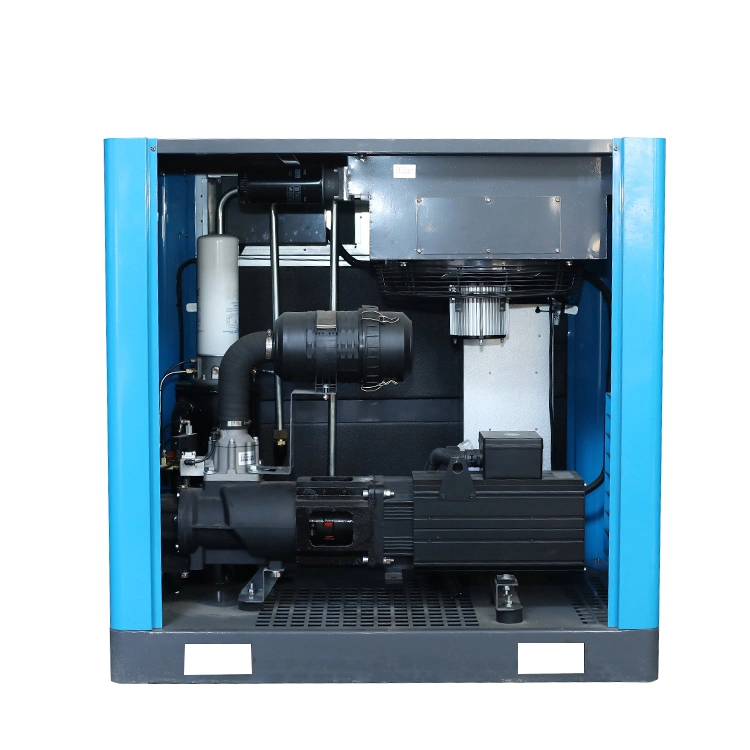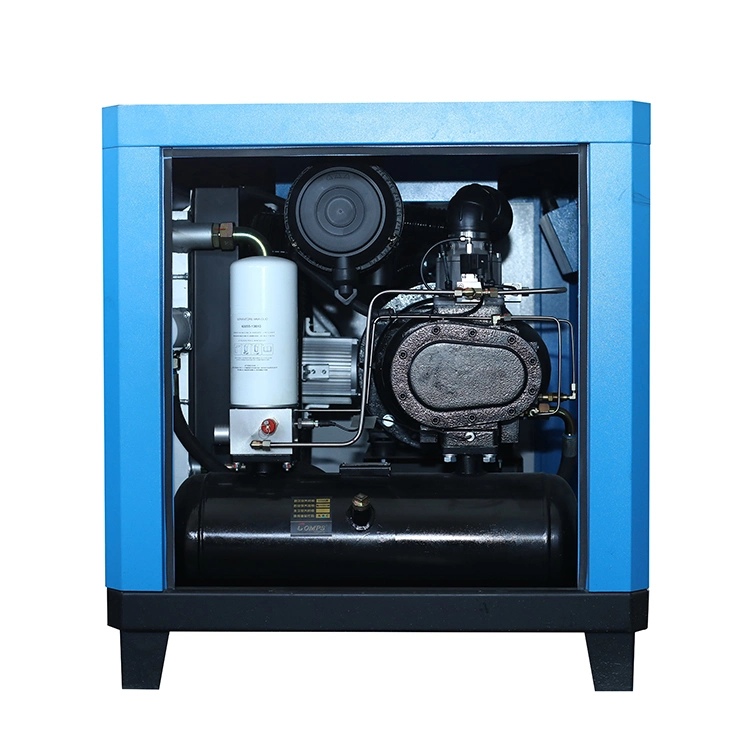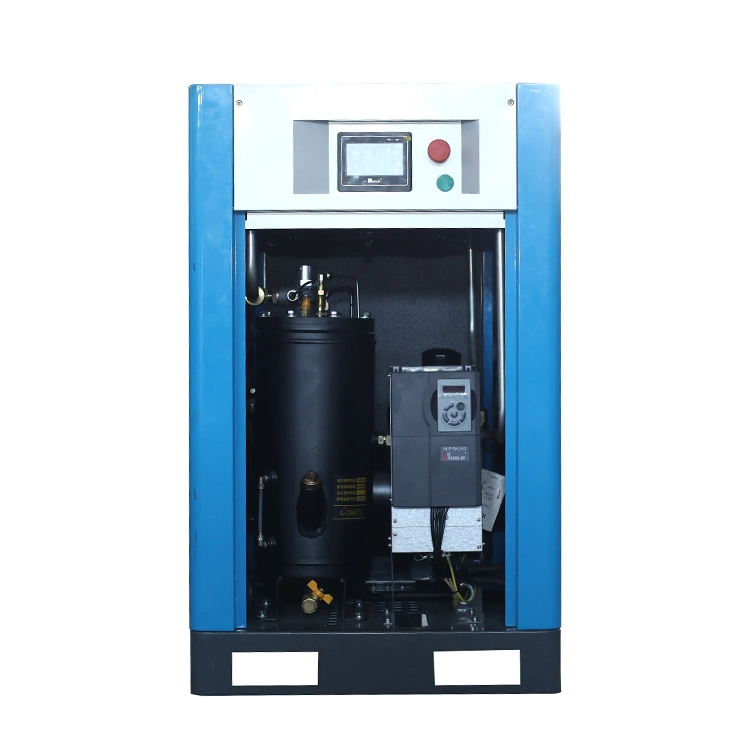 Advantages

Air end
1.SAP type line to maximize the screw compression efficiency Similar products save more than 5%
2.High machining accuracy, low vibration of main machine and low noise
3.Reached National Level 1 Energy Efficiency Standard.
Motor
1.Efficient design, SKF bearings, ensure the long life of the motor.
2.IP54 protected fully enclosed motor, worry-free in harsh conditions run.
3.Standard phase sequence protection to prevent reversal.
Large Touch Master Controller
1.Matching inverter exclusive customization.
2.LCD Chinese and English switch display.
3.Rich self-diagnostic functions such as fault alarm, maintenance reminder, automatic shutdown, etc.
4.Clock function, can set timing switch.
5.Multiple signal outputs: RS485 port.
Inverter
1.ABB / Siemens brand vector control frequency conversion system, frequency conversion response speed is faster.
2.Constant pressure output to remove pressure fluctuation and off-load.
3.Constant temperature output at 9~85°C, Low starting current to protect components,15% energy-saving.
Pre-filter Protection
1.Unique pre-filter cover design to keep the inside of the machine clean and extend the maintenance cycle.
2.Easy to disassemble and clean, and can be reused.
Efficient Cooling System
1.Adopting large-size high-efficiency cooler to cope with harsh working conditions.
2.Adopt independent large fan combined with oil cooling system, lower temperature and more stable.
Electrical System
1.Standardized design, safe and reliable.
2.Professional wiring interface,the wiring is reasonable, simple, clear and easy to maintain.,
3.Schneider and Siemens are equipped with a series of high-level components, and their safe use is guaranteed for a long time.
Direct Drive
1.1: 1 direct drive, stable and efficient.
2.Adopts more mature split-type direct drive, which is more reliable and easier to maintain than integrated drive.
3.Imported brand, large size coupling to ensure the long life of the drive system.
Adaptable
For some areas with poor operating conditions such as high temperature and high humidity,large-area plate heat exchangers and high-efficiency air coolers are used.
Exhaust pipe
The exhaust pipe adopts double-layer bellows,and the oil passage adopts special temperature resistance of 125 °C high-pressure hose.
Technical Parameters:
Model
Discharge Pressure
Discharge Air Volume
Motor Power
Dimension(mm)
Discharge Pipc.Dia
Unit Weight
SEF350Z
0.8MPa
10.0m³/min
55KW
1900X1270X1570
1X2"
1560KG
1.0MPa
9.0m³/min
1.3MPa
7.8m³/min
SEF460Z
0.8MPa
13m³/min
75KW
1900X1270X1570
1X2"
1731KG
1.0MPa
11.8m³/min
1.3MPa
9.6m³/min
SEF565Z
0.8MPa
16.0m³/min
90KW
2620X1670X1800
1X2"
2260KG
1.0MPa
14.2m³/min
1.3MPa
12.2m³/min
SEF710Z
0.8MPa
20.5m³/min
110KW
2620X1670X1800
1X2"
2770KG
1.0MPa
17.8m³/min
1.3MPa
15.5m³/min
SEF780Z
0.8MPa
23.5m³/min
132KW
2620x1670x1800
1x2"
2926KG
1.0MPa
20.5m³/min
1.3MPa
17.0m³/min
SEF1060Z
0.8MPa
30.0m³/min
160KW
3070X2140X2130
DN80
4100KG
1.0MPa
26.0m³/min
1.3MPa
22.0m³/min
SEF1165Z
0.8MPa
32.0m³/min
185KW
3070X2140X2130
DN80
4400KG
1.0MPa
28.5m³/min
1.3MPa
25.0m³/min
SEF1270Z
0.8MPa
35.0m³/min
200KW
3420X2220X2130
DN100
5200KG
1.0MPa
31.0m³/min
1.3MPa
27.0m³/min
SEF1420Z
0.8MPa
41.0m³/min
250KW
3420x2220X2130
DN100
5300KG
1.0MPa
39.0m³/min
1.3MPa
35.0m³/min
SEF1765Z
0.8MPa
50m³/min
280KW
4200X2380X2550
DN125
5600KG
1.0MPa
42m³/min
SEF1980Z
0.8MPa
56m³/min
315KW
4200X2380X2550
DN125
7980KG
1.0MPa
50m³/min
1.3MPa
43m³/min
SEF2190ZW
0.8MPa
63m³/min
355KW
3690X2350X2150
DN125
7350KG
1.0MPa
55m³/min
1.3MPa
47m³/min
SEF2580ZW
0.8MPa
73m³/min
400KW
4070X2300X2250
DN150
8100KG
1.0MPa
63m³/min
1.3MPa
53m³/min
SEF2860ZW
0.8MPa
81m³/min
450KW
4070X2300X2250
DN150
8500KG
1.0MPa
71m³/min
1.3MPa
60m³/min
SEF3145ZW
0.8MPa
89m³/min
500KW
4300X2350X2150
DN150
9000KG
1.0MPa
79m³/min
1.3MPa
67m³/min
SEF3530ZW
0.8MPa
100m³/min
560KW
5000X2350X2150
DN200
10000KG
SEF3885ZW
0.8MPa
110m³/min
630KW
5000X2350X2150
DN200
11000KG
PRODUCT HIGHLIGHTS1.
The brand power,reliable quality, stable performance.
The harsh thermal equilibrium serviceability can guarantee that the machine work effectively under high temperature environment (≤40ºC);
2.
Unique patent design, light load startup system;
3.
Efficient cooling system, divided into three parts: water- cooled ,mid- cold, oil cold, which ensure the reliable operation of diesel engine, and it's suitable for high temperature working environment;
4.
Independent research and development of the opposite door design, rational layout, which is easy to do regular maintenace ,with advantages of the fixed and portable compressor;
5.
A single point lifting, forklift hole device, equipped with drag ring.It is suitable for repair car transport, easy to transfer and installation of the unit;
6.
Waterproof and dustproof design, which is suitable for outdoor hard working environment;
7.
According to customer requirements, the heating boiler and remote components is available for cold starting;
Product Applications: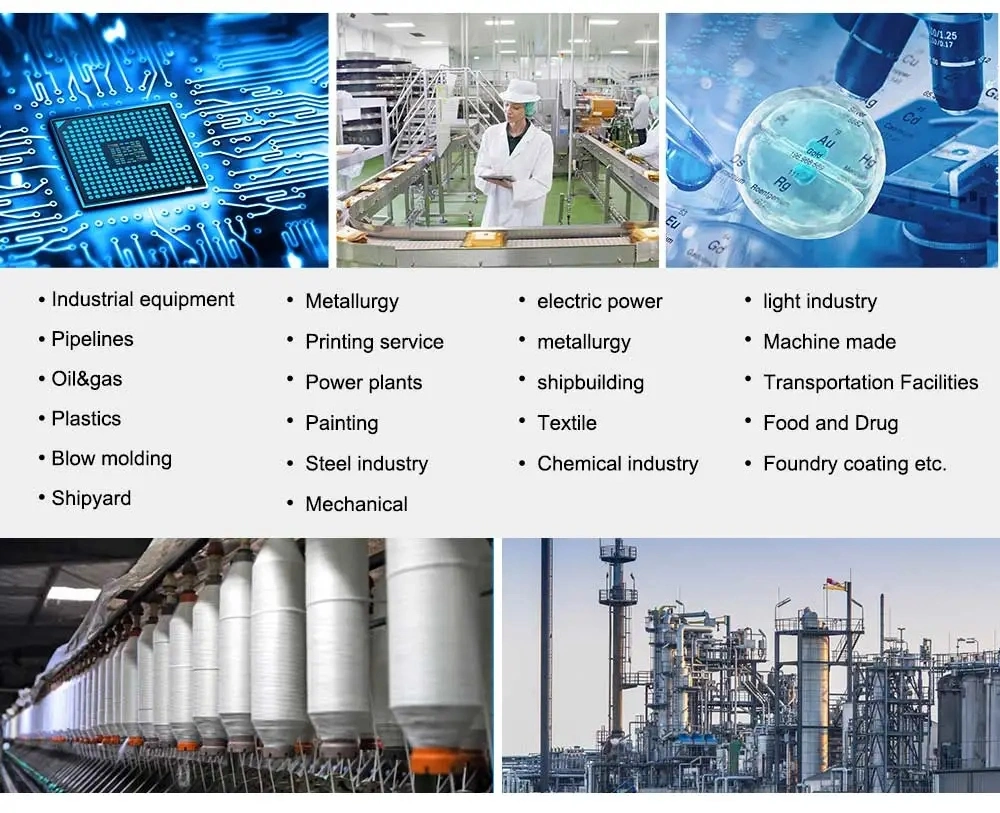 Packaging and Shipping
Our workers pack the tested air compressors in wooden cases. After the packaging is completed, the air compressor will be transported to the port and then shipping to the world.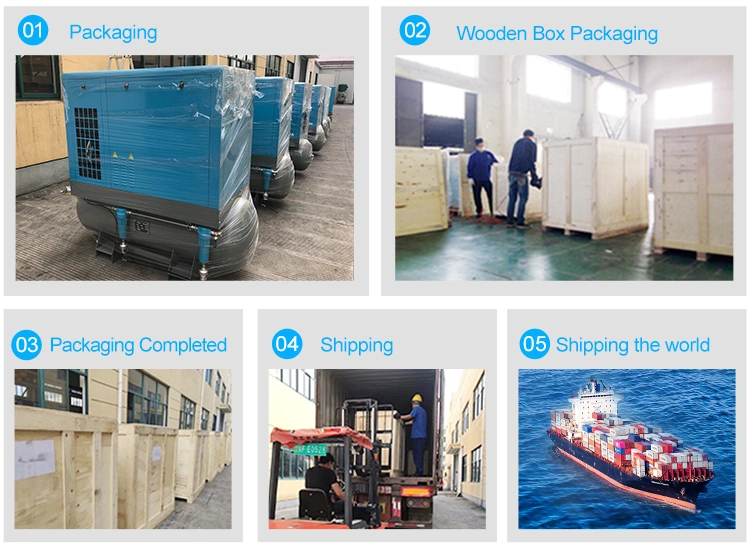 Our Exhibition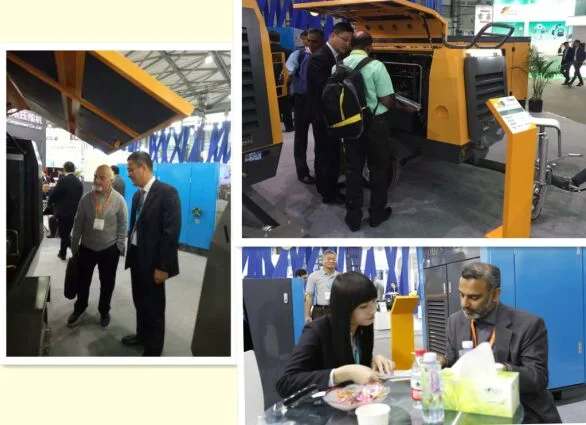 Our service
1.Pre-sale service:
Act as a good adviser and assistant of clients enable them to get rich and generous returns on their investments .
1.Select equipment model.
2.Design and manufacture products according to client's special requirement ;
3.Train technical personnel for clients .
2.Services during the sale:
1.Pre-check and accept products ahead of delivery .
2. Help clients to draft solving plans .
3.After-sale services:
Provide considerate services to minimize clients' worries.
1.Complete After-sales service,professional engineers available to service machinery at home or oversea.
2. 24 hours technical support by e-mail.
3.Other essential technological service.
Contact details: