Huizhou Dehong Air Compressor Co., Ltd.

√ Manufacturing factory
√ 20 years experience in air compressor area
√ Thousands of customers all over the world
√ Own independent export right
√ ISO 9001 certified
√ CE certified
Where are we?



Our Factory Our Team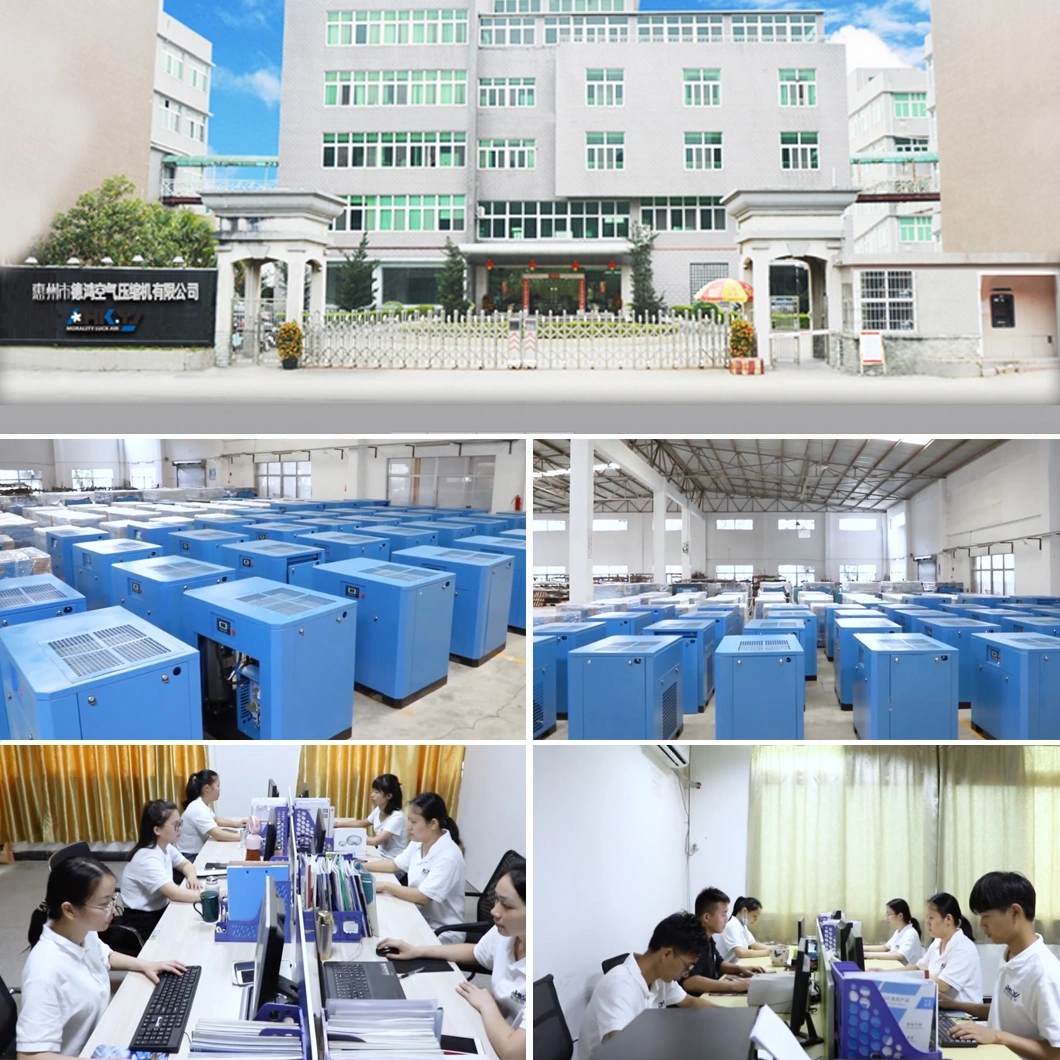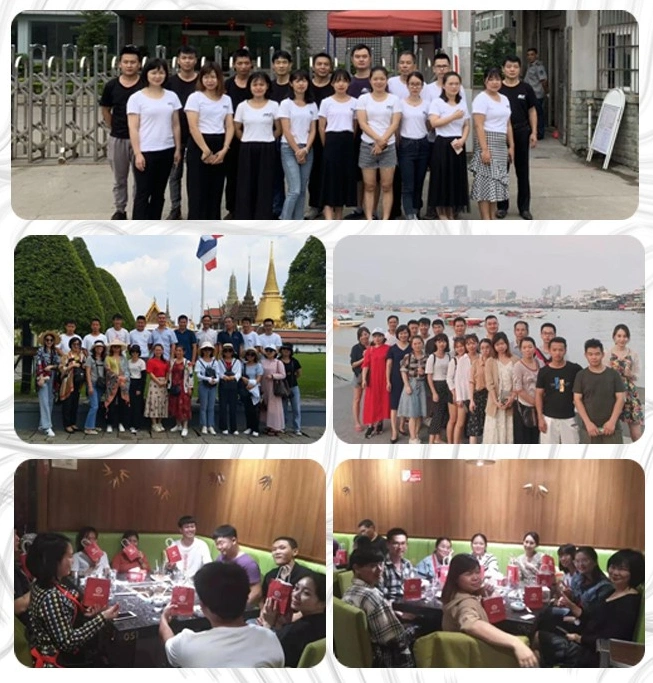 Our Certificates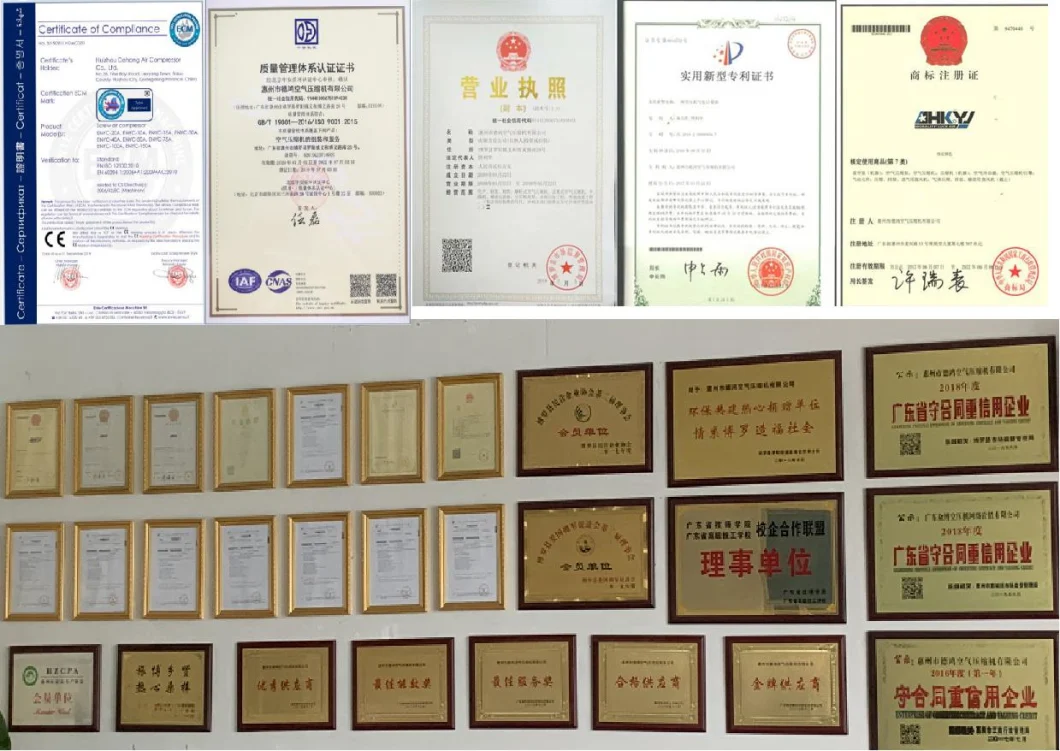 Please send inquires to us if you are interested in any of our products.

Our Product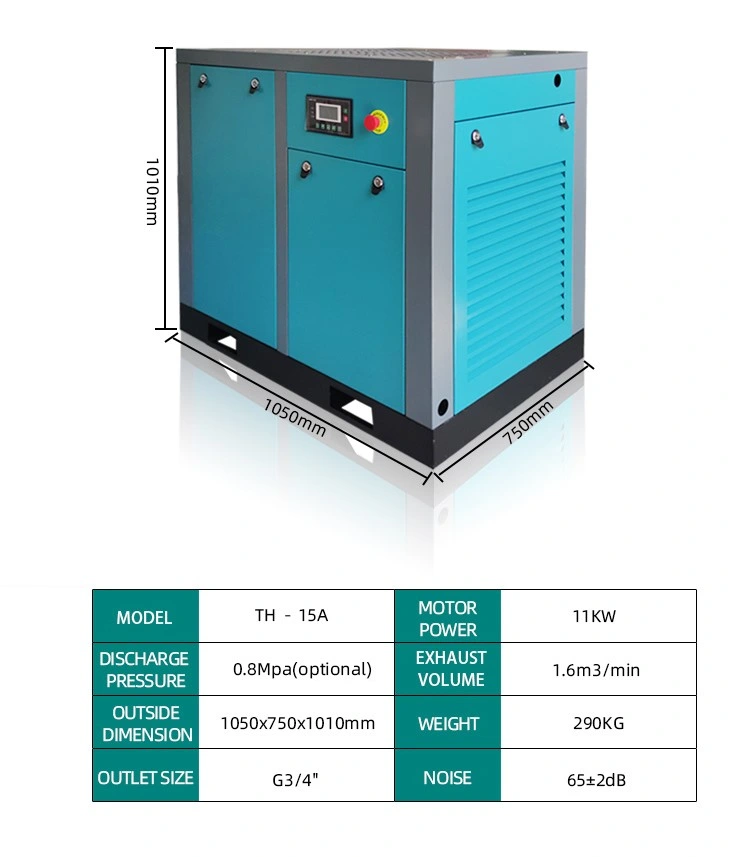 Features
of our screw air compressor
1. High reliability
It has fewer parts and no vulnerable parts, so it is reliable and has a long service life. The overhaul interval can reach between 40,000 and 80,000 hours.
2. Convenient operation
It is with high level of automation, and then the unattended operation can be realized. Operators do not need to have long professional training to master the operation.
3. Good dynamic balance
It has no unbalanced inertia force and it can work smoothly and fastly. The machine can be operated without foundation, especially suitable for mobile compressor which requests small volume, light weight and small occupation area.
4. Adaptable
It has the characteristics of a compulsory gas volume flow which is almost not affected by the influence of the exhaust pressure. High efficiency can be maintained in a wide range. It is suitable for a variety of working conditions even with same internal structure without any change.

Product Details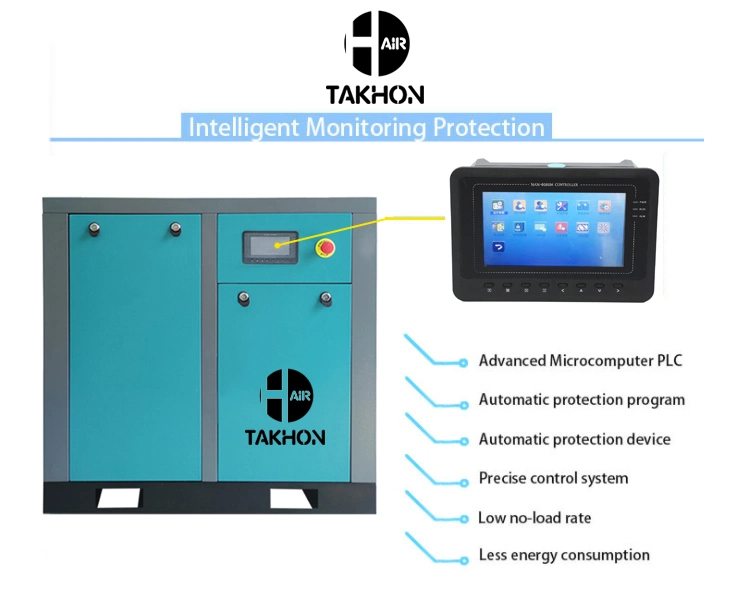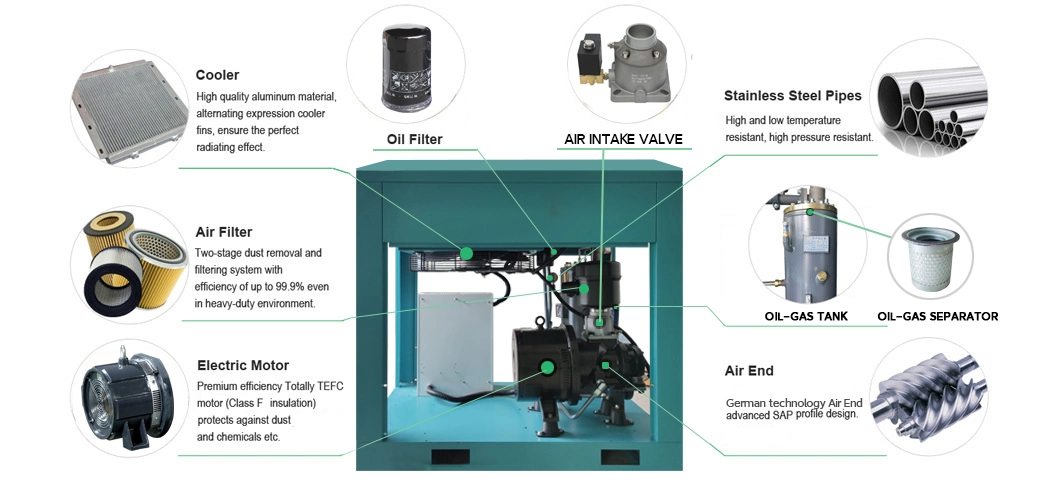 *General introduction to the main components

1. Air end: With Chinese famous bran Baosi, in Germany Technology, with 30 years designed lifetime. With double screw rotors, has the features of high efficiency, low energy, low noise and high reliability, the function is stable and durable.
2. Motor: Full copper coil motor to make sure the high performance. With IP54 protection, class F insulation with SKF heavy-load bearing, over 95% efficiency, well insulation, high temperature resistance and long life time.

3. Cooler: high efficiency radiator and cooling fan. Ensure the more than 10 hours continuous work under high temperature and high humidity. There is anti-corrosion inside which extend the serving life.

4. Oil filter: remove the impurities in oil, ensure longer working life, also save the maintenance time and cost.

5. Air filter: filter out the dust and tiny solid particles in the air, and then extend the service life of machine.

6. Air inlet valve: no wearing part design, on-off regulation, adjust the air inlet automatically, less pressure loss, more energy saving effect, long operating lifetime, help the internal air pressure to discharge reliably.

7. Control panel: east to use, fully functional

8. Oil gas seperater: when oil and gas get through it, they are seperated. Clear air get and oil would enter the next circulation. The filted air is with less than 3ppm oil.

9. Oil gas tank: the oil Oil-gas tank with German technology to ensure the oil content is less than 3ppm.

10. Electrical components: exported quality electrical elements, safe and reliable.

*For variable frequency compressor, is equipped with frequency converter, could start softly and adjust automatically according to actural air usage, to achieve high efficiency and energy saving.
*Maintenance Guidelines
Reference image

Accessory name

First time
(500 hours)
Routine
(2300 hours)
Routine
(5000 hours)

Engine oil

√
√

Oil filter

√
√

Air filter

√

Oil-gas separator

√

Precision filter element

√

Small tips:

1. When the new machine runs for the first 500 hours, there will be a warning that the oil and oil filter need to be replaced. Please timely replace and maintain according to the requirements to keep the air compressor in the best condition.


2. When the machine works in harsh environment, it is recommended to shorten the replacement time to ensure the maximum cleanlines of the inhaled air.

3. When the machine works in harsh environment, it is recommended to shorten the replacement time, so that the compressor can discharge relatively pure and high-quality compressed air.


Technical Parameters

Model

Working Pressure

Air Capacity

Motor Power

Outlet size

Weight

OD

Mpa

m3/min

KW

KG

mm

THYC-10A

0.8

1.3

7.5

G3/4"

200

830x650x920

THYC-15A

0.8

1.7

11

G3/4"

225

1050x750x1010

THYC-20A

0.8

2.4

15

G3/4"

228

1050x750x1010

THYC-25A

0.8

3

18.5

G1"

285

1280x900x1210

THYC-30A

0.8

3.7

22

G1"

330

1280x900x1210

THYC-40A

0.8

5.1

30

G1"

480

1400x1000x1290

THYC-50A

0.8

6.3

37

G1/2"

500

1400x1000x1290

THYC-60A

0.8

7.5

45

G1/2"

510

1400x1000x1290

THYC-75A

0.8

10.5

55

G2"

880

1800x1200x1550

THYC-100A

0.8

13.8

75

G2"

1300

1900x1250x1600
*Different working pressure and voltage request could be satisfied.
Please send inquires to us if you are interested in any of our products.
Standard configuration for one set of air compressor system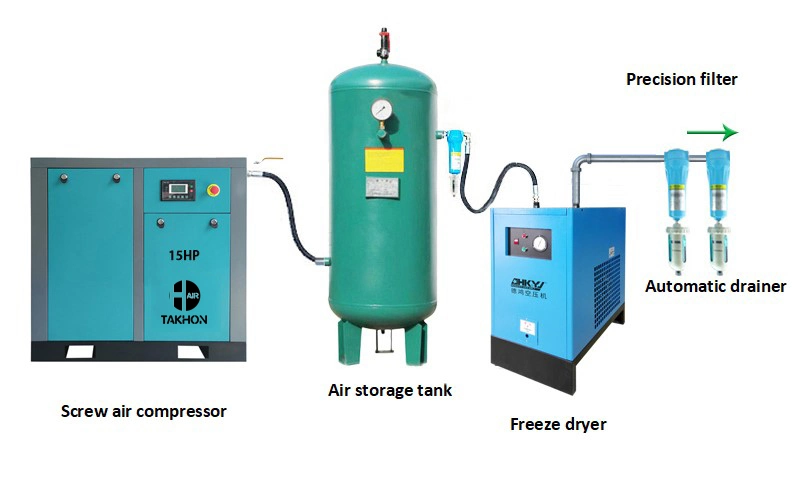 If you want to know more about the air tank and freeze air dryer, please click below.
Packing & Shipping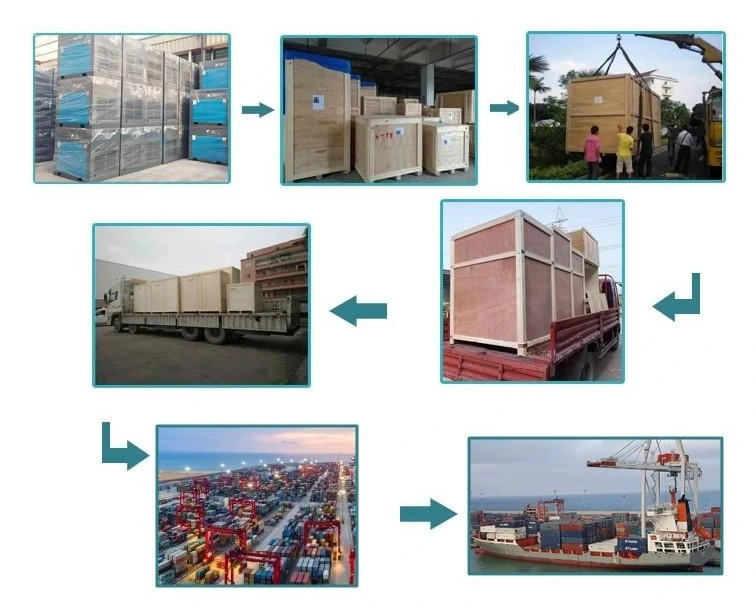 Application Area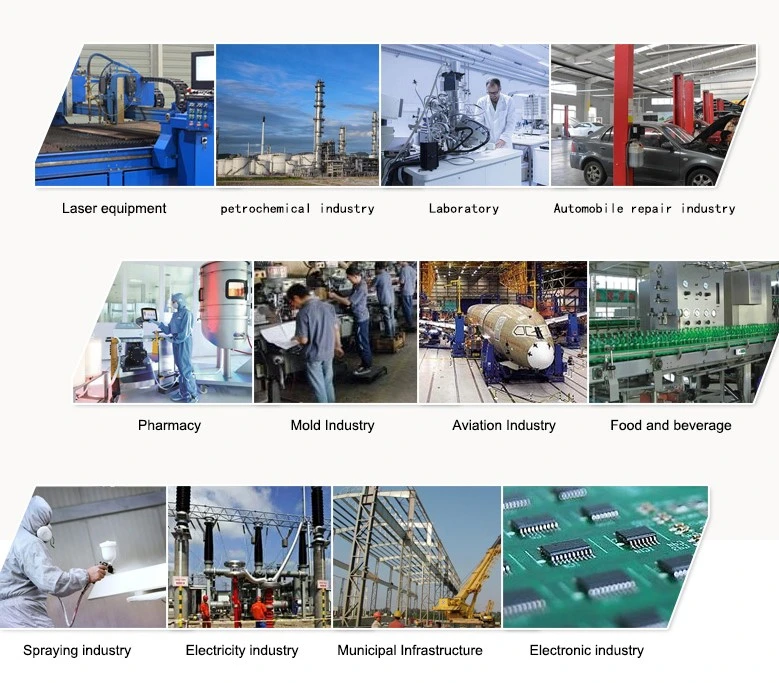 FAQ
Q1: Are you a factory or trading company?
A1: We are source factory with own export right.
Q2: What is the exact address of your factory?
A2: Our company is located in no.28, south of Boyi road, Yihe Industrial district, Boluo county, Huizhou city, Guangdong province.
Q3: What is the warranty period?
A3: One year warranty for machines and permanant technical support.
Q4: Will you provide some spare parts for the machine?
A4: Yes.
Q5: What is the voltage of the product? Can it be customized?
A5: It is with standard 380V. Yes, it can be customized according to your needs.
Q6: What payment terms do you accept?
A6: 100% payment by TT before exit factory.
Q7: What is the lead time?
A7: If with 380V 50HZ, it is within 7-15 days. If customized, it is about 25-30 days.
Q8: Do you accept OEM orders?
A8: Yes, we have a professional design team and welcome OEM orders.
Q9: Which trade terms are accepted?
A9: EXW, FOB, CIF, CFR, CPT and etc.
Thank you so much for reading all our product information.
Waiting for your inquires.
Huizhou Dehong Air Compressor Co., Ltd.
√
Manufacturing factory
√
20 years experience in air compressor area
√
Thousands of customers all over the world
√
Own independent export right
√
ISO 9001 certified
√
CE certified
Welcome friends to visit Dehong from all over the world!