Factory Price Fixed Speed Stationary 22Kw Air Compressor
Product Description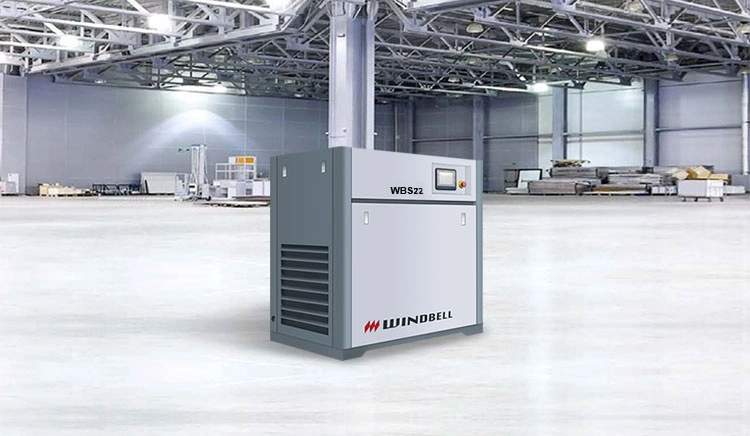 The electric screw air compressor is equiped with one 22kw electric motor with free air delivery of 2.7-3.7m3/min at the pressure of 7-12 bar. It is applicated for industy of Machinery , Chemical , Electric Power, Cement, Furniture, Construction Material...
This range of compressor is equiped with name brand airend(screw) ,centrifugal cooling fan and touch screen controller, with direct drive, dust proof, sound proof design.
VSD type is also available for this model , it can save energy of 30-35% , it can save more cost for enprise owner.
Technical Specifications
Airend
Working pressure
Bar
7-12
Free air delivery
m3/min
2.7-3.7
Compression stage
1
Electric motor
Power
KW
22
Working voltage
V/HZ
380/50 or Customized
Insulation
F
Protection grade
IP54
Energy Grade
IE2
Starter
Direct
Whole compressor
Driven
Direct
Separator capacity
L
7
Lubrication capacity
L
6
Cooling method
Air or Water
Outlet
G1
Dimension
mm
1100*850*1300
Weight
kg
590
Product Details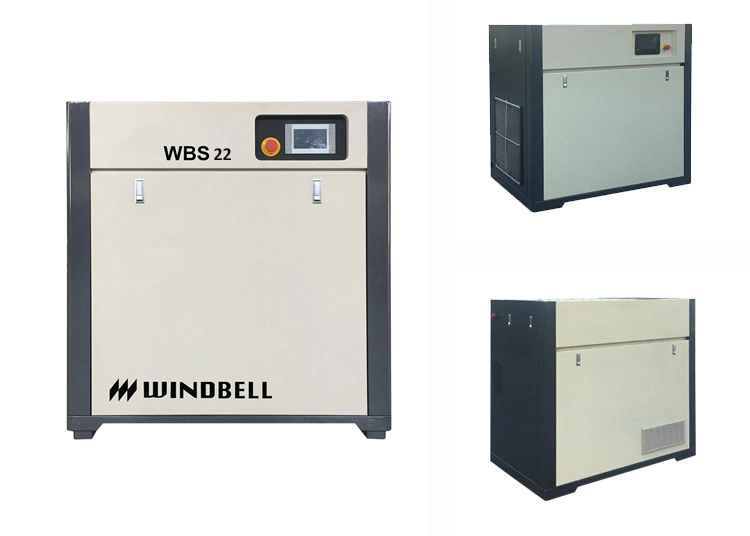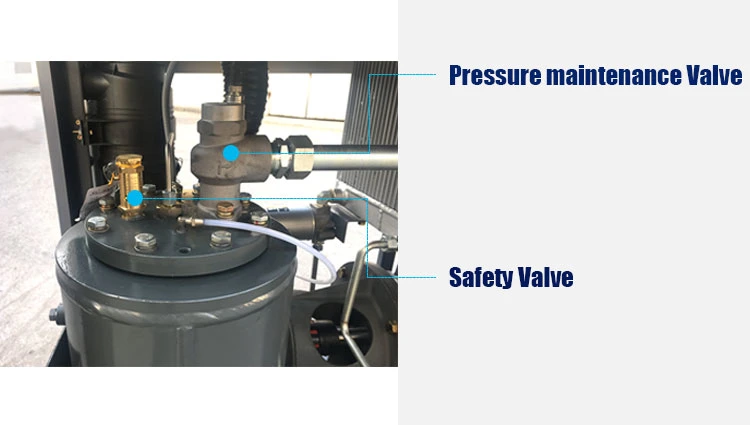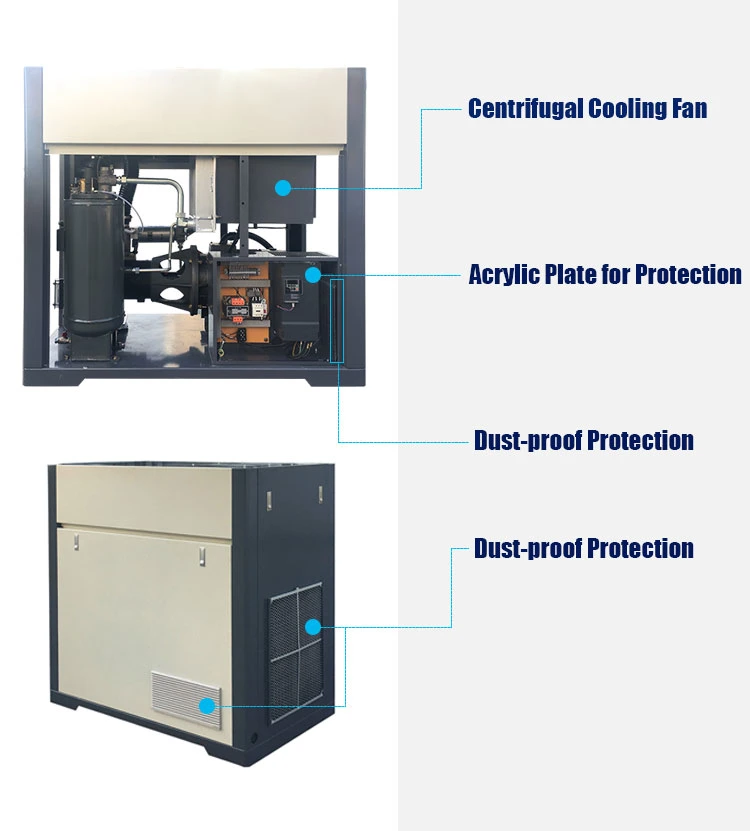 1. Air end of screw air compressor
The air end is with state-of-the art screw element and 4 -6 SKF bearings to make sure it plenty of air output and longer lifetime.
2.Electric Motor of the air compressor
Name brand qualified IP54 ,F insulation, IE2 , IE3 motor , high efficiency and energy saving.
3. Intake valve of the screw air compressor
High efficiency intake valve protects the compressor components by removing 99% dirty particles down to 3 microns.
4. Oil Air separator
High efficiency separating for oil and air and low oil content in the compressed air.
5. Touch Screen Controller.
6. High efficient Centrifugal fan can give best cooling for screw compressor.
7.Dust proof mesh to protect electrical control system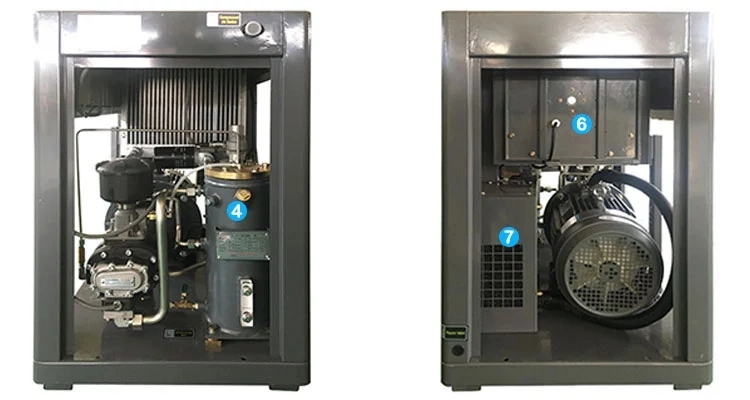 Ceritifications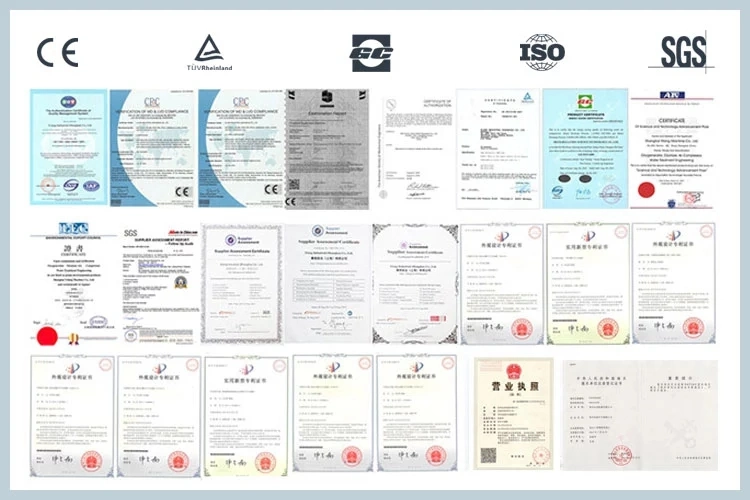 Product Uses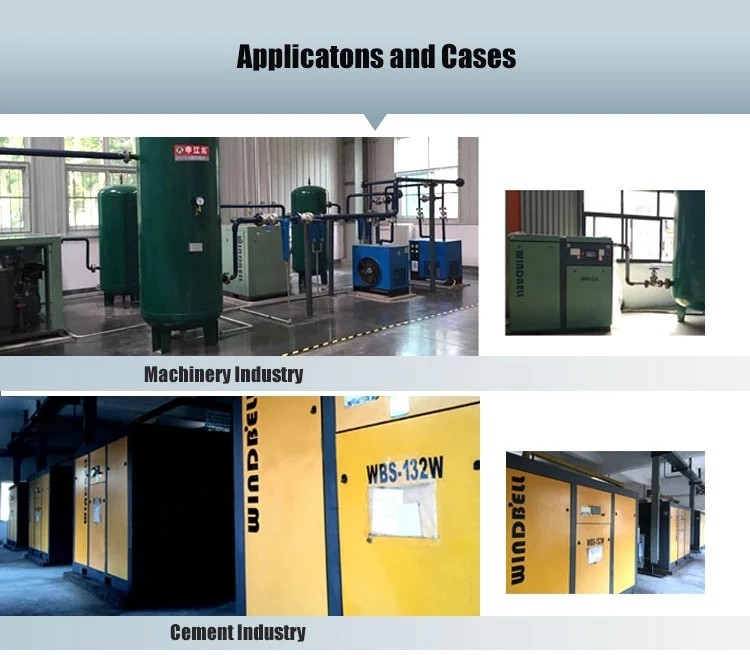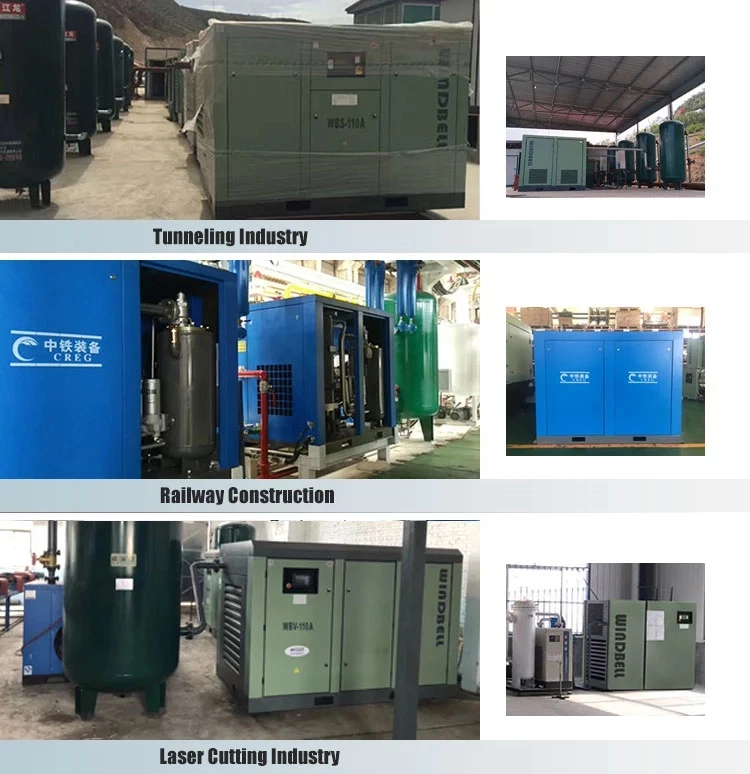 After-Sales Service

WINDBELL promises to provide technical support for all screw Air Compressor manufactured. Giving guid for installation,operation and maintenance.
For periodically maintenance of silent air compressor , we suggest to use our original spare parts in order to our original specifications. Please contact us freely, if you have any demand for oil filter, air filter element, oil air separator element for jack hammer air compressor .
Company Information

Windbell Co. Ltd. was established in 2006. It is a high-tech company mainly producing Screw Air Compressor.
Located in Zhengzhou National High and New Technology Industries Development Zone, the company has more than 100 employees equipped with 50 advanced testing machines working in the plant area of 20000 square meter. A high profile R&D team with experience in developing products with GHH and Rotor, has more than 20 patents granted. The company can produce more than 4000 Air Compressor every year.
We believe that without an advanced quality management system you cannot make high quality products. With ISO9001 and ISO14001 certifications, the company aims to be a pioneer in offering consumers efficient, energy-saving, and environment-friendly solutions in the application of air compressor. Based on its R&D output, the company has successfully applied its solutions to the field of mining, tunneling, outdoor construction and its technology also facilitates the production of medical oxygen generators and textile equipment. The Screw Air Compressor are widely sold to Southeast Asia, Central Asia, Middle East, Africa, and South America...