New Arrival
10hp,15hp,20hp Free Air Filter, Free Oil Filter, Free separator
7.5kw 11kw 15kw 37kw 55kw 90kw 132kw crew Air Compressors
1.Pictures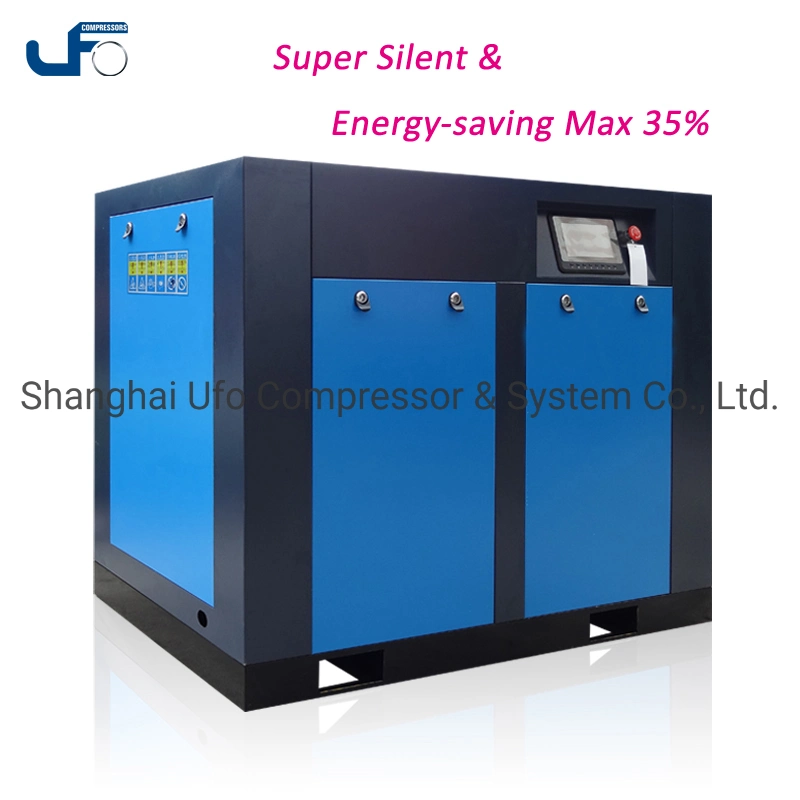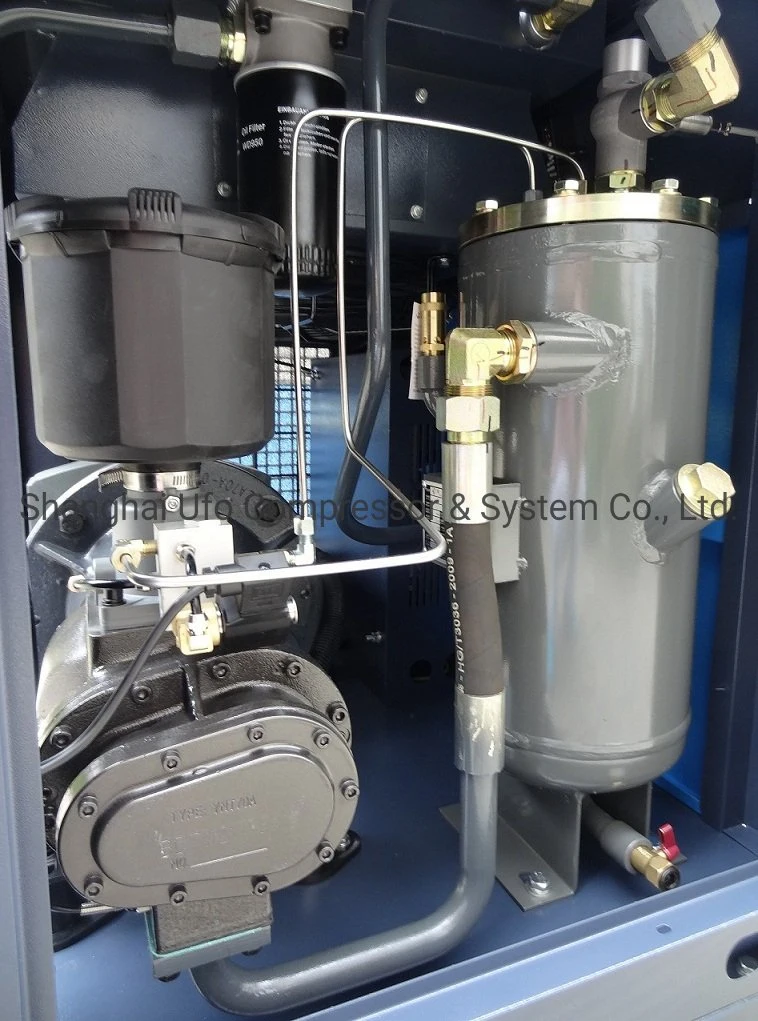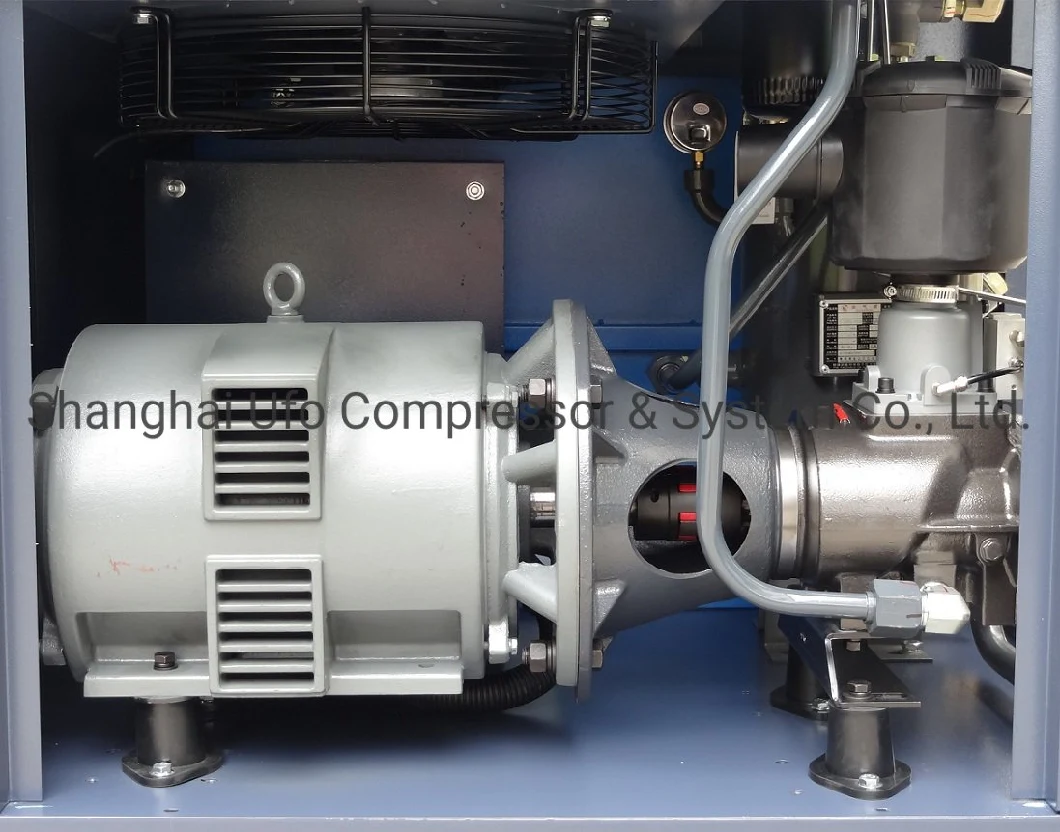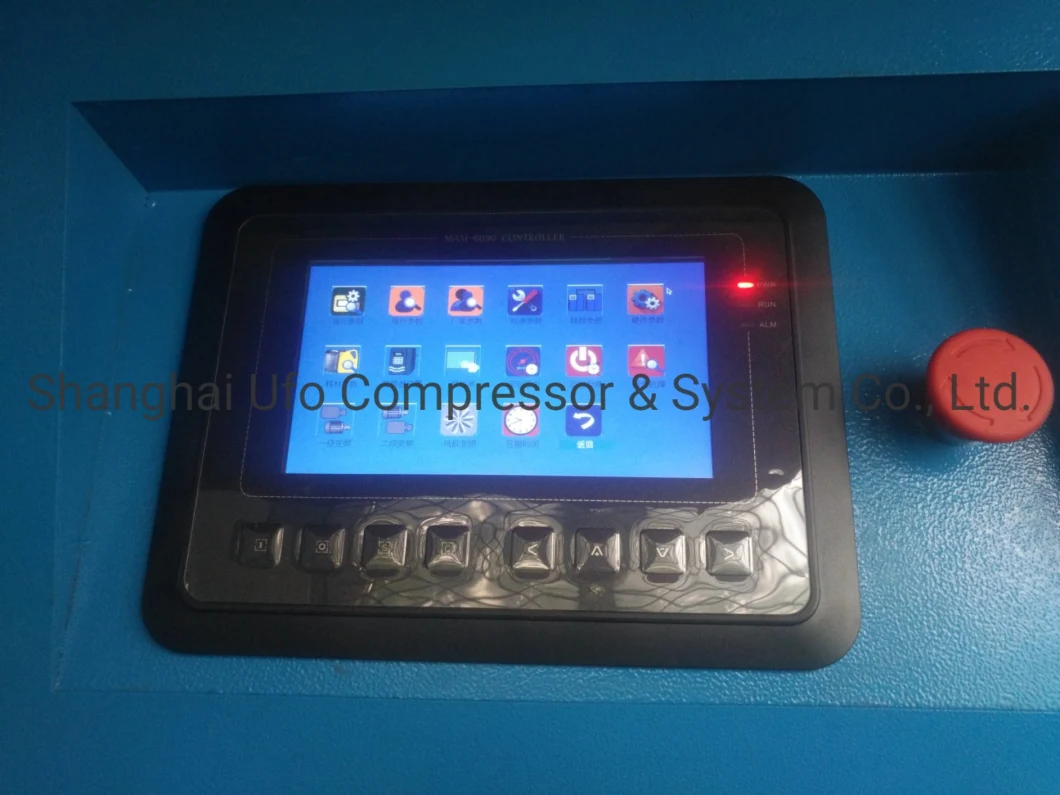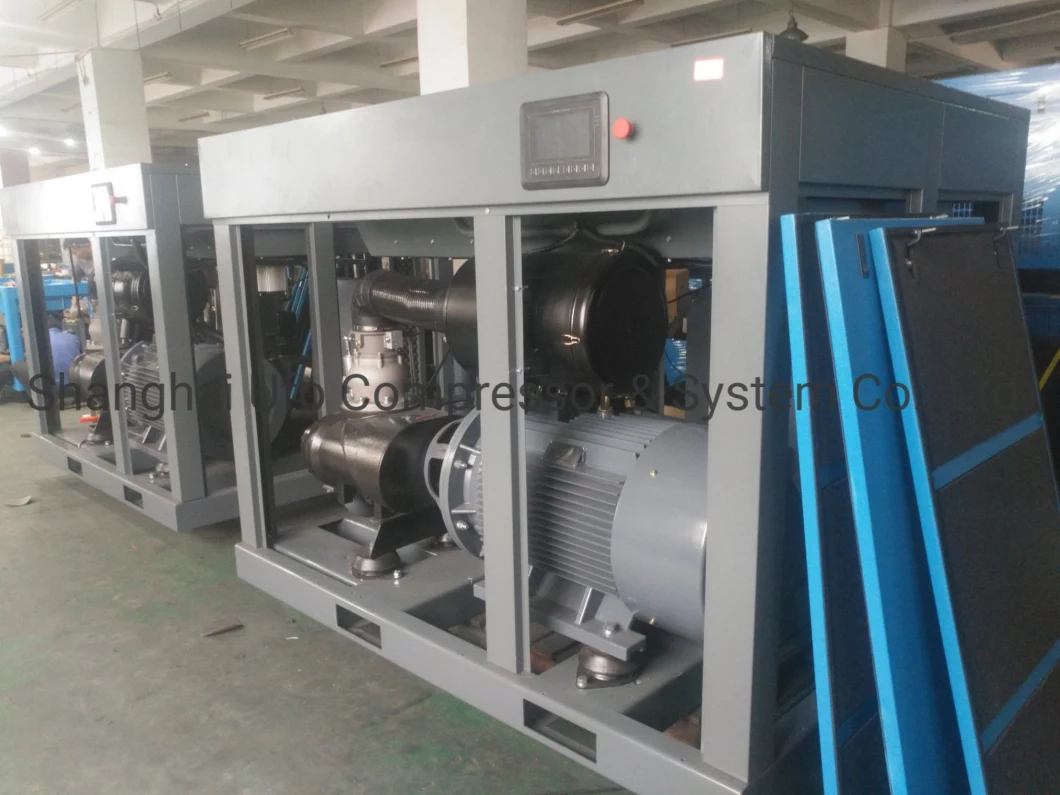 2.Technical data
Type

SSD-

15

A

SSD-

2

0A

SSD-

25

A

SSD-30A

SSD-50A

SSD-75A

Motor power

Kw/hp

11/15

15/20

18.5/25

22

/30

37

/50

55

/75

Air

Volume

(

m

3

/

m)

/Mpa

1.65/0.7

2.25/0.7

3.22/0.7

3.6/0.7

6.58/0.7

10.8/0.7

1.53/0.8

2.03/0.8

3.01/0.8

3.56/0.8

6.26/0.8

10.1/0.8

1.32/1

1.82/1

2.52/1

3.07/1

5.8/1

8.5/1

1.1/1.2

1.55/1.2

2.3/1.2

2.84/1.2

5.06/1.2

7.69/1.2

Cooling mode

Air cooled

Air cooled

Air cooled

Air cooled

Air cooled

Air cooled

Drive mode

Directly connected

Starting mode

Y-△

Y-△

Y-△

Y-△

Y-△

Y-△

L×W×H




(mm)

L

950

950

1150

1250

1500

2045

W

800

800

900

750

970

1250

H

1140

1140

1260

1110

1340

1705

Net weight

Kg

400

440

510

550

770

1750

Noise

dB(A)

63±2

63±2

63±2

63±2

63±2

65±2

Diameter of outlet pipe

G3/4

″

G3/4

″

G1

1

/4

″

G1

1

/4

″

G1

1

/2

″

G2

″
SSD-100A

SSD-120A

SSD-150A

SSD-175A

SSD-200A

SSD-250A

SSD-300A

SSD-350A

75

/100

90

/120

110

/150

132

/175

160

/200

185

/250

220

/300

250

/350

13.5/0.7

16.2/0.7

21.6/0.7

25.2/0.7

28.7/0.7

32.5/0.7

36.8/0.7

42.7/0.7

12.7/0.8

15.2/0.8

20.1/0.8

24/0.8

27.6/0.8

30.8/0.8

34.7/0.8

40.8/0.8

11.3/1

14.3/1

17.5/1

21/1

25.3/1

28.2/1

30.8/1

38.1/1

10/1.2

12.9/1.2

16/1.2

18.3/1.2

22.4/1.2

25.1/1.2

28.9/1.2

34.9/1.2

Air cooled

Air cooled

Air cooled

Air cooled

Air cooled

Air cooled

Air cooled

Air cooled

Directly connected

Y-△

Y-△

Y-△

Y-△

Y-△

Y-△

Y-△

Y-△

2045

2329

2578

2578

2856

2856

3092

3092

1250

1516

1656

1656

1898

1898

1944

1944

1705

1745

1920

1920

1895

1895

2143

2143

1820

2200

2950

3550

3880

4050

4700

5100

68±2

68±2

68±2

72±2

72±2

72±2

76±2

76±2

G2

″

DN65

DN65

DN65

DN80

DN80

DN80

DN80

3. Specifications
No.

Part Name

Manufacturer or Brand

1

Air end

Baosi

2

Pressure sensor

Yishun, Shenzhen

3

Temperature sensor

Yishun, Shenzhen

4

intake valve

Red star,Nantong

5

Starting panel

Schneider

6

Frequency converter

Zhongchen

7

PLC Controller (English)

PLOT

,Shenzhen

8

Contactor

Schneider

9

Motor

Huaxin, Lihao

10

air filter

HD

11

Oil filter

HD

12

Oil-air separator element

HD

13

Min. pressure valve

Red star,Nantong

14

Air Cooler

Yaqi

15

Oil tank

Jiangnan vessel

16

Safety valve

Fuyu

17

Fan

motor

Shiyibai
4. Features
Less parts, no consumables
:
reliable longtime running, which is applied to industries as metallurgy, mine, mechanical, construction, food etc
Low noise and low running cost
:
Our
screw compressors apply imported bearing, rotor is balance tested good by balance machine, there is little vibration and low noise
Low oil consumption
:
The oil-moisture separator is key part for screw compressor, Shisheng screw compressor applies most advanced separator, technical data is controlled reliable, oil consumption is controlled under 3ppm
Intelligent micro computer control technology is realized for fully monitored and instructed by operators, and it can runs with no-man operation due to remote control. The instruction and data is displayed on the screen panel, and it can detects faults automatically and gives an alarm, and adjust air flow automatically
Block
:
German
style
block, 0 vibration, low noise, big rotor, low RPM, direct driven. Rotor is 5:6 unbalanced line high efficiency..
Cooler:
cooler is assembled with filtration screen which keeps clean in the cooler
Motor:
high performance motor ensures the screw compressor operated in bad environments
Bearing:
Sweden SKF bearing, anti-friction anti-corrosion
Pipes:
European material high temperature 135celsius and high pressure resistance, no leakage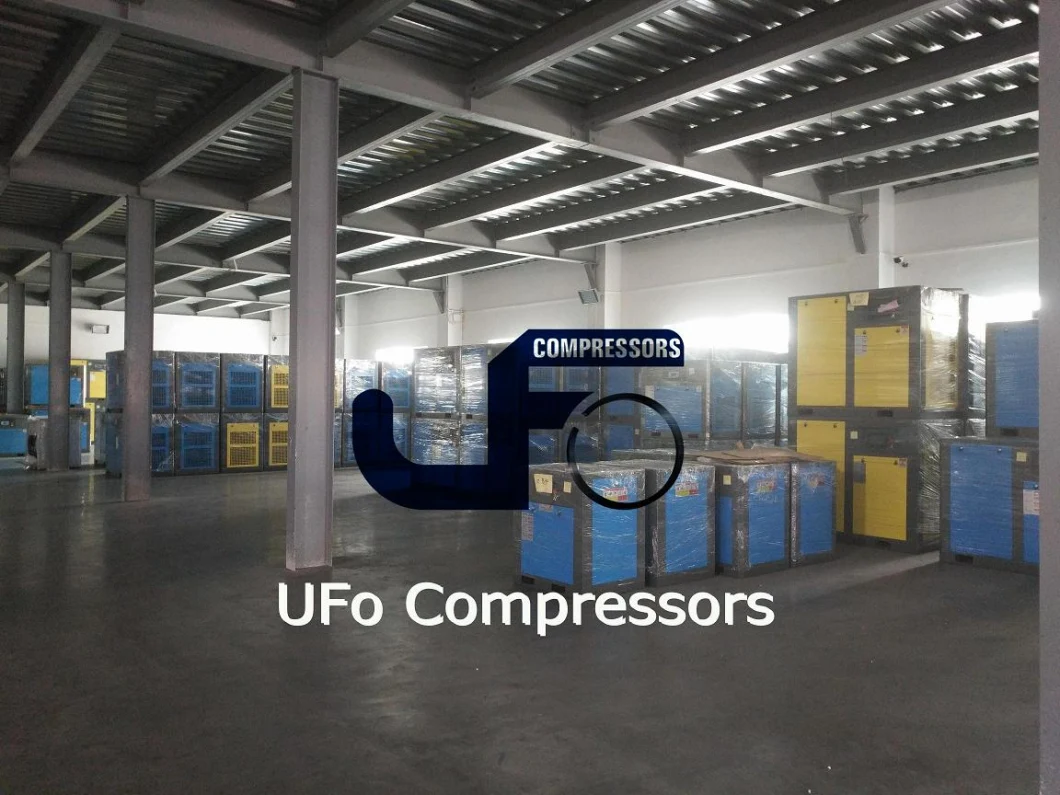 Shanghai UFo Compressor & System Co.,Ltd
Add: 206,1506 LianhangRoad,Minhang district,Shanghai,China
Tel: +0086 15921703058(Sales)
+0086 21 34685164(Service)
TAX ID No.91310115082043900D