Big Cooling Capacity Scroll Type Water Cooled Chiller With 4 Compressor
1.MGREENBELT water cooled water chiller general introduction
2). High Efficient and Energy Saving;
3). Easy Operation and Installation;
4). Compact Exterior;
5). High quality;
6). Competitive price;
7). ISO 9001 certificate.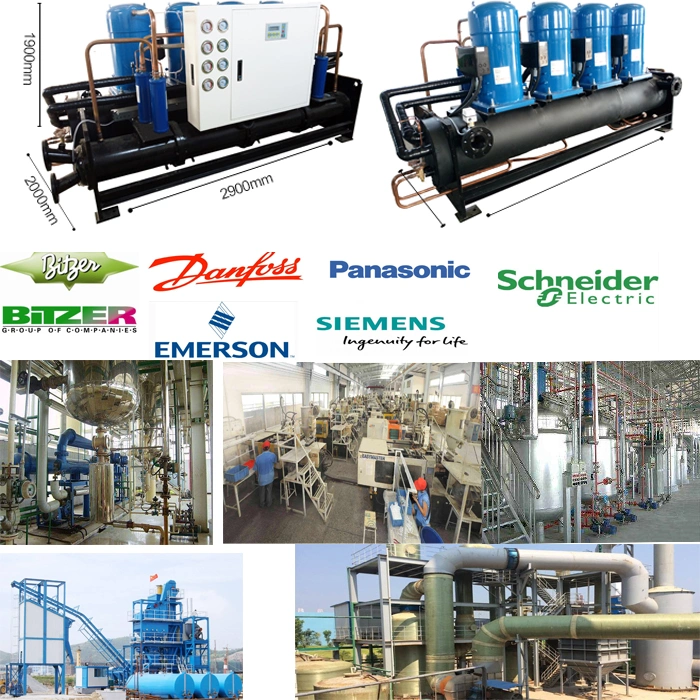 2.
Feartures of water chiller
1).Compressor
The most advanced semi-hermetic screw compressor in the world, the original components of electrical and refrigeration systems are all world-famous products, with the characteristics of life-long maintenance-free. Compared with the traditional reciprocating type, the efficiency can be increased by more than 10%. Save energy. Widely used in household, commercial air conditioning and industrial cooling.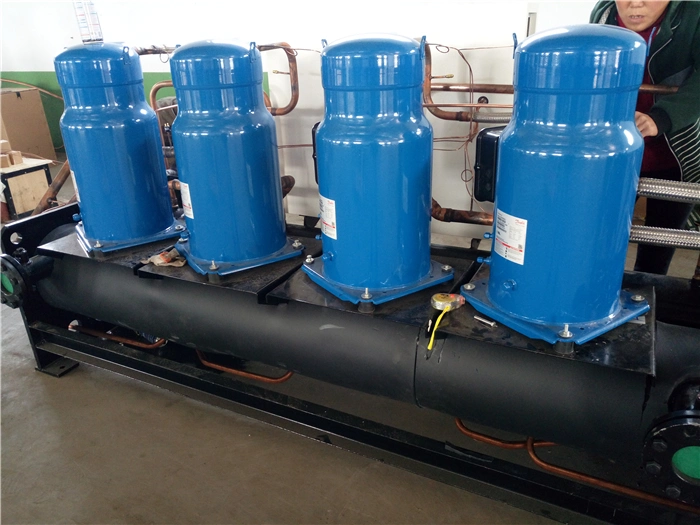 2).Heat exchanger
The unit evaporator adopts high-efficiency shell-and-tube heat exchanger, internal heat-exchange copper tube adopts internal thread copper tube type; the cold suspect unit adopts high-efficiency copper tube + hydrophilic aluminum slab type. All are made of imported sheet metal, which has the advantages of high pressure resistance grade, high heat exchange efficiency, maintenance-free and long service life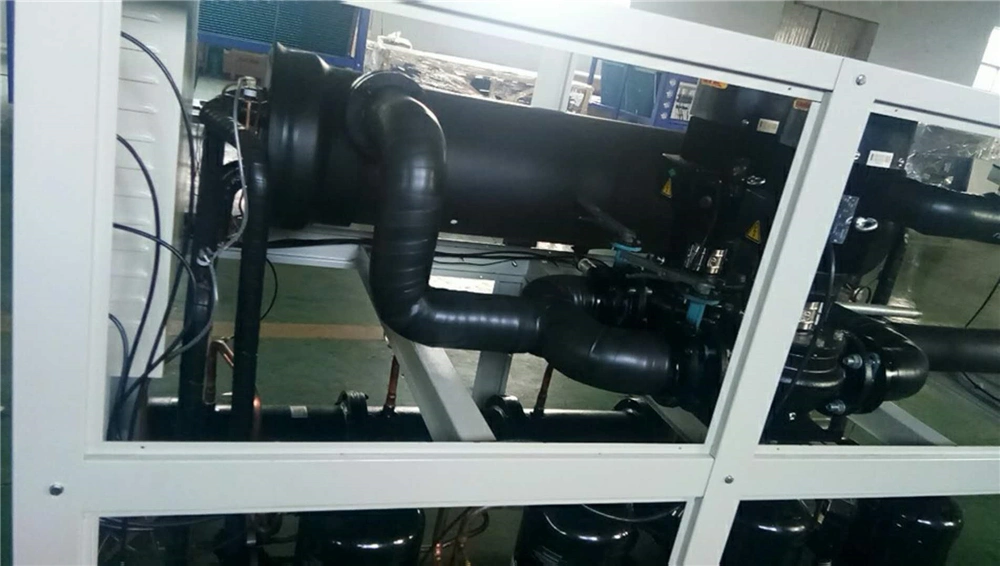 3).Control system
The unit adopts the control system independently developed by Shanglei Refrigeration, which is easy to operate and precise in control.
4).Electrical system
The unit adopts electrical components such as Siemens and Schneider, and adopts waterproof control cabinet.
5) .Human-machine interface
The unit adopts LCD digital display, English man-machine interface, simple operation procedure, one-button start, automatic operation.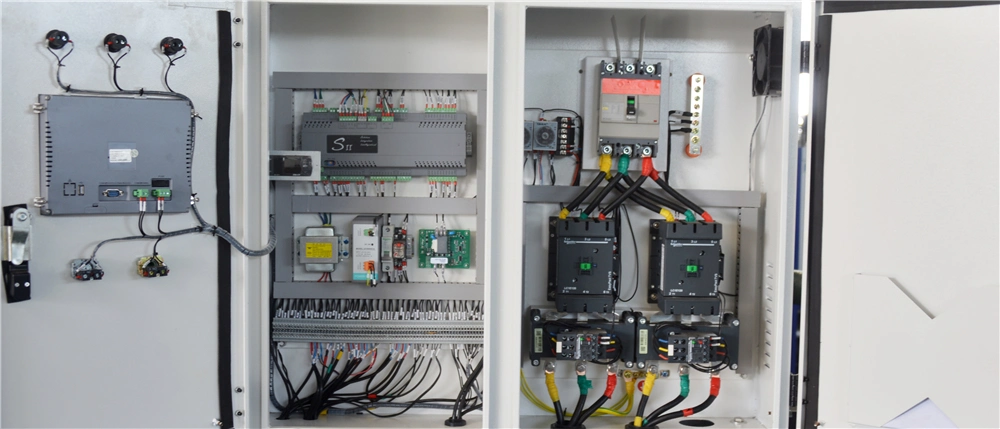 6).Unit enclosure
The unit adopts integral design, compact and simple structure. The enclosure structure is electrostatically phosphatized and sprayed by automatic spraying equipment. It has strong anti-corrosion and turbidity, and is equipped with waterproof control cabinet to ensure that the unit can be placed outdoors for a long time. Not easy to fade, turbid.
7).The unit is equipped with stainless steel water tank and high performance special water pump.
8).The unit has multiple refrigeration circuits, and even if one circuit fails, the other circuit can operate as usual.
9).The streamlined and beautiful design of the unit, the operating procedures are clear at a glance.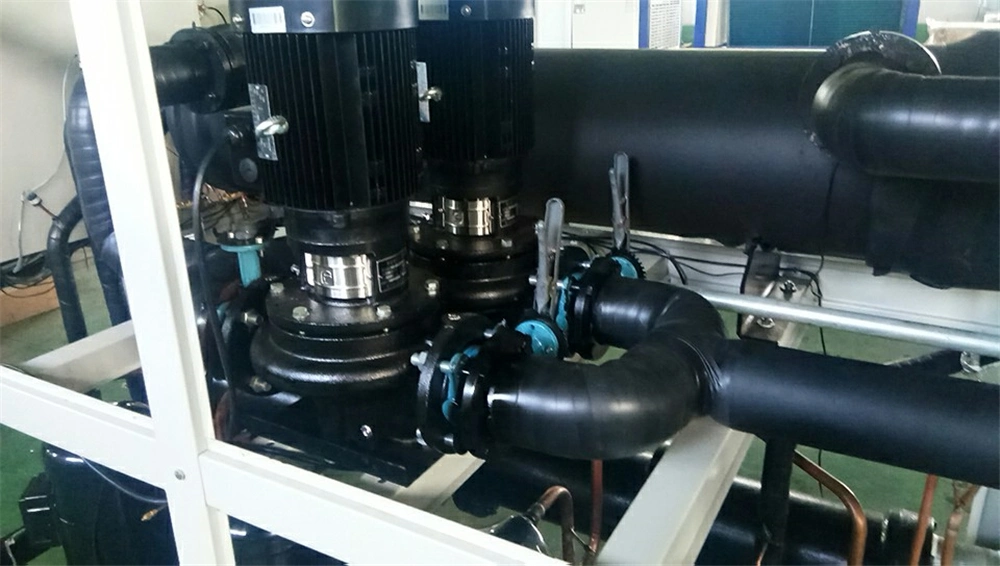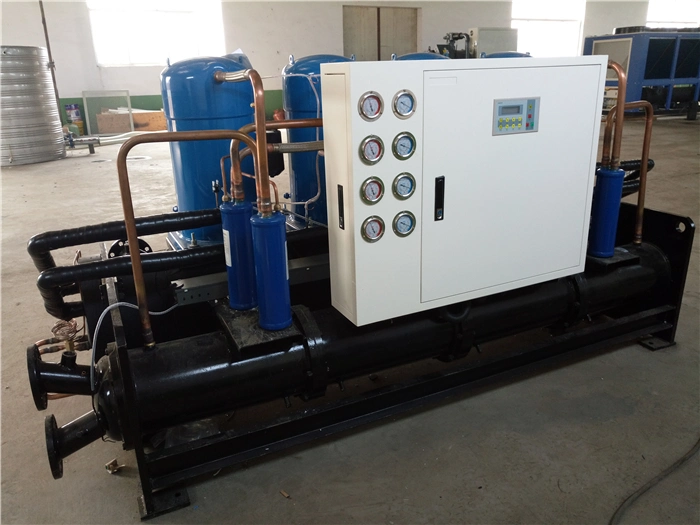 Technical Data
Model

MG-60WAFH

Power supply

3PH-380V-50HZ

Outlet temperature

7~35

ºC

Chilled water flow(m3/h)

30.3

Total power consumption (kW)

57

Cooling capacity

KW

176.5( 50Tr)

Kcal/hr

151790

Compressor

Type

Hermetic scroll

Power(KW)

13.25*4

Quantity

4

Condenser

Type

Shell and tube

Cooling water flow(m3/h)

39.3

Refrigerant

Type

R22

Expansion valve

Type

Thermostatic expansion valve

Evaporator

Type

Shell and tube

Inlet/Outlet pipe dimension

DN80

Safety protection:Compressor over temperature,over current,high and low pressure,Phase sequence,phase-missing

Dimension

L*W*H(mm)

2500*750*1500

Machine weight

kg

1450
Different chiller model optional
Scroll Type Water Cooled Chiller

Model

MG-30W(D)

MG-40W(F)

MG-50W(F)

MG-60W(F)

Cooling capacity

Kcal/h

79120

103716

121604

151790

kw

92.0

120.6

141.4

176.5

Power

kw

29.35

38.4

44.6

57

Power supply

3 Phase-380V-50Hz

Refrigerant

Type

R404a, R407C, R22

Control

Thermostatic expansion valve

Compressor

Type

Hermetic scroll

kw

27.15

36.2

42.4

53

Evaporator

Type

Shell and tube

m³/h
Water flow

15.77

20.67

24.24

30.26

L Capacity

450

580

580

750

Pipe diameter of chilled water

DN65

DN65

DN80

DN80

Condenser

Type

Shell and tube

m³/h
Water flow

20.43

26.88

31.51

39.34

Pipe diameter of Cooling water

DN65

DN80

DN80

DN80

Power

2.2

2.2

2.2

4

m Lift

21

21

19

24

Protection System

High/Low Pressure protection, Phase-sequencing Protection, Overload Protection, Overheat Protection, Water flow protection, Anti-frozen protection.

Dimension

mm L

2200

2500

2000

2900

mm W

1160

1460

2000

2000

mm H

1900

2000

1750

1900

Weight

kg

1150

1200

1380

1450
Open type water cooled chiller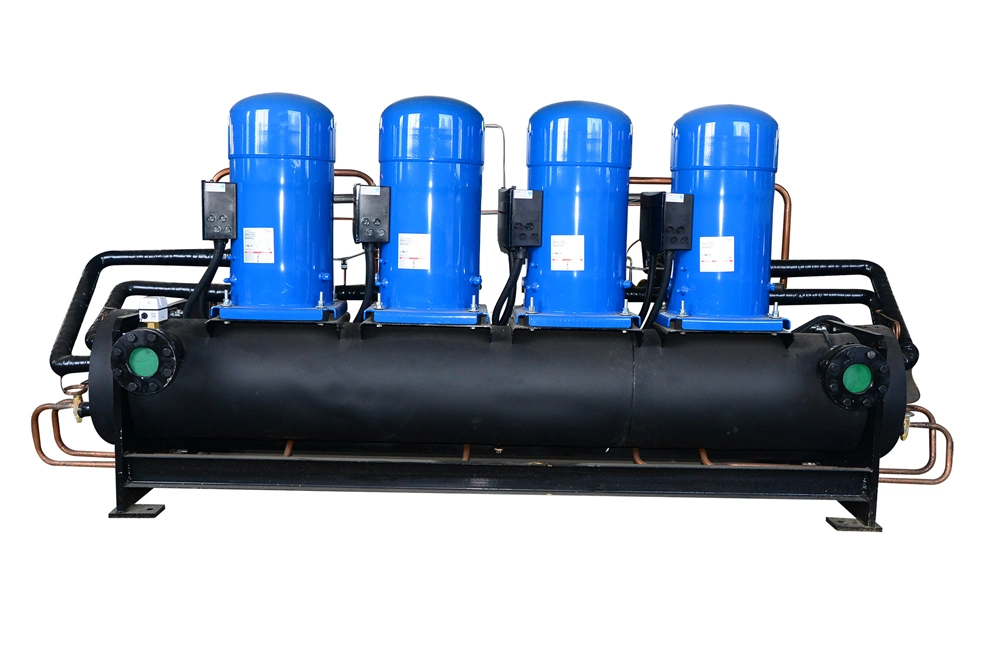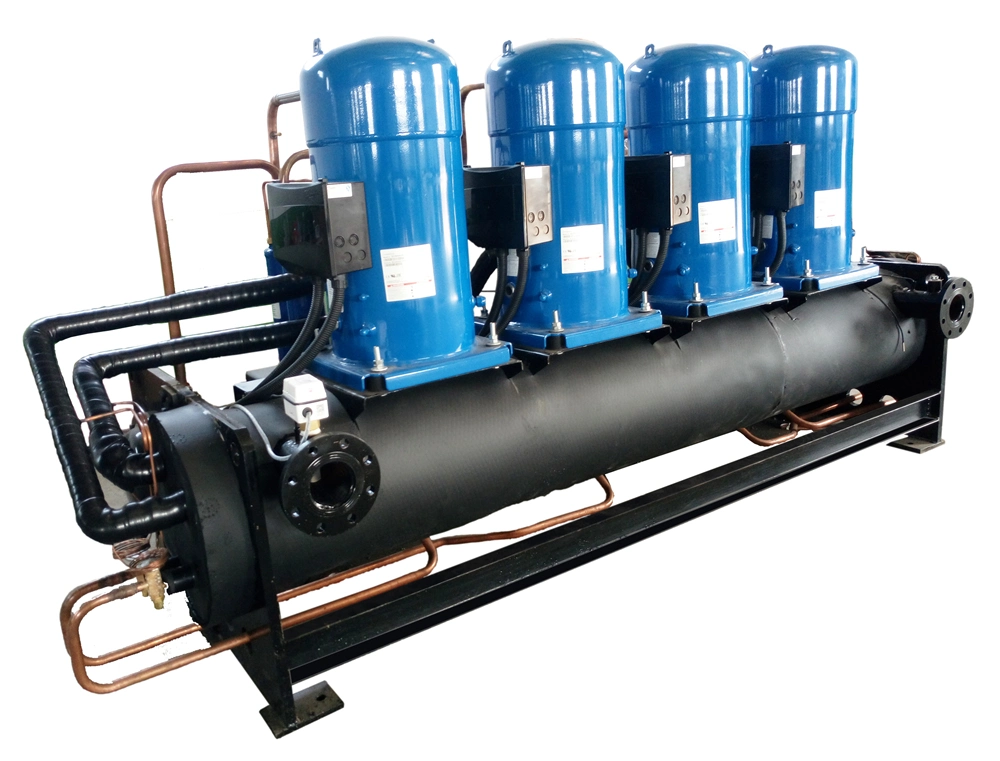 3. Industrial Water Chiller
working diagram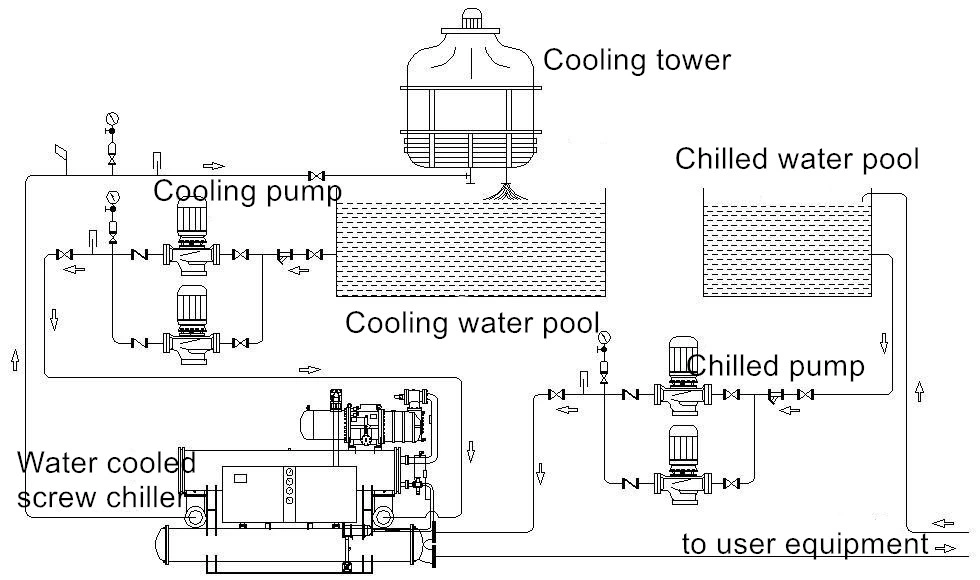 4. Package& Shipping
Use standard export plywood case with forklift truck feet, easy to load and unload;
15-20 days to finish the production after receiving the deposit;
Shipping by LCL or FCL.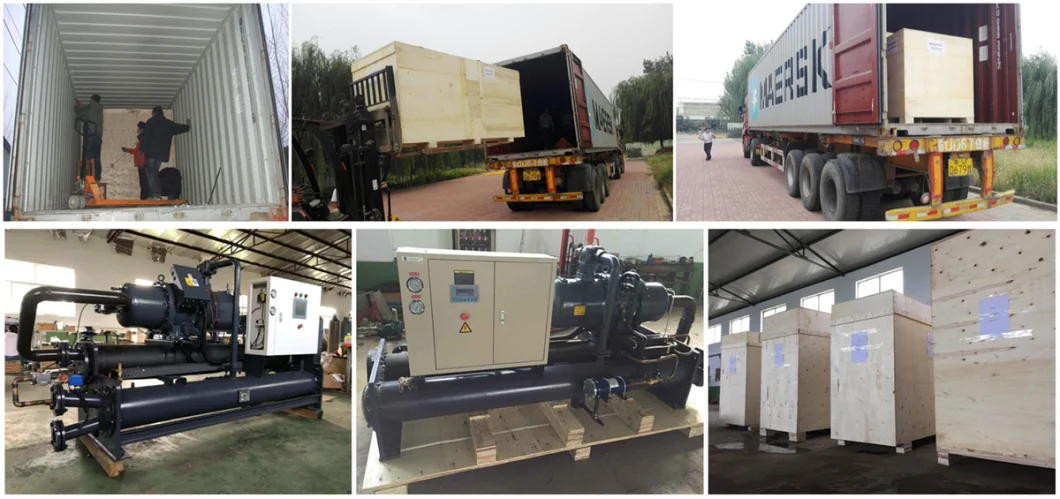 7. About Us

5. FAQ
Q 1. How about the quality of your product?
· Our products manufactured strictly according to national and international standard.
· We have CE, ISO certification.
· We take a test on every product before delivery.
Q 2. How about the price of this product?
· We can give the lowest price than market one.
· We do quotation as soon as possible for any customer.
· Discount can be given according to quantity.
Q 3. What is the MOQ?
· 1 Set
Q 4. If you can be customized?
· We can make products according to customer's requirements.
Q 5. What is the voltage?
· 380V 50hz 3 phase or any other voltage according to client's requirement.
Q 6. What's the warrenty?
1 year warrenty for free if confirmed by both side damage in the quality reason.
Q 7. Are you a manufacturer?
Yes, we have more than 18 years in water chiller business. Also have patent on the water chiller appearence. The control box design make the unit safety and stably.
Q8. How can I place an order?
1. Please send inquiry to us ! Click " Contact Now"
6.Different chiller model from us
Industrial water chiller, water cooled chiller, air cooled chiller, scroll water chiller, screw water chiller, glycol chiller, plastic water chiller, extrusion molding chiller, food water chiller, chemical chiller.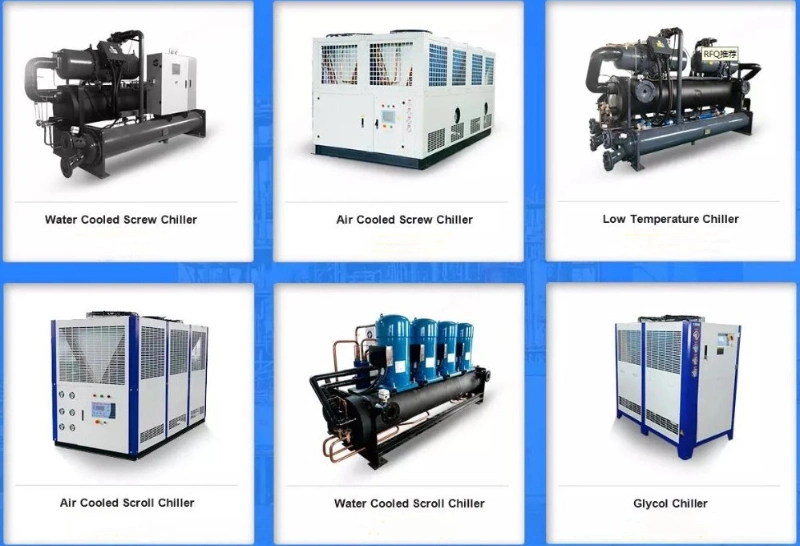 Please contact with Miss Grace Zhang if you have any different need, whatsapp 0086 18615626360