Model: DB-50A
Free air delivery: 7 m3/min
Working pressure: 7 bar
Screw air end rotor lobe: 5:6
Brand of screw air end: German Rotorcomp with 6 pcs SKF bearings
Control: Micro PLC controller
Driven: belt driven
Cooling: by air
Electric motor: 50hp 37KW 380v/50hz/3ph,protection level IP55
Discharge temperature: less than ambient +8 ºC
Noise: less than 68 dB(A)
Air outlet size: G1 1/2"
Dimension: 1500*940*1415mm
Weight: 680kg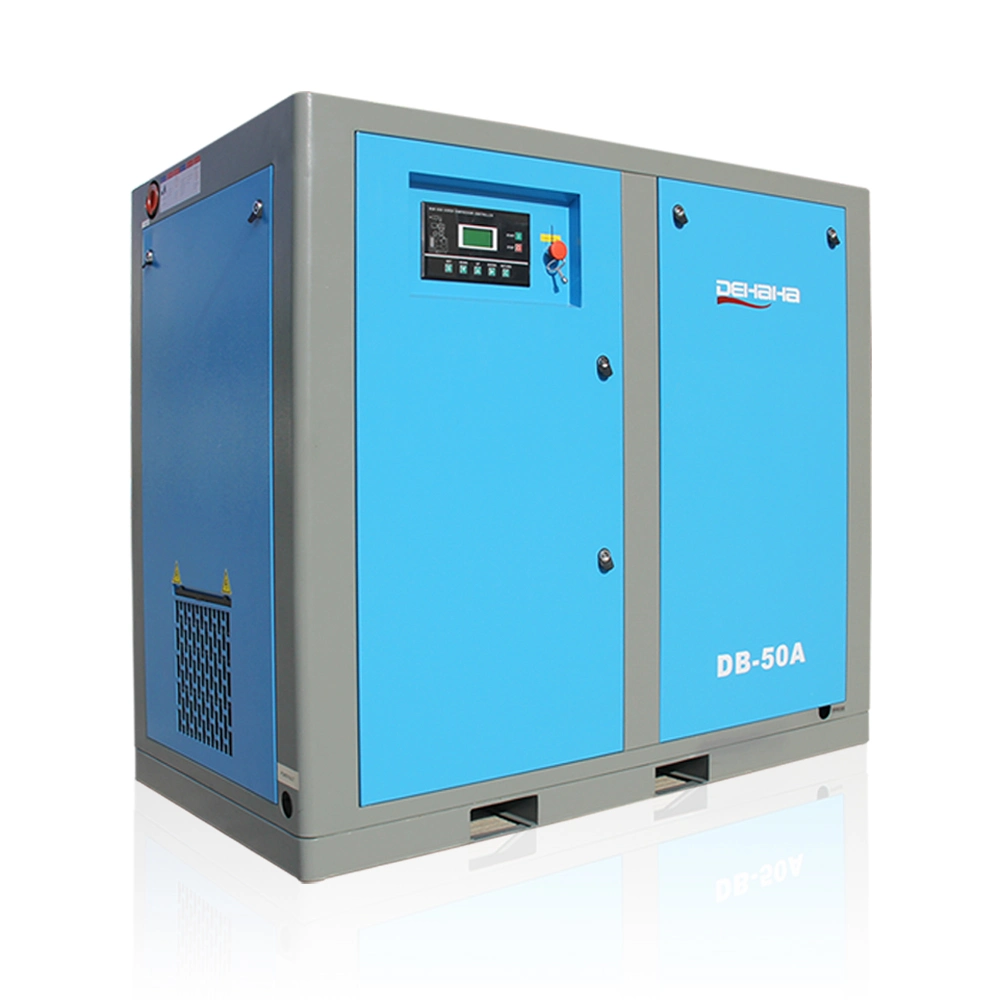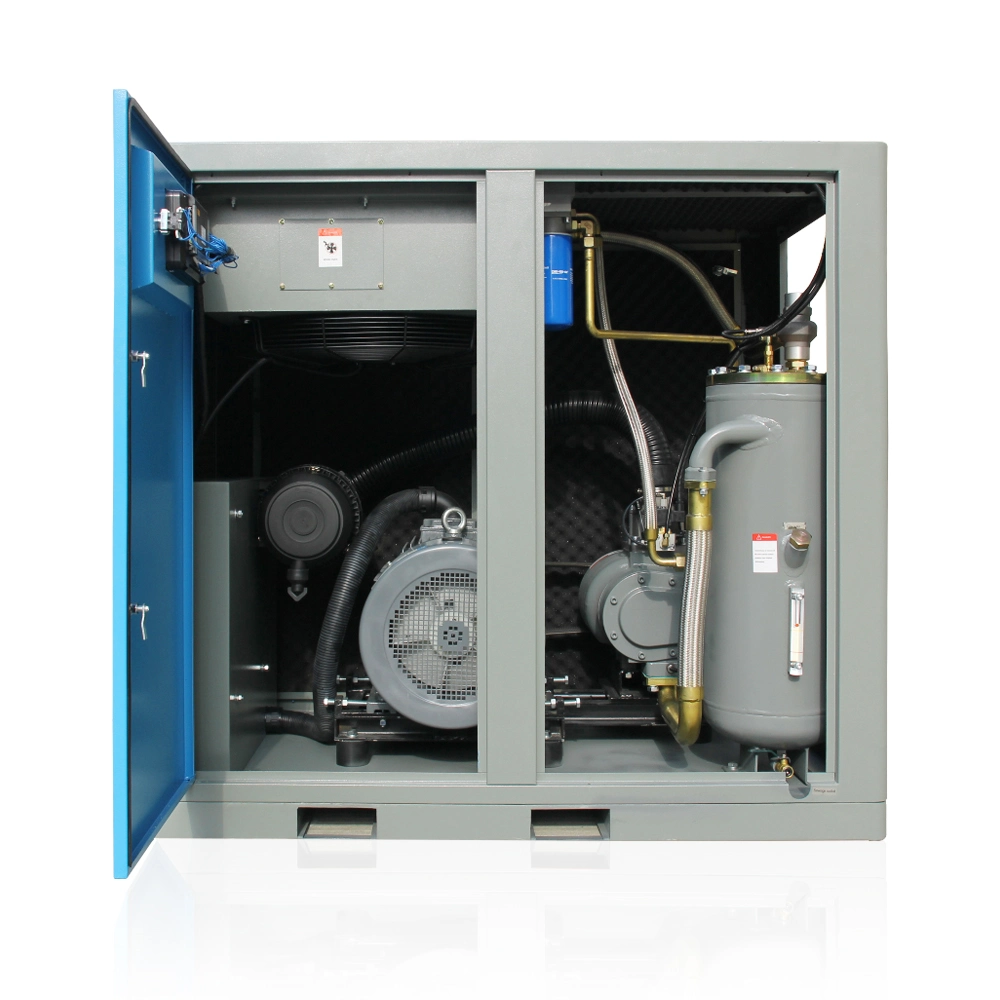 DHH belt driven series oil-less screw compressors are lower noise, coupling high efficiency, reliable quality.
Shanghai DHH screw compressor features:
1, perfect performance
2, microcomputer controller
3, dhh screw compressor OEM acceptablee
Welcome to visit our factory!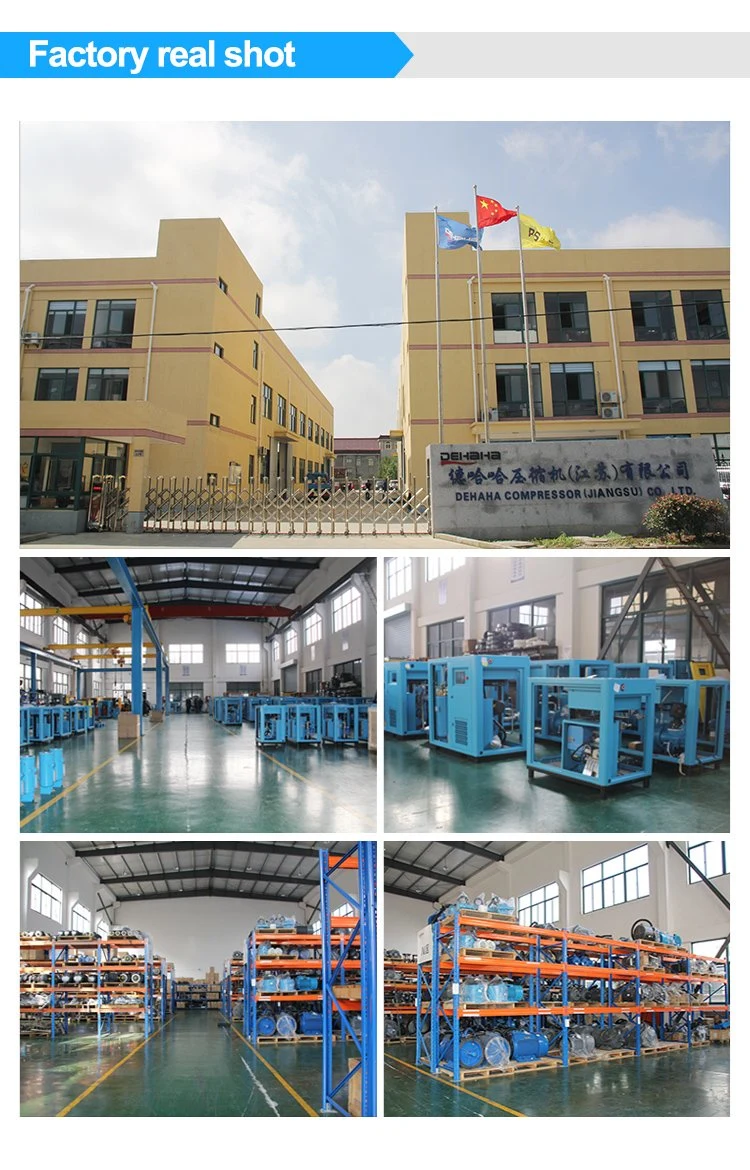 A represents air-cooling type, W represents water-cooling type;
Working environment temperature: - 5 °C ~ 45 °C;
The exhaust temperature is less than environment temperature about + 10 °C ~ 15 °C.
Driving mode: belt transmission;
Startup mode: frequency start.
Work power: 380V / 50HZ, 460V / 230V / 6KV and 10KV voltages can be made for customers;
F.A.D volume flow test is according to ASMC PTC9 or ISO1217 standard (GB/T3853).
Shanghai dhh screw air compressor factory, mainly produce screw type air compressors, range from belt driven, coupling driven to varaible speed and pm permanent magent frequency sires.
welcome to contact us for more details
chinadhh.en.made-in-china.com
Core components of our screw air compressor
| | | |
| --- | --- | --- |
| No. | Part Name | Manufacturer |
| 1 | Air end | Hanbell(or DHH Dynamic) |
| 2 | Pressure sensor | America MSI |
| 3 | Temperature sensor | Italy S.E.C. |
| 4 | intake valve | Red-Star |
| 5 | Automatic proportional valve | Italy S.E.C./ Austria HOERBIGER |
| 6 | PLC Controller chip | Italy S.E.C. |
| 7 | PLC Controller (English) | DHH |
| 8 | Contactor | ABB or Schneider |
| 9 | Motor | Equipped with SKF bearings(Zhongda/ Huabing motor) |
| 10 | air filter | DHH |
| 11 | Oil filter | German MANN |
| 12 | Oil-air separator element | DHH |
| 13 | Min. pressure valve | Italy S.E.C. |
| 14 | Temperature control valve | America AMOT CONTROLS/Italy S.E.C. |
| 15 | Solenoid valve | Italy O.D.E |
| 16 | Air Cooler | Made in China |
| 17 | Oil tank | Made in China |
| 18 | Safety valve | Made in China |
| 19 | Base and Box | DHH |
| 20 | Fan | Made in China |
| 21 | Pipeline | DHH |
Packaging & Shipping